Multiple Dates
still with moonchild - a London Namkook birthday cafe event
This is a cafe event to celebrate Namkook birthday! Come join us for freebies, cupsleeves, raffles and make friends~ more information below!
About this event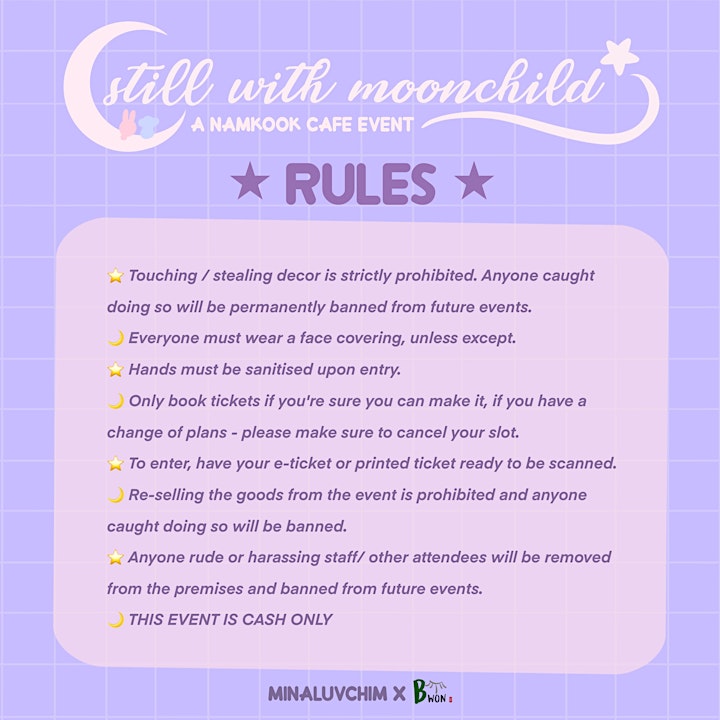 When: 24-26th September
Where: BWon Korean Restaurant (upstairs) 24 Coptic Street, London, WC1A 1NT
Time: 12-6PM (15 minute time slots)
Ticketing: Via eventbrite (free) - No ticket = no entry
FAQ
Can i just show up without a ticket? No, all attendees must have a ticket.
Can i bring freebies? Yes of course! Contact Mina or BWon via instagram if you want to drop anything before the event: https://www.instagram.com/minalovechim/ https://www.instagram.com/bwon_london/
I am coming as a group and want to have plus ones! What do I do? Each person is able to get 3 tickets maximum, if you are a larger group, then please ask them to get tickets too.
Is the cupsleeve free? No, you must buy an event drink in order to receive your cupsleeve and freebies/
My friend can't come to the event, can I have a cupsleeve for them? Unfortunately not, we have purchased 1 cupsleeve per ticket and to be fair to those attending, we will prioritise them.
I can't come anymore - what should I do? Please cancel your ticket so its released back to the public for those who want to attend!
Why are there time slots? To ensure no over crowding and fitting with COVID recommendations, this event will be time slot only.
Can I be late? Anyone who arrives to their wrong time slot will be turned away.
RULES
Touching / stealing decor is strictly prohibited. Anyone caught doing so will be permanently banned from future events.
Everyone must wear a face covering, unless except.
Hands must be sanitised upon entry.
Only book tickets if you're sure you can make it, if you have a change of plans - please make sure to cancel your slot.
To enter, have your e-ticket or printed ticket ready to be scanned.
Re-selling the goods from the event is prohibited and anyone caught doing so will be banned.
Anyone rude or harassing staff/ other attendees will be removed from the premises and banned from future events.
THIS EVENT IS CASH ONLY
RAFFLE
There will be a raffle happening to win official BT21 merch and BTS albums!
1 strip = £1.00
1 single ticket = £0.50p
Thank you! We can't wait to see you <3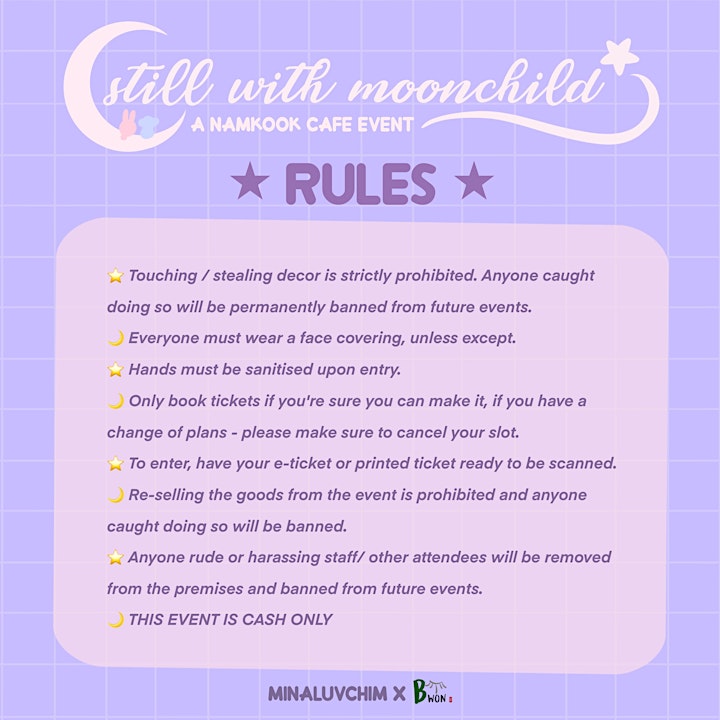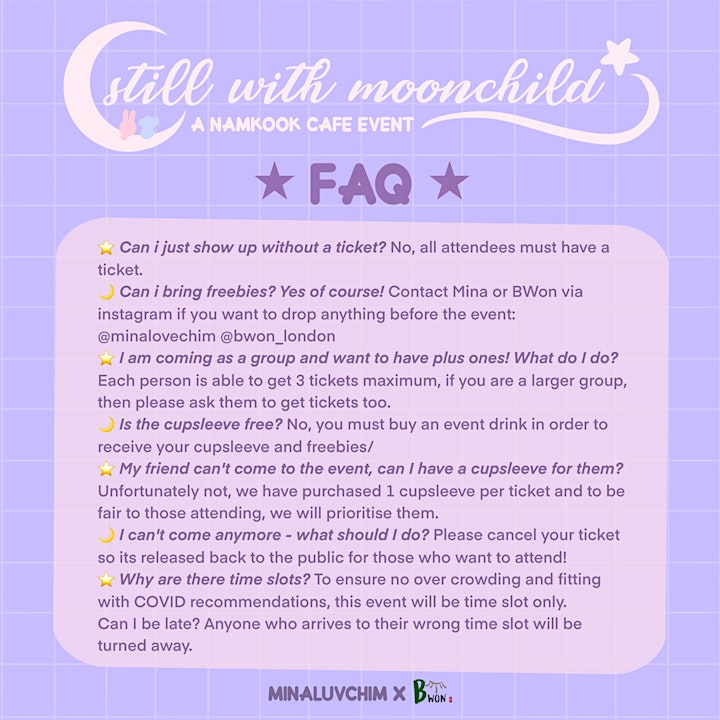 Organiser of still with moonchild - a London Namkook birthday cafe event