Description
Stirling - A Digital City
Connecting you with your customers
Come along and be inspired by leading industry experts, as well as business speakers who will share their experiences with you. We'll discuss the digital revolution and how it can transform your business.
Speakers include: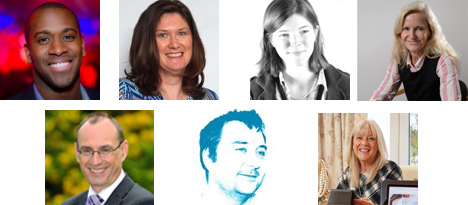 Sara Budge, Project Director, Digital Scotland Superfast Broadband
Gori Yahaya, Head of Training Google Digital Garage
Reaching New Customers Online
Take the next step & make your business more visible online so that new customers can find you. Understand the cornerstones of digital marketing & learn how to use online marketing tools to reach prospective customers.
Michael Briggs, Head of SEO & Content Strategy, Skyscanner
Building a Global Online Business
Michael Briggs is the Head of SEO at global travel search website Skyscanner, where he is responsible for SEO and Content Strategy. Formerly a tech start-up business Skyscanner has come far since starting out in 2003 – it is now valued at more than $1 billion. In Michael's role at Skyscanner he gets to indulge his love of tech, content and understanding of what users and search engines want from websites to create business value.
Lucy Johnston, Bread and Butter Marketing
How to Engage Your Audience Through Video
Video marketing expert Lucy Johnston has worked for YouTube & Google, and now runs her own marketing company. With the rise of consumer videos on sites like YouTube, small businesses are now able to compete with big businesses by advertising through this increasingly popular medium. Lucy will share her experience and explain that video marketing no longer requires huge budgets.
Ann-Maree Morrison, Founder, Labels4Kids
Running a Successful International Ecommerce Business
Labels4Kids was started by Ann-Maree Morrison to meet a gap in the school market for vinyl waterproof labels. Ann-Maree will share her success, explain the challenges she has faced in growing an international business and provide top tips for those wondering how to go global online.

Valerie Lawrence, Senior Director, Stella & Dot
Communication (whilst working from home) is what it's all about as a Director and stylist with Stella & Dot. Valerie has over 180 girls on her team and over 3000 online customers which is why reliable and fast wifi is crucial.
Stewart Carruth, Chief Executive, Stirling Council
Digital Investment in Stirling
Stewart will be highlighting Stirling's ambitious investment programme and what this will mean for businesses, residents and visitors to the Stirling area.
As well as attending the opening conference, there will be various workshops available for conference delegates to attend in the afternoon, including: Producing Engaging Content Online and Accessing Digital Skills. Information will be sent directly to delegates who have registered for the conference.

We hope you'll be able to join us for some of the exciting events and workshops we have planned this November. Our opening conference for the month, Stirling - A Digital City, is brought to you by STEP and Digital Scotland Superfast Broadband.