Sales Have Ended
Registrations are closed
Sorry you have missed the online workshop. You can still catch up with what has happened via the Cheadle Heath & Cheadle Active Neighbourhood web page sustrans.org.uk/cheadlean
Sales Have Ended
Registrations are closed
Sorry you have missed the online workshop. You can still catch up with what has happened via the Cheadle Heath & Cheadle Active Neighbourhood web page sustrans.org.uk/cheadlean
Stockport Cheadle Heath & Cheadle Active Neighbourhood WORKSHOP 3
About this event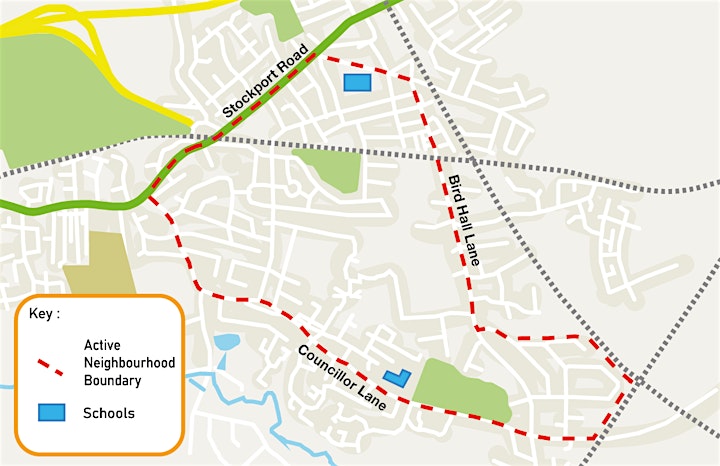 Cheadle Heath & Cheadle Active Neighbourhood
Workshop 3
Bring your local knowledge to help create safer and quieter streets within the project area.
We will be recapping on the project story so far then delving into designing with modal filters!
Project Background: An Active Neighbourhood is a place where the movement, health and safety of people is prioritised over cars. It's simply about creating safe, attractive space for people to spend time chatting or for children to play, typically created using planters or bollards to reduce through traffic. The changes also make it easier to get around on foot and by bike. All these things can have positive effects on air pollution, congestion, residents' health and wellbeing, and safety on residential streets.
Sustrans and Arup are working with local people on behalf of Stockport Council and TfGM to create an active neighbourhood in your area. No one knows this area quite like you do, so over the coming months we will be working collaboratively with residents, businesses and schools to create designs to improve local streets.
In Workshop 1 we asked you What matters to you in your street and What matters to you in your area.
In Workshop 2 we shared the key findings from the surveys and workshops. Then we looked at who and what streets are for and how we could create safer local journeys.
We look forward to seeing you
After registering on Eventbrite you will be sent an email with the zoom link to join. We will also email you again with the link closer to the event.
Please make sure you scroll down the email until you find it
Organiser of Stockport Cheadle Heath & Cheadle Active Neighbourhood WORKSHOP 3