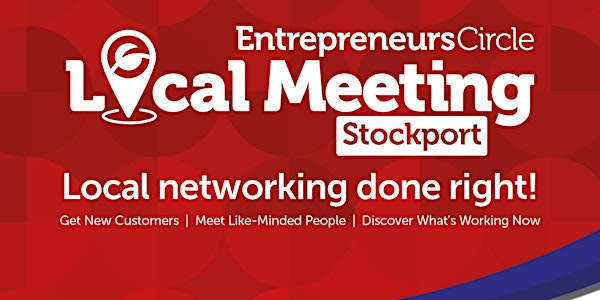 Stockport Entrepreneurs Circle Business Growth Group
Location
The Crown
416 Buxton Road
Stockport
SK2 7JQ
United Kingdom
The Stockport Entrepreneurs Circle Business Growth Group
About this event
Join your fellow Stockport business owners for our Entrepreneurs Circle Business Growth Meeting on the last Tuesday of every month in Stockport. The next meeting is at The Crown Public House (function room), 416 Buxton Rd, Stockport SK2 7JQ. (Free parking).
The Entrepreneurs Circle Business Growth Group meetings are guaranteed to help your business grow...
...because our meetings always have a featured content session where we share a practical marketing tactic or strategy that you can use in your business to get more customers and make more sales! And of course you get to network and exchange ideas with fellow entrepreneurs in cooperative, relaxed environment.
It's a DOUBLE WHAMMY!
You'll get actionable strategies and tactics to market and grow your business and more customers from the meetings through networking and referrals.
Whether you're an existing EC member or this is your very first meeting, if you're a business owner from the Stockport area, we'd love to have you join us at our monthly meetings.
Please note: this event is exclusively for Members of Entrepreneurs Circle, however we are delighted to welcome you as a guest. Just book a free ticker here on Eventbrite. Click for more information on Entrepreneurs Circle.
Julian (EC Ambassador) says "I get a real buzz from leading the Stockport 'Business Growth Group' for the Entrepreneurs Circle. It's so rewarding hanging around with other like-minded local business owners and sharing ideas, challenges, business tips and supporting people to help them move their businesses forward. It's always a fabulous evening and I leave the meeting fired up every month and ready to change the world!"
Hopefully we'll see you there!
Any questions, just ping me a message
Julian Mills
Stockport Entrepreneurs Circle Ambassador
email: julian@julianmills.co.uk