Discover local services to support your community to thrive.
About this event
A chance for Stockport's local residents, businesses and organisations to discover how they can support their friends, family, neighbours, employees and the wider community to thrive against inequality.
The pandemic has had a devastating impact on inequality, exacerbating existing divides and leaving communities to bear the brunt of the fallout.
In this first of its kind event in Stockport, learn about ways that you and your organisation can help reduce the equality divide so that Stockport can move towards a more equitable society. You will discover local services and ways in which we can all embrace and support diversity, ensuring everyone has an equal chance to thrive.
Featuring stalls from local support organisations, speakers from GMCA and Greater Manchester Police on inclusive policing. Plus Disability Stockport, Rising Stars NW and Stop Hate UK chair a Q&A panel on tackling hate crime.
Expect entertainment from drag artist Annabelle Lecter and Ailsa (Dance Revolution) as well as light refreshments to keep you fuelled throughout the day.
Accessibility - there are stairs at the venue however lift access is available. Please contact us for further information tina.carnally@sector3sk.org
Full programme as follows:
9.30 - Open doors Tea & Coffee
10.00 - Welcome & Intro - Jo McGrath (Sector3)
10.15 - Warm up dance from Dance Revolution
10.30 - Opening Speech - Mayor of Stockport
10.45 - Speaker - Elizabeth Cameron- GMCA
11.00 - Speaker- GMP - Mr Noden, Stockport District Superintendent on inclusive policing
11.15 - Market Place – Browse the stalls and discover local services that support marginalised communities and also ways you can do your bit to close the equality gap
12.00 - Entertainment – Annabelle Lecter
12.15 - Lunch
13.15 - Panel Discussion with Disability Stockport on tackling hate crime in the area
14.05 - Close of Event - Aba Graham
14.10 - Dance Revolution & Networking – Alisa
'Each human being, however small or weak, has something to bring to humanity. As we start to really get to know others, as we begin to listen to each other's stories, things begin to change. We begin the movement from exclusion to inclusion, from fear to trust, from closedness to openness, from judgment and prejudice to forgiveness and understanding. It is a movement of the heart.' Jean Vanier
* Please note there will be photography at this event *
---------------------------------------------------------------------------------------------
About Stockport Equality Month
Taking place in October is Stockport's first ever Equality Month. A month of free, family-friendly events to celebrate Stockport's diversity, lay bare the challenges faced by marginalised communities and ways we can be an ally to those affected by inequality. Expect workshops, exhibitions, feasts and entertainment.
About Sector3
Sector3 is the infrastructure support organisation for Stockport's voluntary, community and faith based groups, social enterprises and charitable organisations. Working with the sector we offer a supportive network, opportunities for development and funding to enable organisations to deliver social action on local priorities.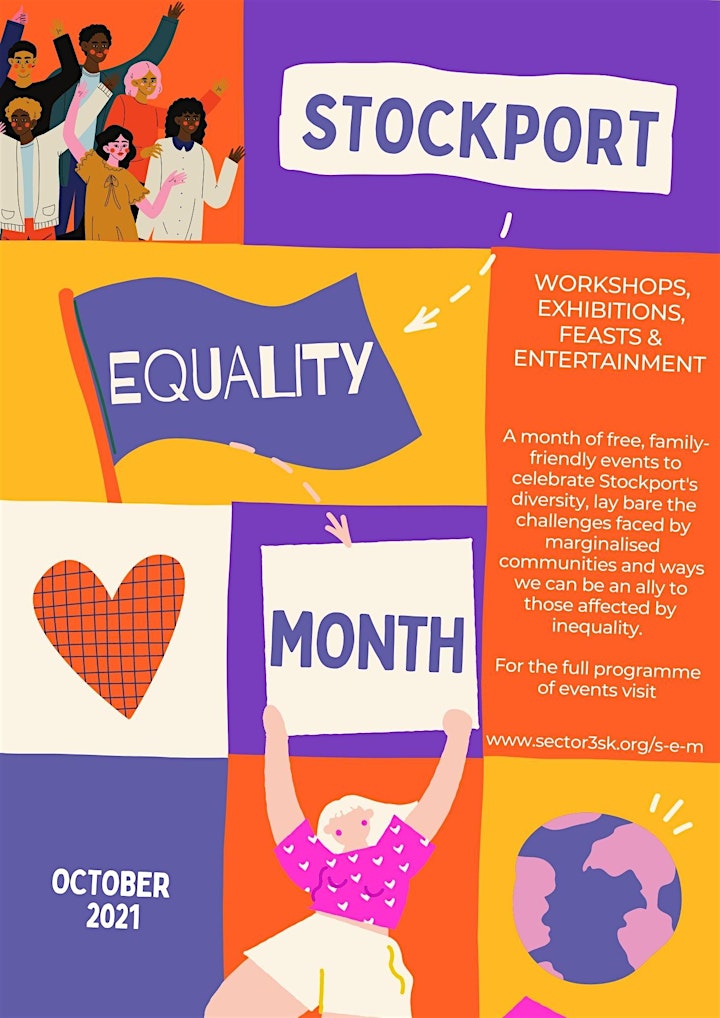 Organiser of Stockport Inclusion & Integration Fair
Sector3 is a network of likeminded organisations who are working together to make the Voluntary, Community, Faith and Social Enterprise (VCFSE) Sector stronger and more resilient across Stockport. Sector 3 aims to develop opportunities to bring peers together to collaborate, support one another and learn about opportunities that are happening locally, regionally and nationally that will help them become sustainable, collaborate and deliver more social impact.