Multiple Dates
Story and Rhyme Time - Workshop for parents
Story, Song & Rhyme Workshop for Parents and Carers - Make stories JUMP off the page and songs come to LIFE
About this event
Parents and carers - you are your child's first teacher.
We at the library are here to help 😊. Join us for these interactive workshops all about making stories jump off the page and bringing songs & rhymes to life . We will be having fun through learning - enjoying those first steps together and making your child's journey through childhood extra special.
The programme of events:
1) Tuesday 9th March at 6pm - An Introduction to Story, Song & Rhyme
Starting with the basics - Who, When, What and Where. How your local Library can help. Song and Storytelling techniques and 10 of the best picture books.
2) Tuesday 16th March at 6pm - Board Books & Basics
Where to get children's books (buy & borrowing). Exploring the benefits of board books and lift-the-flap books and five recommendations. Practical tips for reading out loud.
3) Tuesday 23rd March at 6pm - The Great Picture Book Adventure
Talk about illustrators and some great examples. Adrian's Favourite Picture Books.
4) Tuesday 30th March at 6pm - Great Songs & Rhymes
You don't need to be able to sing to entertain your child with song and rhyme 😊. Great tips for engaging through song and including actions with your rhymes.
Over the coming sessions you will learn that enthusiasm and making learning fun is what is important. You will also learn about the treasure that is in picture and board books and that you don't have to be able to sing to entertain your child through song & rhyme.
Each session consists of slides and practical demonstrations with time for questions afterwards.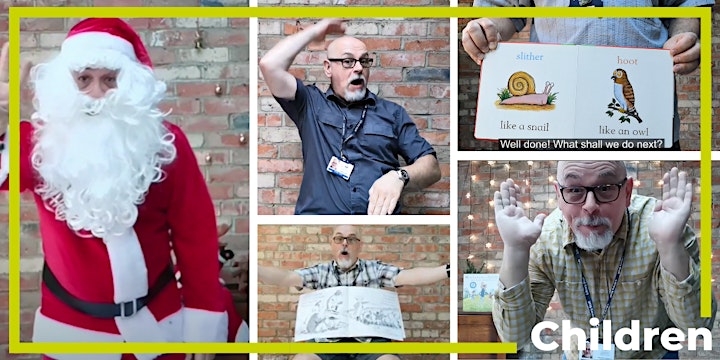 About the Speaker:
Adrian has been running popular Baby Rhyme Times and Story Times in Libraries for over 10 years. By his own admission, he cannot sing but that hasn't stopped bringing the enthusiasm to his events. He loves every moment a child has smiled and joined in.
Over lockdown, Adrian has taken his sessions online and is looking forward to bringing his sharing the knowledge he has learned in this series of workshops aimed at parents and carers looking to bring families closer together with singing and reading aloud.
Information joining these events:
Please note this is a MS Teams Event and although you do not have to have Microsoft Teams downloaded to your computer, you will get a better experience if you have the app. If you are using a tablet or a phone to join the event, you must have the app.
***Please avoid using Safari (!) – we have had reports that Safari users have issues accessing Teams broadcasts. Please try using Chrome or any other browser – most people who experience problems when signing in find them resolved if they try using a different browser. We are sorry for the inconvenience this may cause and are working on finding a solution.
We look forward to welcoming you at the event!