This circle is Liberation Fuel.
About this event
(To be considered, you must complete the application form).
Storytelling can be one of scariest – and most impactful – skills that you can hone as a changemaker. You're invited to learn how to share powerful, personal stories in a community of people who are also committed to collective liberation.
For 3 months, we will gather every other week to learn practical storytelling skills as well as uncover & practice sharing the stories that matter most to us. Together, we will develop the confidence, courage, and skills that will allow us to become conscious storytellers – sharing stories that will shape our lives & the lives of others; stories that will fuel collective liberation.
Each session will combine practical storytelling skills, storytelling prompts that connect you to your stories, and safe opportunities for you to practice sharing your stories.
Join a community of emerging storytellers in uncovering your personal stories, crafting your visionary narrative, and refining them so they are compelling, magnetic, and memorable.
Topics include:
+Uncovering the stories you want to share
+How to structure your stories
+How to build a visionary narrative
+Movement building through storytelling
+Building a story portfolio
+How to make your stories magnetic and memorable
+How to choose what details to include in your story – and what to leave out
+Trauma sensitive approaches to vulnerability in storytelling
+How to stay present while sharing personal stories
+Deconstructing Dominant Narratives that uphold the status quo
Creating collective transformation requires us to build movements that help us imagine new possibilities and inspire us to act. Get the storytelling skills that will allow you to tell stories that invite people to join you in making your vision a reality.
Benefits:
The circles will provide you with:
➡️ Community: peers united by the vulnerable space of authentic storytelling
➡️ Skillful Feedback: the support of a skilled, experienced storyteller
➡️ Strengths-Based Expression: find support and growth opportunities based on your strengths, not deficits
➡️ Universal Skills: learn and practice skills that are universally applicable
➡️ Liberation Theology: together, we'll tell stories that contribute to collective liberation
➡️ Holistic Approach: gain confidence and recognition for your own personal and professional stories
Apply
Please complete the application here.
The Facilitator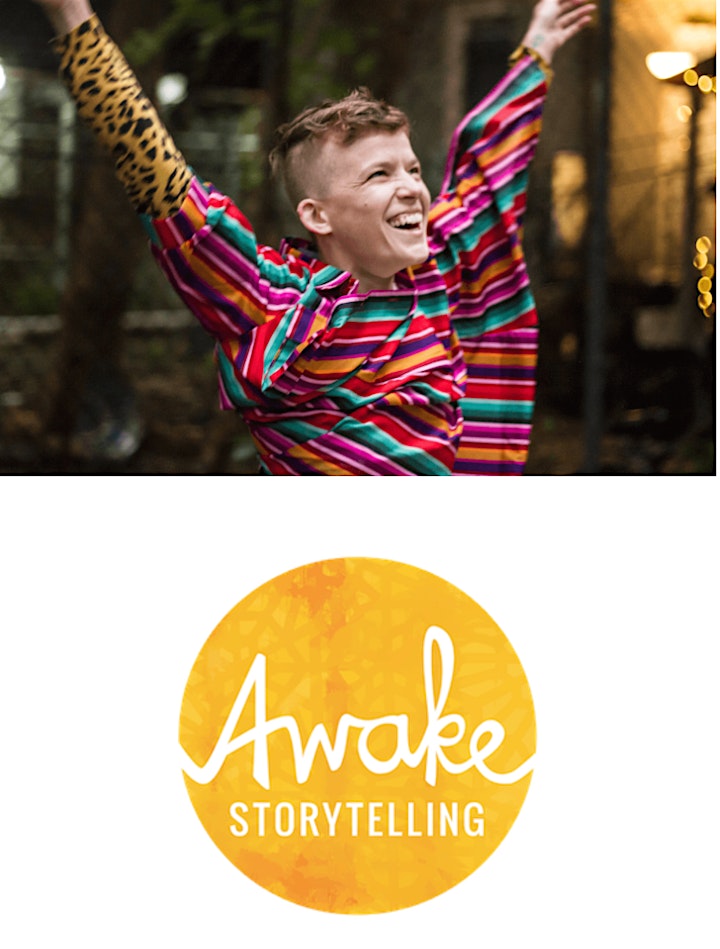 Life Escobar (they/them), Founder, Awake Storytelling
By documenting the stories of activists, organizers, healers in movements for justice in over 25 countries, Life Escobar (they/them) has seen first hand the role that storytelling plays in challenging oppressive systems and building movements for liberation. On a personal level, storytelling has been a central force in their healing from multiple forms of abuse and sexual violence.
After growing up in a large Catholic family of ten kids, they studied photography and anthropology at NYU. After graduating in 2011, they launched their company to support organizations & activists in telling powerful stories that challenge oppressive systems, inspire action and catalyze movements for collective liberation.
As a filmmaker, they've created hundreds of emotional, story-driven videos for over 70 social movements, organizations, and individuals. Life is the author of The Starter Guide to Non-Profit Video Storytelling and has been a keynote speaker at TEDxNYU, Google, The Foundation Center, and NYU. Additionally, they have led workshops on storytelling & filmmaking in Palestine, Uganda, Macedonia, Kazakhstan, Tunisia, and the United States.
Life is obsessed with creating and producing stories that reveal the context of interlocking oppressive systems and that inspire people to remember our collective power to heal and transform those systems.
They believe that stories plant seeds of possibility and create bridges between What Has Been and What Could Be.
Sessions Overview:
There will be seven sessions held on the following Wednesdays: September 15, September 22, September 29, October 6, October 13, October 20, with the final session on October 27
🔹 Circle 1
+Why Stories
+Telling a specific story
+Uncovering Your Personal Stories
Exercises: Creating a story map. Identifying chain reactions in your life's journey. Diving into meaningful experiences. Share a memory related to why you do what you do now.
🔹 Circle 2
+Identifying Dominant Narratives
+Building Visionary Narratives
Exercises: Share How It Is, Share How it Could Be. One Minute Megaphone.
🔹 Circle 3
+Sharing a Visionary Narrative through specific stories
Exercise: Putting it all together: a visionary narrative told through specific stories
🔹 Circle 4
+Make your stories magnetic & memorable
+Creating & releasing tension in your stories
+Utilizing surprise, upending expectations
+ Creating vivid, sensory-rich scenes
Exercise: Open a question, create a hook
🔹 Circle 5
+Refining your stories
+Choosing & eliminating details
+Creating a story map/outline
Exercise: tell a 7-minute version of your story, tell a 3-minute version of your story, tell a 1-minute version of your story
🔹 Circle 6
+Review & practice
+How to decide the story you want to tell
+Exploring vulnerability & trauma sensitivity in storytelling
Exercise: Story Sharing Circle
🔹 Circle 7
Story Sharing Ceremony
Eligibility:
This circle is for you if…
🔹 You are looking to tell stories that change the world
🔹 Whether in your life or work, you know that storytelling can unleash new opportunities and change
🔹 You are ready to find a community of fellow change-makers
🔹 You are open to being vulnerable and authentic
🔹 You are a non-cis man (women, femmes, non-binary people, trans men are welcome!)
Value
The cost will be offered at a sliding scale: $415 – $635.
Pay what you can – no questions asked
Frequently Asked Questions:
Will the circles be in-person or online?
👉 All offerings will be held online with a community from around the United States and the world.
Who else will be in the coaching circle?
👉 All interested professionals will apply through this link. The group will consist of eligible individuals and will be accepted after an interview process.
When are the circles scheduled for?
👉 The circles are scheduled for:
Wednesdays starting at 6 pm ET, every other week for 3 months (7 sessions total)
The dates are: September 15, September 22, September 29, October 6, October 13, October 20, with the final session on October 27
What if I don't know if storytelling is relevant to my job?
👉 The power of storytelling is relevant to all professions as well as personally. Life has a skill for supporting people to find and hone their personal stories that will change their perspectives and opportunities for transformation.
How do I know if I am a fit for the coaching circles?
👉 Please read the eligibility section above.
How will I know once I have been selected to join a coaching circle?
👉 You will receive an email confirming your spot and the dates/times of the first circle.
When will I find out if I am selected?
👉 All decisions will be made final by Thursday, September 2nd, 2021.