Event Information
Refund Policy
Contact the organiser to request a refund.
Eventbrite's fee is nonrefundable.
Learn from the best: ideas to support your immersive innovation journey
About this Event
StoryFutures Lounge
XR AND THE FUTURE OF STORYTELLING
Virtual and Augmented Reality have the potential to transform how we tell stories and engage audiences. This session is an opportunity to meet some of the UK's leading innovators at the forefront of thinking about the future of immersive technologies in the creative and cultural sectors, and beyond.
· Hear about cutting-edge creative storytelling projects spanning AR, VR and haptic wearables
· Learn from Arcade, Nexus Studios and Valkyrie Industries reflecting on their work, approach to innovation and lessons they've learned so far
· Find out about the latest support and funding opportunities at StoryFutures, the R&D programme for immersive storytelling, that works with creative and digital SMEs in the region and Greater London
The event is open to creative and digital businesses, innovation professionals, academic researchers and students. We look forward to meeting you!
Speaker Bio's
Helen Broadbridge - Nexus
Helen is a Senior Creative Producer with over 9 years of experience working in the creative industry. Helen has been lucky to work with some of the most innovative brands, from Google and the BBC to Disney and Adidas and her portfolio of projects includes games, virtual reality, augmented reality and experimental art installations. Nexus Studios is a world-leading film and interactive studio with animation and storytelling at its core. Their prolific output includes Oscar nominated and BAFTA winning films, Cannes Grand Prix winning commercials and EMMY nominated AR & VR experiences.
Kristina Glushkova – StoryFutures Creative Cluster
StoryFutures brings together leading innovators, major organisations including The National Gallery, Discovery and Heathrow Airport, and academic experts to create ground-breaking ideas, pilots and prototypes in next-generation storytelling. Kristina leads R&D support programmes and business engagement at StoryFutures. Kristina has worked for over 20 years at the intersection of innovation, communication and technology including at Nokia, Ofcom, Royal Holloway and mySociety.org. She co-founded social enterprises Impact Hub Brixton and Makerhood where she led entrepreneur network development.
Ivan Isakov - Valkyrie Industries
Ivan is a co-founder and CTO of Valkyrie Industries, an award-winning startup which develops next generation wearable haptic interfaces for mixed reality applications. During his career, Ivan has gained an in-depth knowledge of human-computer interfaces, using embodied control and natural interaction in VR, developing both hardware and software solutions. Valkyrie Industries patented wearable technology provides sensations of weight and texture to human-computer interfaces, enhanced by precise body tracking, biometrics, and machine learning algorithms constantly adapting haptic sensations to users.
Jon Meggitt - Arcade
Jon founded and ran FUSE a leading digital agency for many years. He sold FUSE to Interpublic Group at the end of 2011 and, over the preceding 4 years, conducted one of the group's most successful earn-outs to date by integrating into a global PR firm (Golin) and helping to grow the business by over 300%. Jon now combines his technological and architectural expertise into a business focused on the next big thing - immersive technology. Arcade is a new type of digital practice founded by architects, tech pioneers, game developers and creative strategists. They specialise in using immersive technologies such as augmented reality (AR) and virtual reality (VR) to create three-dimensional digital experiences with the uncommon power to connect people to place through play.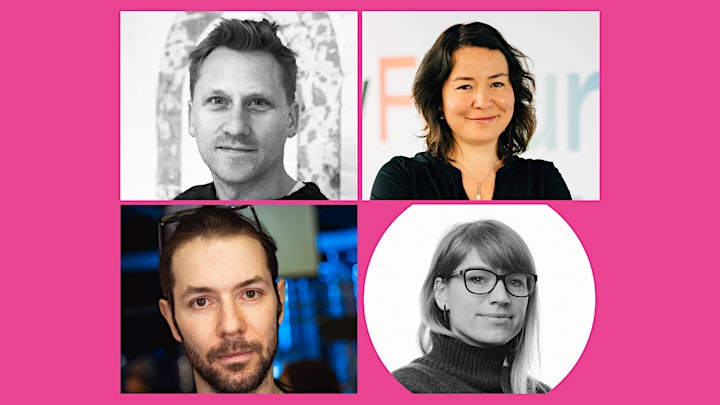 Date and Time
Location
Refund Policy
Contact the organiser to request a refund.
Eventbrite's fee is nonrefundable.