Discover how to draw in readers by conducting and writing brilliant interviews and engaging case studies as well as entertaining features.
About this event
Where to find your stories and how to make them soar
Have you ever been asked to find a case study but don't know the first place to start? Have you ever interviewed someone and left feeling it hasn't gone half as well as you had hoped? Have you stared blankly at your laptop and found you haven't a clue how to begin your feature-length article? Then this is the course for you!
From interviewing techniques to nailing that eye-catching intro this is for anyone who wants to improve their writing skills or just put the joy back into writing. Along the way, we'll discuss storytelling and discover that many of the components found in that best-selling novel are evident in any shorter form of writing.
This three-hour course is designed for communications officer involved in finding case studies or interviewees and writing about them – whether that be for newsletters, magazines or social media posts.
After this course you will be able to:
Be armed with a good list of resources and ideas for finding your case studies
Have the knowledge to prepare for your interview with confidence
Be able to conduct a comprehensive, engaging interview
Know various techniques to make your writing interesting and eye-catching to the reader
Understand what makes a good case study/interview/feature/story
About the trainer
Hi. I'm Jonathan Lovett and I'm an editor, journalist and author of 25 years' experience specialising in feature writing, interviews and case studies.
For the last ten years, I have worked for various communications teams in London bringing my storytelling skills to numerous projects including books, magazines, newspapers, exhibitions and campaigns.
In the last five years, I have delivered workshops on storytelling and writing to fellow journalists and community groups and have used my expertise to help set-up a number of community newspapers.
I have a passion for telling peoples' stories and love the challenge of taking the words of the shopkeeper or the Hollywood celebrity and sculpting them into narratives to engage the reader.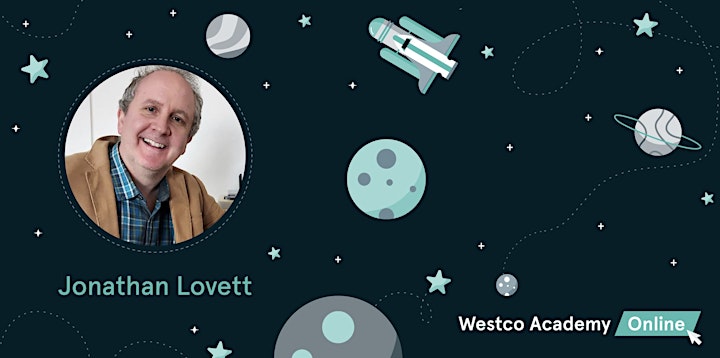 About Westco
Simply put we're an agency that helps clients to change people's lives for the better through strategic communications.
Westco Communications was launched by Westminster City Council in 2003 in response to demand from local authorities and other public sector organisations for evidence-based and cost-effective best-in-class communications services. Since then, we have put informed, strategic communication advice at the heart of decision-making across the public sector.
We've got the public sector's best practitioners providing organisations with director level advice and guidance, excellent campaign strategists, heads of communications that transform client teams, leaders in crisis communications, advertising creatives and copywriters, award-winning social researchers, reputation managers and government relations specialists, all under one roof.
Our Westco Academy is designed to give teams and individuals the best set of tools and insights to deliver the most effective communications and reputation management.
We will be offering training courses in Webinar forms as well as a number of online courses focused primarily on enhancing your digital skills, developed by our agency's Digital Strategy partners.
Visit our website: www.westcocommunications.com