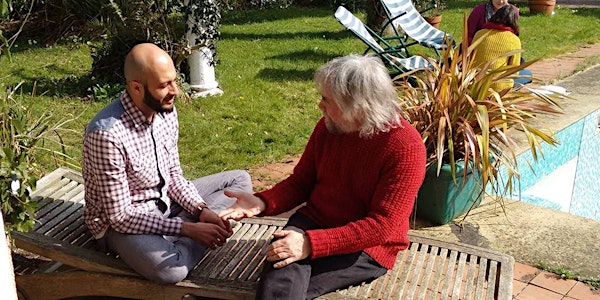 Storytelling for Changemakers....Newidwyr a Dweud Straeon
Location
Media Resource Centre, Llandrindod Wells
United Kingdom
Refund policy
Refunds up to 7 days before event
Description
Are you exploring new ideas that can help move us towards a more just and compassionate world? Do you want to learn how to communicate these ideas in a way that is powerful and authentic?
Ydych chi'n ystyried syniadau newydd fyddai'n gallu helpu symud tuag at fyd mwy cyfiawn a thosturiol? Hoffech chi ddysgu sut i gyfleu'r syniadau hyn mewn ffordd rymus a dilys?
In this weekend workshop we will examine how stories shape our worldview and learn how to harness their power to create positive social change.
Ymunwch â ni ar weithdy penwythnos i ystyried grym straeon er mwyn creu newid cymdeithasol cadarnhaol.
Through games and exercises in a fun and supportive atmosphere you will learn:

• How to develop presence and authenticity
• How to shape your material so it holds the attention
• How to connect with your chosen audience
• How to tease out the key messages that can lead to action and transformation
Trwy gemau ac ymarferion mewn amgylchfyd llawn hwyl a chefnogol, gellir dysgu:
Sut i feithrin presenoldeb a dilysrwydd

Sut i addasu deunydd er mwyn cadw sylw

Sut i gysylltu â'ch dewis gynulleidfa

Sut i gyfleu'r prif negeseuon sy'n gallu arwain at weithredu a thrawsnewid

Now I finally understand what storytelling is really about."
Joanna Flanagan, workshop participant
(This event is generously funded by the Big Lottery, via PAVO as part of the One Powys Connected Voices project. Come and learn how to get your voice heard)
"Now I finally understand what storytelling is really about."
Joanna Flanagan, un o gyfranogwyr y gweithdy
(Cyllidir y digwyddiad hwn drwy haelioni'r Gronfa Loteri Fawr, trwy PAVO fel rhan o brosiect Lleisiau Cysylltiedig Powys yn Un. Dewch i ddysgu sut i gyfleu eich barn).