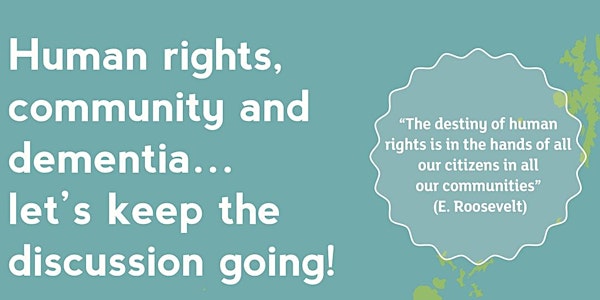 Storytelling session for people with dementia about living in FORTH VALLEY
Sales Have Ended
Registrations are closed
Life Changes Trust 0141 212 9600
Storytelling session for people living with dementia to share experiences about life in FORTH VALLEY.
About this event
This session can be done online, or if you prefer, by telephone.
**PLEASE NOTE** This session is exclusively for people living with dementia in FORTH VALLEY (not professionals).
This session, facilitated by the Village Storytelling Centre (VSC), will allow you to describe your thoughts and experiences of living with dementia in Forth Valley. We are using storytelling methods to make it easier for people to talk about dementia in a way that doesn't feel too personal. By using stories and characters we can find new ways to tell our own stories.
We will capture your words and phrases – anonymously – to amplify the topics you identify as most important.
The VSC is committed to inspiring people to realise their potential through the creative use of story. It has 20 years' experience of using storytelling as a tool to support groups and individuals to shape and share their own stories and create a platform for their voices to be heard.
Participants will be invited to:
Get to know each other through swapping stories.
Listen to traditional tales that might have something to say about care and about community.
Create a collective story, through guided exercises, that expresses some of the challenges of living with dementia and some of the solutions that could improve people's lives.
Telephone session
If you would prefer to take part in a session on the telephone, rather than online, there are one-to-one sessions with a storyteller available. They will be shorter but largely will follow the same format.
They will take place on Wednesday 19th May 2021, with the following slots available: 10.30am, 11.30am, 1.30pm.
Who this session is for
It is exclusively for people living with dementia in Forth Valley. The session will inform our online Community & Dementia, creating better lives in Forth Valley conference on Thursday 27th May 2021.
There is a similar session for professionals and volunteers: https://www.eventbrite.co.uk/e/storytelling-session-for-professionals-working-with-people-with-dementia-tickets-150911946695
The session will be recorded and the recording will only be used to ensure accuracy of the report produced later. Comments will be anonymised.
Booking a place
As well as booking via Eventbrite, you can book by email at admin@lifechangestrust.org.uk or by phone at 0141 212 9600.
If helpful, you are welcome to have someone attend with you if you want someone to support you during the session. Just let us know when you book.
To book one of the telephone sessions, phone 0141 212 9600 or email: admin@lifechangestrust.co.uk and choose one of the following slots: 10.30am, 11.30am or 1.30pm on Wednesday 19th May 2021.