Description


Dear Parents/

Chers parents,
We are inviting your daughters to join us on November 9th-10th to discover the world of digital technology together/Nous invitons vos filles à nous rejoindre le 9 et 10 Novembre pour découvrir ensemble le monde de la technologie numérique.
Tech Playground is a community of young girls who can explore the world of technology by playing with different digital tools to produce great designs, websites, mobile apps, audio-visual media, animations to find a field that resonates with their personal interests and career aspirations./ Tech Playground est une communauté de jeunes filles qui explorent le monde de la technologie en utilisant différents outils pour produire des designs, sites web, applications mobiles, médias audiovisuels et animations afin de trouver un domaine dans lequel elles peuvent développer leurs intérêts personnels et leurs ambitions professionnelles.
By being part of our community girls learn digital skills in a fun way that translates into their everyday life and are an essential part of being exposed to different career fields. / En faisant partie de notre communauté, les filles gagnent des compétences de manière ludique, qui sont utiles dans leur vie quotidienne et qui sont essentielles pour une bonne exposition à une variété de champs professionnels.
---
About the Workshop/À propos du workshop
It is introductory level, filled with creativity, a two-day workshop for girls during which they will be introduced to the art of storytelling using the following topics / C'est un workshop de deux jours, introductif et créatif, exclusivement pour filles. Nous leur introduirons l'art du « storytelling » en abordant ces différents sujets:
Fake news: Don't believe everything you read, see or hear online / Fausses infos: Ne croyez pas tout ce que vous lisez, voyez ou entendez en ligne

Create magic: Explore and bring your imagination to life through pictures / Créez de la magie: explorez et donnez vie à votre imagination à travers des images

SuperGirl: Let the world see who you want to be / Supergirl : laissez le monde savoir qui vous voulez être

Change the world: Design visuals to support your message and make social impact / Changez le monde: concevez des illustrations pour faire passer votre message et créer un impact social
By attending the workshop girls also have 6-months access to:
- additional on-line tutorials
- access to a database of role models
- access to Girls Tech Playground community on-line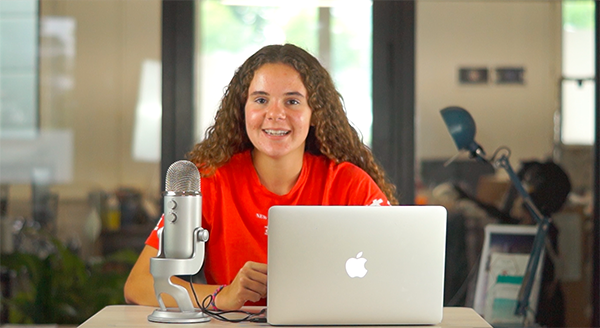 Why Storytelling? /

Pourquoi le Storytelling?
Storytelling doesn't happen only through words. In the era of digital technology and the power of social media, the ability to create an interesting and engaging story through visuals - might be just the most important skill to have in the 21st century / Raconter une histoire ne se présente pas seulement sous la forme de mots. Dans l'aire de la technologie numérique et sous le pouvoir des réseaux sociaux, la capacité à créer une histoire intéressante et captivante a travers des illustrations pourrait être la compétence la plus importante à avoir au 21ème siècle.
Objectives / Objectifs
In this workshop, students will create their own story through photography using Adobe Photoshop. They will learn how to set up a WordPress.com website and add their own content. We will also customise their website using HTML programming language. By the end of the workshop each student will develop a personal website that she can continue working on at home / Dans ce workshop, les élèves vont créer leur propre histoire à travers des photos à l'aide de Adobe Photoshop. Elles apprendront également à créer un site web WordPress.com et ajouter leur propre contenu. Nous allons aussi personnaliser ensemble leur site web en utilisant le langage de programmation HTLM. A la fin de ce workshop, chaque élève aura développé son site web qu'elle pourra continuer à la maison.
"THE WORKSHOP GOES BEYOND TEACHING GIRLS PROGRAMMING. IT'S AN OPPORTUNITY FOR DISCOVERY WHERE THE NATURAL CURIOSITY OF TECHNOLOGY IS STIMULATED THROUGH STORYTELLING AND IMAGINATION" - Nathalie Carminati, Web and Digital Communications for WHO and the workshop courseware developer. / « CE WORKSHOP EST BIEN PLUS QU'ENSEIGNER LA PROGRAMMATION AUX FILLES. C'EST UNE OPPORTUNITÉ POUR DÉCOUVRIR OÙ LA CURIOSITÉ NATURELLE DE LA TECHNOLOGIE EST STIMULÉE À TRAVERS LE RÉCIT D'UNE HISTOIRE ET L'IMAGINATION » Nathalie Carminati, Communication web et digitale et développeuse des logiciels des cours du workshop
You may want to know that our Tech Playground is built around the model of "teach one to reach one", where a percentage of the workshop contributions are used to fund the same sessions we hold in remote countries where girls lack these opportunities to play and learn. / Il est bon à savoir que Tech Playground est basé autour du modèle « Teach one to reach one », où une partie des contributions du workshop sont utilisées pour financer les mêmes séances que nous tenons dans d'autres pays où les filles manquent d'opportunités pour s'amuser et apprendre.
Register for the upcoming workshop
Suitable ages: Girls from 15 to 18 years old / Âge: pour les filles de 15 à 18 ans
Lunch time: 12:00 – 13:00 *Please bring your own lunch / Pause déjeuner: 12:00 - 13:00* merci d'amener votre propre repas
Languages: English and French / Langues: anglais et français
Date and Time: 9th and 10th of November (Saturday and Sunday) from 9:30 till 17:30 / Date et heure: 9 et 10 Novembre (samedi et dimanche) de 9:30 à 17:30
Location: Campus Biotech Innovation Park - Avenue de Secheron 15, 1202, Geneva / Lieu: Campus Biotech Innovation Park - Avenue de Sécheron 15, 1202 Genève


Please let us know if you have any questions: info@emplab.org / Si vous avez des questions, merci de nous contacter : info@emplab.org