Description


Dear Parents,
We are inviting your daughters to join us on May 11th-12th to discover the world of digital technology together.
Tech Playground is a community of young girls who can explore the world of technology by playing with different digital tools to produce great designs, websites, mobile apps, audio-visual media, animations to find a field that resonates with their personal interests and career aspirations.
By being part of our community girls learn digital skills in a fun way that translates into their everyday life and are an essential part of being exposed to different career fields.

---
You may want to know that our Tech Playground is built around the model of "teach one to reach one", where a percentage of the workshop contributions are used to fund the same sessions we hold in remote countries where girls lack these opportunities to play and learn.
---
About the Workshop
It is introductory level, filled with creativity, a two-day workshop for girls during which they will be introduced to the art of storytelling using the following topics:
Fake news: Don't believe everything you read, see or hear online

Create magic: Explore and bring your imagination to life through pictures

SuperGirl: Let the world see who you want to be

Change the world: Design visuals to support your message and make social impact
Catherine's Story: Save the earth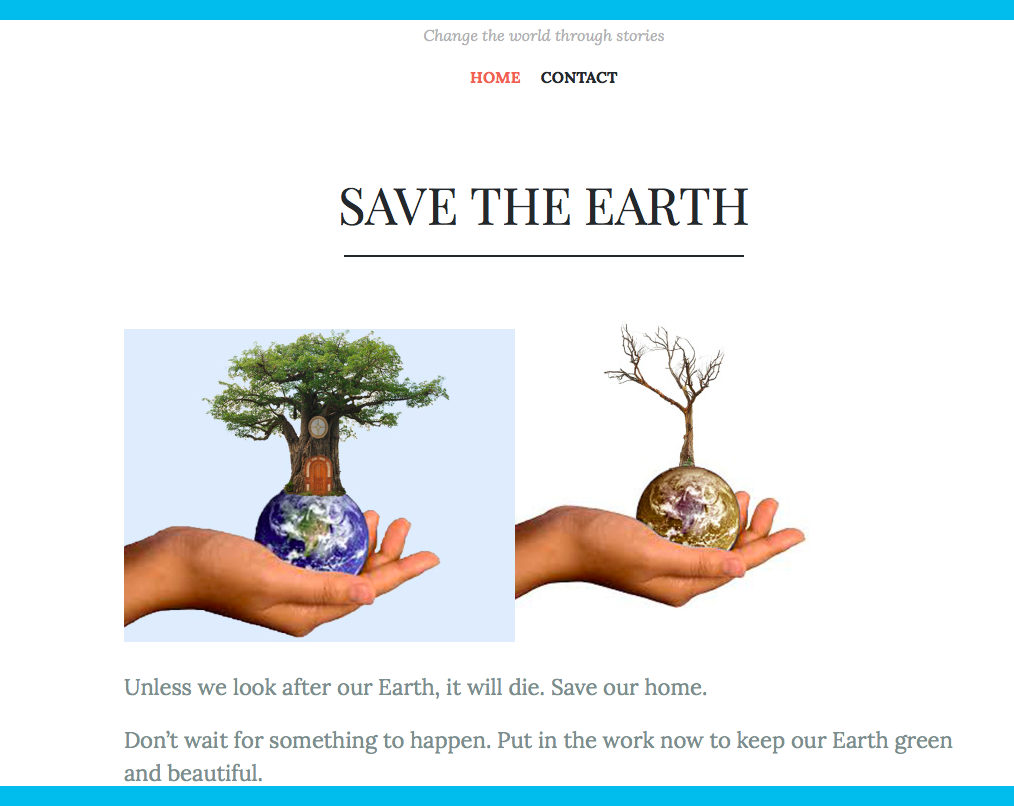 "My story is about how to take care of the planet, for it to be healthy, we can't just leave it and hope for the best.
During the workshop I learned how to create a storyboard through pictures and Photoshop. I think it's a very good tool to have because it quicker than reading and writing and it's more impactful and everyone can understand it. I also learned how to make a website and personalise it to which I think it will also be useful at school or in a job.
I didn't know how to do it before. I don't think I would able to do it on my own and doing it like this, as the fun activity, made it seem interesting and motivating doing it." - Catherine, 14 years old.
Why Storytelling?
Storytelling doesn't happen only through words. In the era of digital technology and the power of social media, the ability to create an interesting and engaging story through visuals - might be just the most important skill to have in the 21st century.
Objectives
In this workshop, students will create their own story through photography using Adobe Photoshop. They will learn how to set up a WordPress.com website and add their own content. We will also customise their website using HTML&CSS programming language. By the end of the workshop each student will develop a personal website that she can continue working on at home.
"THE WORKSHOP GOES BEYOND TEACHING GIRLS PROGRAMMING. IT'S AN OPPORTUNITY FOR DISCOVERY WHERE THE NATURAL CURIOSITY OF TECHNOLOGY IS STIMULATED THROUGH STORYTELLING AND IMAGINATION" - Nathalie Carminati, Web and Digital Communications for WHO and the workshop courseware developer.
Register for the upcoming workshop
Suitable ages: Girls from 12 to 17 years old
Each participant should bring her own laptop
Lunch time: 12:00 – 13:00 *Please bring your own lunch
Languages: English and French
Date and Time: 11th and 12th of May (Saturday and Sunday) from 9:30 till 16:30
Location: SDG Solution Space, Campus Biotech, Swiss Innovation Park - Avenue de Secheron 15, 1202, Geneva


Please let us know if you have any questions: info@emplab.org