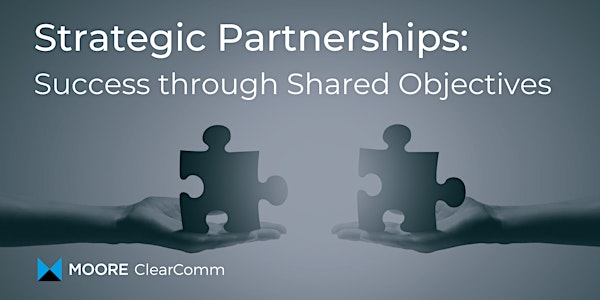 Strategic Partnerships: Success through Shared Objectives
Strategic Partnerships: Success through Shared Objectives
About this event
"Collaboration and augmentation are the foundational principles of innovation." - Vaclav Smil
At Moore ClearComm we know that no two businesses are the same. This conscious view enables us to build strong, lasting and bespoke partnerships across a variety of business sectors. Whether a Channel, Strategic or Network Partnership – each of our partners is equally valued and reinforced by our passion for data protection and cyber security.
Join us in this webinar, to discover how partnering with Moore ClearComm might possibly be the best decision and strategic move you could make in 2022.
Why?
Business partnerships give us all the opportunity to grow our respective businesses and offer more comprehensive support and services to your clients, which ultimately leads to greater retention.
At Moore ClearComm, we celebrate innovation and collaboration, which allows us to build successful, long lasting partnerships.
Webinar Objectives
We will discuss and explain why partnering with Moore ClearComm provides a very powerful model for the future, and creates a stronger defence mechanism for your clients:
Reduced data privacy legislative risk (GDPR, DPA compliance for example)
Increased staff awareness and focus on data protection and privacy - building a strong, robust "Human Firewall"
Reduced risk of cyber attack (Cyber Essentials certification, for example, can protect organisations from 80% of known cyber attack methods)
Increased trust from clients, customers and stakeholders
Increased cyber security across your supply chain
Strategic planning for your clients cyber security objectives
Measurement of cyber defences, in order to acknowledge and close gaps, in turn mitigating risk
Stronger contingency/continuity plans for when the inevitable cyber attack occurs
Sign up today, and if you have any questions in advance we`d love to help - so please email Rich Jackson (Host) direct at: richard.jackson@mooreclear.com