Strategy: How to Play the Game - Inaugural Lecture by Prof. Robert MacIntos...
Description
The Heriot-Watt University Inaugural Lecture Series showcases newly appointed or promoted Professors and gives them an opportunity to introduce themselves and their research interests to a wider audience.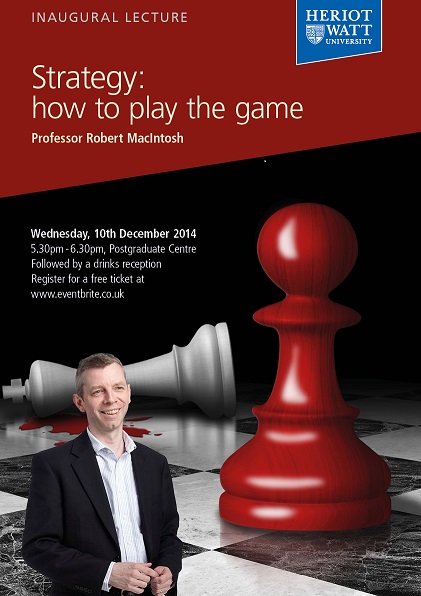 Across the ages, strategy has helped groups and individuals build empires. In antiquity those empires were geo-political in their nature but modern empires are just as likely to be defined in terms of market dominance and revenue streams.
Professor Robert MacIntosh will show you how to play the strategy game by exposing the hidden order behind winning strategies. He will set out a clear, concise and structured approach to strategic management that has been developed through two decades of research.
Few plans, however well defined, survive first contact with the enemy so the lecture will focus on the critical role that strategists play in connecting plans to the lived reality of life complex and dynamic organizational settings.
Join us from 5.00pm for refreshments and stay afterwards for a drinks reception.
PLEASE NOTE THE EVENT HAS BEEN MOVED TO THE HUGH NISBET BUILDING, LT1, IN THE MAIN UNIVERSITY BUILDING!
Free parking is available on car parks A+B off the main avenue.
Organiser of Strategy: How to Play the Game - Inaugural Lecture by Prof. Robert MacIntosh