Description
In August 2014, if you opened up your Facebook feed, there was one thing that no-one could escape. The Ice Bucket Challenge. $115M raised, 2.4 million videos created and one question on every fundraiser's mind: "how do I create my own Ice Bucket Challenge?"
At Chuffed.org, we've spent the last four years running thousands of online fundraising campaigns in 27 countries around the world and helped raie over $30 million. We can distil down what the difference is between a crowdfunding campaign that succeeds and one that fails.
The answer: the successful campaigns follow a particular process.
In this workshop, we'll take you through that process and how to apply it to your non-profit.
The Workshop Agenda
The 3-hour intensive workshop covers the 5 key ingredients that occur in our most successful campaigns.
Audience targeting: Reach the biggest audience possible by learning what drives different types of donors to support you.

Event copy: Get everyone to share your campaign by crafting the perfect campaign pitch.

Set the right fundraising target: Discover how much you can raise- and what you can do to raise even more.

Make it exciting to donate: Learn how to build early momentum in your campaign using perks, matched giving and other techniques that make your audience excited to donate.

Campaign planning: Reach a huge audience with the perfect campaign strategy.
During the workshop, you'll get the opportunity to pitch your idea and get feedback from your colleagues in the room. You'll also get a chance to network with the other participants.
Following the workshop, all workshop participants who start a campaign will be provided with a free, one on one mentoring session and are invited to join our community of fundraisers for ongoing campaign support.
---


About the Speaker
PJ Shanmugan
Community Ambassador, Chuffed.org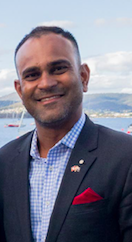 PJ is an experienced strategist, and corporate advisory specialist whose diverse career has encompassed roles with international organisations such as the World Bank Group, Royal Dutch Shell and Egon Zehnder International.
He is an Australia Day Ambassador, Patron of the Taronga Zoo Foundation and a Red Cross Ambassador. He has sat on several corporate and government advisory boards and has advised the United Nations, Australian Defence Force, and the Human Rights Commission.
A recipient of numerous honours and awards including the Centenary Medal, PJ is recognised as a 'Face to Watch' by The Sydney Morning Herald and a "fire-bellied visionary who puts his ideals into action."
An advocate of the human condition and the fostering of an philanthropic ecosystem, PJ co-founded Project Kokoda and raised over $17,000 on Chuffed.org.
PJ graduated with Honours in International Relations from the University of New South Wales and wrote his thesis on the changing nature of warfare. A passionate advocate of Australian football, he is an Ambassador for the Australian Football League, plays in the amateaur league for Sydney University and supports the GWS Giants.
---
Can't make it?
Join our community for immediate support and updates on future events.
Please note: as this is a hands-on workshop, places are limited.
About Chuffed.org
Chuffed.org is one of the leading (free!) global crowdfunding platforms and communities for not-for-profits and social enterprises. We've helped over 8,000 charities in 27 countries raised over $25 million.
If you're looking for what your campaign could be like, check out:
What previous attendees say
"Thanks very much for an enjoyable and useful workshop, it definitely broadened my understanding of what is possible and confidence to run a campaign. Thanks too for the information and again for your support, it is greatly appreciated." - Trish Appleton-Fox, Centre Manager, The Rainbow Centre for Children