Strathclyde Evening Talks with Dr Aliakbar Jafari: Who Shapes the Market?
Description
THE STRATHCLYDE EVENING TALKS
Who shapes the market?
Dr Aliakhbar Jafari, Department of Marketing, Strathclyde Business School
Using the halal market as a case study, this talk offers an opportunity for rethinking some of the most taken-for-granted assumptions about "the market". In this interactive session, Dr Jafari will explore how organisations face strategy dilemmas in responding to internal and external complexities in their rapidly changing socioeconomic, cultural, and political environments. The talk will provide application to a diverse range of business entities including startups, corporations, SMEs, policy institutions, and NGOs, and will provide a platform for participants to look at their enterprise from new perspectives, and to better understand and predict their existing and future challenges.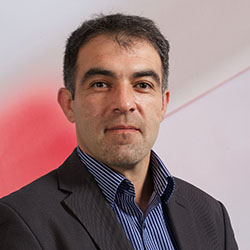 Dr Jafari is Reader in Marketing, and Director of the MSc International Marketing Programme at the University of Strathclyde Business School. Before joining academia, he held international marketing positions in the automotive industry for several years. He sits on the editorial review board of Consumption, Markets & Culture and senior editorial advisory board of Journal of Islamic Marketing. He also sits on the editorial board of several academic outlets including Journal of Marketing Management, Marketing Theory, Iranian Journal of Management Studies, and International Journal of Islamic Marketing and Branding. As invited (keynote) speaker, he has delivered talks in different academic and professional events in the UAE, UK, Malaysia, Turkey, and Iran. He has co-edited two books: 'Islam, Marketing and Consumption: Critical Perspectives on the Intersections' (Routledge, 2016) and the four-volume set of 'New Directions in Consumer Research' (Sage, 2015).
The Strathclyde Evening Talks is a regular series of talks hosted by Strathclyde Business School UAE and featuring Strathclyde academics and other invited guest speakers with a view to promoting the sharing of knowledge among the local Strathclyde and wider business community. The University of Strathclyde Business School (SBS) is one of the oldest, largest and most respected Business Schools in the UK and is currently Times Higher Education's UK Business School of the Year. A pioneer in the field of management education, the business school has had a presence in the UAE since 1995 and offers its Executive MBA in its international centres in Abu Dhabi and Dubai. Holding triple international accreditation (AMBA, EQUIS, AACSB), SBS is globally recognised and the Strathclyde MBA is one of the world highest-ranked programmes. The Strathclyde MBA is accredited by the UAE Ministry of Higher Education & Scientific Research.