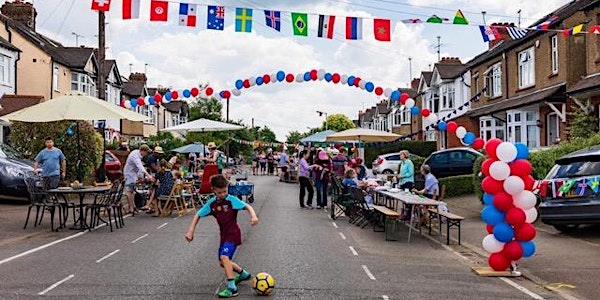 Street Party Information Sessions (St Albans District)
Find out how to hold a street party - including how to apply to close your road - in St Albans District - Free online event.
About this event
About this event
Come along to this free information session to find out:
where to apply for road closure in St Albans, Harpenden or villages
steps you need to take and how to fill in the forms
how to get road closed signs
ideas of things to do
Format
The event will be in the format of an online Zoom talk by one of the Our Street Party volunteers followed by a chance for you to ask questions.
About Our Street Party
Our Street Party is a Hertfordshire volunteer organisation supporting residents build a community where they live by holding a street party. Our Street Party is generously supported by Oakman Inns.
FAQs
1. Who can attend sessions?
Residents from the City and District of St Albans can attend the sessions (including residents of Harpenden, Wheathampstead, Redbourn, London Colney and Sandridge). Suitable streets to close for Playing Out are non-bus routes in St Albans District.
2. What should I bring to the information session?
Nothing. However you may wish to bring a neighbour! Why not talk to your neighbours to see if someone would be interested in organising a street party with you and might fancy coming along to this information session too.
3. I can no longer attend the session. How can I contact the organiser with any questions?
Places at the sessions are limited so please email nicola@ourstreetparty.org to let us know. We will then be able to offer your place to someone else.
4. Will my personal data be retained?
When you sign up, you will be invited to join our mailing list for Our Street Party and Playing Out St Albans District. You can ask us to delete your contact details at any point by sending an email to nicola@ourstreetparty.org.
6. Any other queries?
You can contact Nicola at nicola@ourstreetparty.org