A Street Talk on how to improve personal security on London's streets.
About this event
Many Londoners are concerned for their personal security while simply walking, socialising, cycling or playing on London's streets and public spaces. One of the most fundamental of human rights - the right to the security of person – is not being met. The concerns Londoners cite are drunken, aggressive or intimidating individuals, violent crime, having something stolen or damaged, and being a victim of verbal or physical abuse.
Most women don't feel safe walking down the street at night or along back streets, and even in the day 68% feel unsafe at least occasionally. Young black men are more likely than others to be victims of violent crime in London, and are also 19 times more likely than the wider population to be stopped and searched by the police . Other disadvantaged people, such as disabled people, people with mental health conditions, LGBTQ+ people and homeless people, are also more likely to be the victims of aggression on London's streets.
The solutions are complex, and intersect issues of gender, race, sexuality and other forms of discrimination, as well as deprivation, social cohesion and trust.
This Street Talk will bring together three speakers with big ideas on how we can dramatically improve personal safety on our streets, each exploring a different theme:
• Jain Lemom, Violence Against Women and Girls Senior Policy and Commissioning Manager, Mayor of London's Office of Policing and Crime (MOPAC). Jain will be speaking about the Mayor's action plan to reduce violence against women and girls in London.
• Tobi Sobowale: poet, writer, photographer and architectural designer. Tobi has an academic background in Architecture, looking at Social Housing and Crime and its impact on the territorial attitudes of residents. Tobi has written articles including Forgotten by design: the in-between spaces of council estates and The Poetic Qualities of a Space for the Architects Journal. As an alumni of the Stephen Lawrence Charitable Trust and member of the Manchester School of Architecture student collective acting on behalf of Black and minority students, Tobi is an advocate for diversity and inclusion in the architecture profession. Tobi has exhibited her photographic work at the first UK Black Female Photographer's Exhibition and the Harris Museum Preston. Tobi will be speaking on the social and environmental factors impacting on personal safety on our streets.
• Marcus Willcocks: Marcus is Senior Urban Designer on multiple community street design projects with Sustrans South; he is also design-led Research Fellow in Public Space, at Central Saint Martins, member of the Design Against Crime Research Centre at the University of the Arts London and is a Design Council Expert advisor for social safer and collaborative built environment and public realm projects. Marcus delivers and co-delivers community-driven practice, including award-winning and published projects, to enable sociable safe places, urban play and creative wellbeing, spatial engagement, and better experiences through cycling, walking and shared spaces. Marcus's publications include Less Crime, More Vibrancy, by Design and the concluding chapter for the 2020 Routldege Handbook of Placemaking. Marcus will be speaking on Social Safer Design for public spaces that can address crime by including more of what we want more of, rather than focusing only on what we want less of.
Chair: Zeina Hawa. Zeina is an Engineer at Sustrans in the London Built Environment Team. Zeina is also co-founder at The Chain Effect, which promotes the bicycle as a sustainable means of transport and facilitate its use in Beirut, Lebanon, through street art, public interventions, community projects & planning.
Let's get to the bottom of whether UK and London leadership are getting the strategy right, and what more needs to be done.
This is a Street Talk. Street Talks are a series of free, informal events that have been running for over 10 years that discuss bold ideas on how London's streets can be improved for all. We invite speakers to challenge the status quo and propose ambitious solutions to the issues we face. Everyone is invited and welcome to Street Talks.
Registration will be available until 3pm on Tuesday 21st.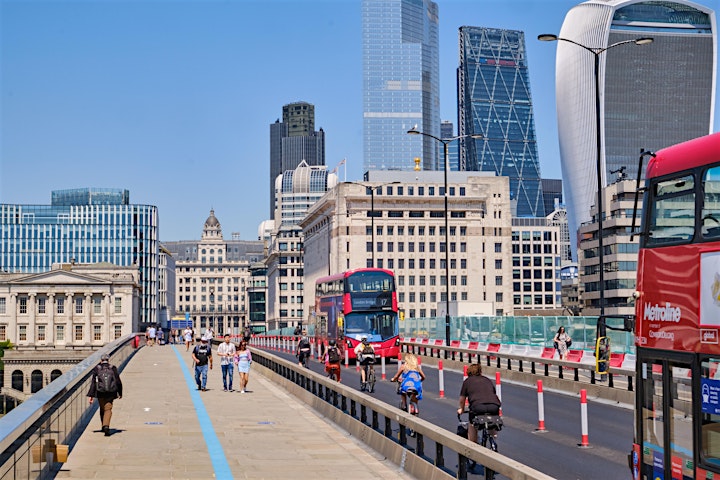 Organiser of Street Talks – How can we improve personal security on London's streets?