Description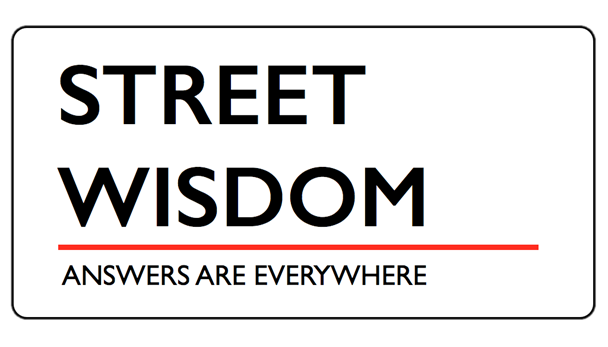 Street Wisdom is a non-profit venture that offers an enjoyable, powerful and free way of using the streets to gain some wisdom and learning. There is no charge. At Street Wisdom you don't pay fees, you pay attention. All you need is to turn up with a question you'd like some fresh answers to. It could be something personal or something work or business related.

What's the format?
Street Wisdom is a three hour experience designed to fit easily into a morning or afternoon. It's structured in three one-hour sessions, which we call 'tune', 'ask', and 'share'. First you'll get some help tuning up your senses so that you can pick up far richer information from the environment than you would normally.
Then you're off on a journey by yourself - your street quest - where you ask your question and see what answers present themselves. It's only an hour and you don't have to go far - but it's amazing what you can learn.
In the final 60-minute session everyone gathers to share what happened and, more often than not, their wonder at how magical an ordinary street can become when you're really aware of those hidden messages, chance meetings, and unexpected discoveries.
Who is it for?
It's for anyone who has questions about their life and work and wants some fresh answers. It's relevant if you're tackling a challenge in your working life, figuring out what's next, struggling with day-to-day stuff, or seeking an inspirational breakthrough.
Where and when
We're meeting at 1.20pm for a 1.30pm start on Tuesday 25th October, in the centre of Newark. We'll be out in the streets most of the time, so come prepared to do some walking and wear clothes that will keep you warm and dry whatever the weather. The session runs for three hours and we'll finish at 4.30pm.

Where we meet…
At the bandstand in Newark Castle. For the final hour we'll reconvene at a quiet cafe, location to be disclosed on the day.

What to bring...
A question (personal or professional) that you'd like some fresh answers to. You can keep it secret if you want, but it's good to have something in mind. Other than that, just a print out of your Eventbrite ticket and some comfortable footwear.
What if it rains?
Unless it's blowing a gale and wet enough to wash you away, we'll be going ahead!

Any other questions?
Look at the Street Wisdom site for more info - www.streetwisdom.org - or use the Contact Organiser button on this page.

What Happens
First of all you'll go on four short walks that'll help you start 'tuning into' the streets. Then you're off on a journey by yourself – your street quest. This part lasts for an hour, and afterwards everyone gathers together to share what happened; the suprising messages, chance meetings and unexpected discoveries. It's urban magic on your doorstep.

Age Restriction
This Street Wisdom event isn't recommended for children, so no under-18s please.