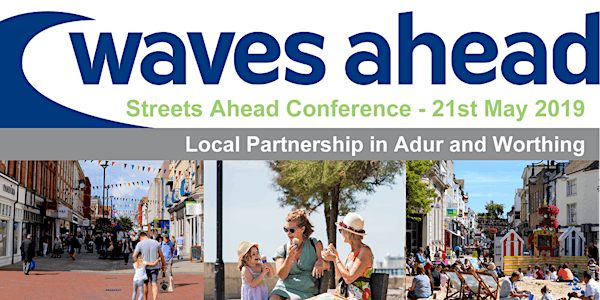 Streets Ahead - Waves Ahead Spring Conference 2019
Location
Ropetackle Arts Centre
High Street
Shoreham-by-Sea
BN43 5EG
United Kingdom
With the nature of Adur and Worthing's town centres changing our 2019 Spring Conference is focusing on pathways to shape their future.
About this event
The nature of our high streets is changing. Streets Ahead: Pathways to thriving town centres invites leaders from across Adur and Worthing to hear local, national and international perspectives on how our local communities can respond to these changes and put your hand to designing a high street of the future.
The keynote speaker for the evening is Bill Grimsey. Bill will draw on his extensive experience in retail and as one of the leads of Government's independent review into the future of the high street. Bill is a sought after speaker due to his open and honest opinions about how the high street is, and should, change.
Streets Ahead - the Waves Ahead Local Partnership 2019 Spring Conference takes place on Tuesday, 21 May at Ropetackle Arts Centre in the heart of Shoreham's town centre (5.30pm - 8pm). This Waves Ahead conference is kindly supported by the Adur and Worthing Business Partnership.
Take part in the conversation using: #streetsaheadaw and follow us on twitter: @wavesaheadaw.