Description
'Streets Paved With Gold'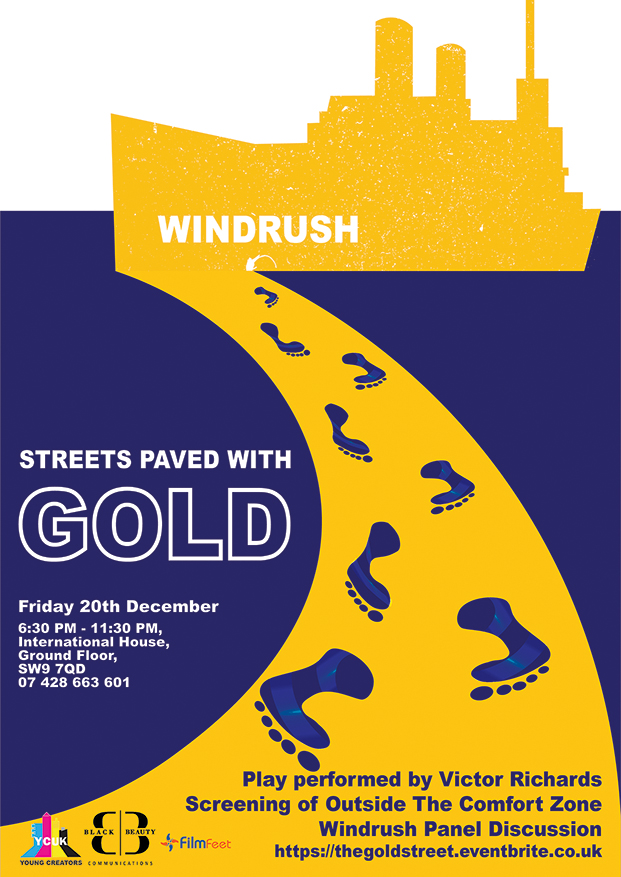 Written directed and performed by Victor Richards.
This is a short play set in the present but explores recent history from the 1950s onwards. In his one man play, Victor explores African Caribbean migration, and themes of hope, identity and change. The storyline of Streets Paved With Gold weaves together a thrilling and informative picture of the collective experiences of Black British citizens resulting from their new surroundings. The performance is about Augustus Cleveland Johnson who came to Britain from Barbados with a plan to return 'home' five years later.
It tells how both his life and times have changed over the years and his decision to return home. Sadness, joy, frustration, homesickness and a thousand other emotions are captured in the play.

Reminiscent in the production is the honesty of every word that will resonate with young and old, Asian, Black and White people alike.
It is a useful educational tool for all generations and a factual historical record and a powerful instrument for building cross-cultural understanding.
The performance will be followed by a post-show discussion: The Windrush Generation, The Scandal and the Broader picture, as well as a number of performances including spoken word poetry and singing etc and also networking, should you wish to engage further.
One man plays Streets Paved with Gold by Victor Richards is a long-running theatre piece, now on a national and international tour as part of celebrating Windrush 70th Anniversary.
The venue on Friday the 20th of December is 5 minutes walk from Windrush Square.

Organiser of Streets Paved with Gold - A Windrush Story