Description
Introduction
Through our work with the Wessex-Ghana Stroke Partnership (as part of the THET Health Partnership Scheme) we have become increasingly aware of the number of projects focussing on developing stroke care in low and middle income countries. We would like to invite you to this event, which aims to bring together UK-based health partnerships working in this area in order to share our experiences, learn from each other and plan for the future. We welcome attendees who are actively involved in relevant projects; if you are unsure whether the event is suitable for you then please contact us on the email address below prior to registering.
The aims of the event are:
To share and reflect on the successes and challenges to supporting sustainable stroke care development in LMICs; identifying common themes and sharing potential solutions.

To identify potential areas for collaboration, where health partnerships could work together to develop solutions and/or resources, that enable stroke care development in LMICs.

To provide a forum for UK based health care professionals to reflect on their personal development, arising as a result of their involvement in a health partnership.

To agree if and how this group would like to share information in the future.


Provisional programme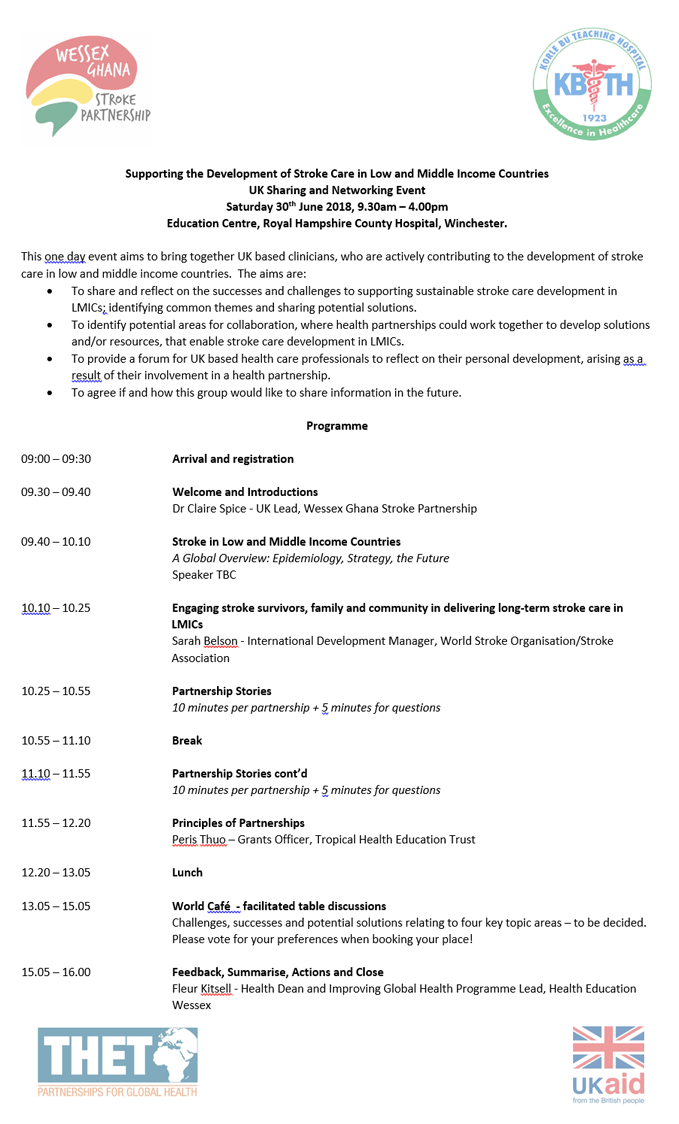 Transport/parking information
Royal Hampshire County Hospital is accessible by train, bus and car. For full details please see the hospital website here: https://www.hampshirehospitals.nhs.uk/about-us/find-us/royal-hampshire-county-hospital-(rhch).aspx
Contact us
If you have any queries please email us at wessexghanastroke@gmail.com
The WGSP is currently supported by the Tropical Health & Education Trust (THET) as part of the Health Partnership Scheme, which is funded by the UK Department for International Development (DFID).