Description
FREE to register: £8 payment at the door - cash only
Please note that this is a booking -only class. Subject to availability, drop-ins (who haven't booked), can take spaces for the payment of £10.
What to wear / bring?
Training gloves, cross trainers and gym wear. Bring an exercise mat / large towel, water and a sweat towel.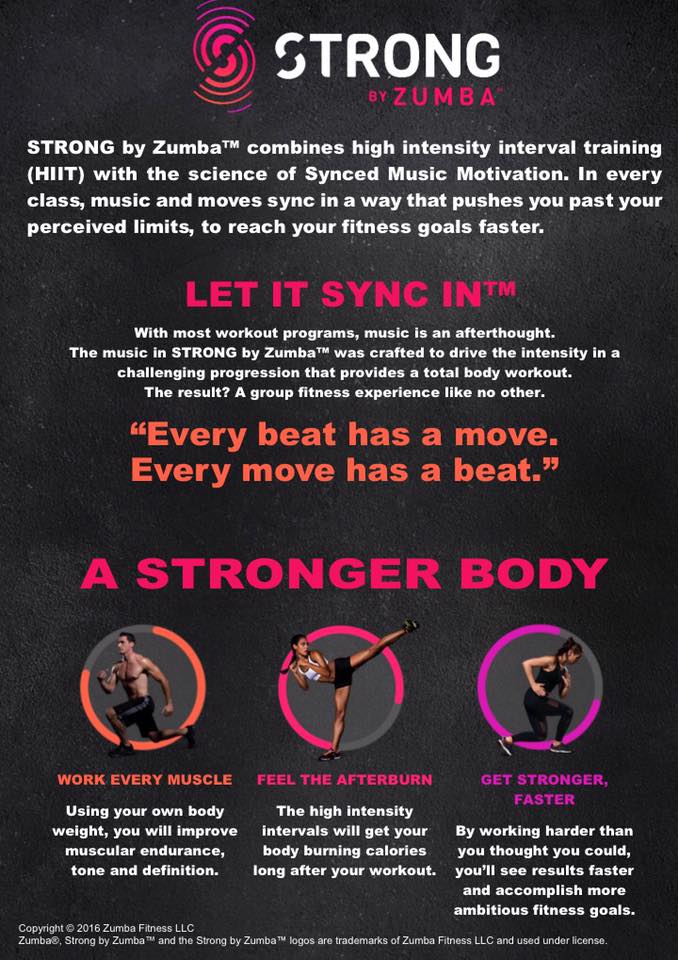 Who is the STRONG by Zumba™ Participant?
This class is designed for participants looking to increase their intensity levels of training, maximize workout benefits and see real results from their efforts. This athletic, conditioning style workout, is well suited for those who love to move but are not comfortable in a full-out dance class and even for those starting out less fit. It can also provide an incredibly high energy, maximum demand workout for more fit individuals. The workout can be adapted to all fitness levels, so that nearly everyone can take the class and progress. However, if you cannot support your own bodyweight with good form and alignment, you may find it beneficial to increase your fitness levels first, by taking some of my other classes.
TRAVEL
Bus Routes:
•33, 337, 493 Upper Richmond Road
•371 Marchmont Road
•419 Manor Circus

Rail Routes:
•North Sheen – 10 minute walk
•Richmond (tube and train) – 20 minute walk

Street Parking: free after 6:30pm.
T&C's There is a STRICT 24HR CANCELLATION POLICY, a cancellation fee will be applied on their next attendance. Online cancellations can be made by visiting the Eventbrite site via your emailed ticket, go to MY TICKETS and then CANCEL ORDER. Please respect this policy and cancel if you can no longer attend, so that spaces are made available for others to book. ALL late cancellations made after 5pm on the day, should be texted to 07714 899 624. Please DO NOT use facebook / email / eventbrite for late cancellations, as these messages may not be picked up in time.