Description
Stronger Together, 5 Years On | Our Journey, Your Next Step
Join us for a practical information, skills and best practice sharing forum to celebrate 5 years of Stronger Together. We will look at what has been achieved to date, assess where we are, review the challenges to progress, share experience and learning on how to successfully move forward and look to the future at what can be achieved next.
Benefit from peer-to-peer learning and gain insight from cross-sector and cross-country perspectives together with over 200 other businesses and stakeholders on the tackling modern slavery journey.
Be challenged, inspired and enjoy a combination of thought-provoking speakers, illuminating panel discussions, and engaging and informative interactive sessions. Leave with a clear understanding of the modern slavery landscape, the imperative need for further action from the business community, and feeling positive about the next steps you can take within your role and organisation to tackle exploitation in supply chains.
Hosted by: David Camp, Founder, Stronger Together and Jantine Werdmuller von Elgg, Global Programme Lead.
Speakers include:
Michael Drew, Head of Modern Slavery Protect, UK Home Office

Aisha Aswani, Ethical Trading Manager, Co-op

Lisa Domoney, Director Responsible Sourcing International Markets, Walmart

Michael Cross, Principle Sustainable Development Manager, Willmott Dixon

Ynzo van Zanten, Choco Evangelist, Tony's Chocolonely

Lara Bundock, CEO, The Snowdrop Project

Mark Heath, Deputy Director of Business Change, Gangmasters and Labour Abuse Authority

Katharine Bryant, The Global Slavery Index, an initiative of the Walk Free Foundation

Andrew Phillips, Duchy of Cornwall, Author of 'Agriculture and Modern Slavery Act Reporting: Poor Performance Despite High Risks' report

Sasha-Monique Elvik, Sustainable Sourcing Advisor, Vinmonopolet

Emma Henry, Responsible Sourcing Manager, BerryWorld, UK

Paul McAnulty, Compliance Investigation Officer, Staffline

Melville Miles, Head of CSR & Agronomy, Freshtime

Emily Kenway, Senior Policy and Communications Adviser, Focus on Labour Exploitation (FLEX)

Emma Henry, Responsible Sourcing Manager, BerryWorld, UK

Roger McVicker, Victims of Slavery Support Services Team Leader Northern Ireland, Migrant Help

Clare Jenkinson, Senior Destinations & Sustainability Manager, ABTA
Join us from 9:00 for registration for a 9:30 start.
Agenda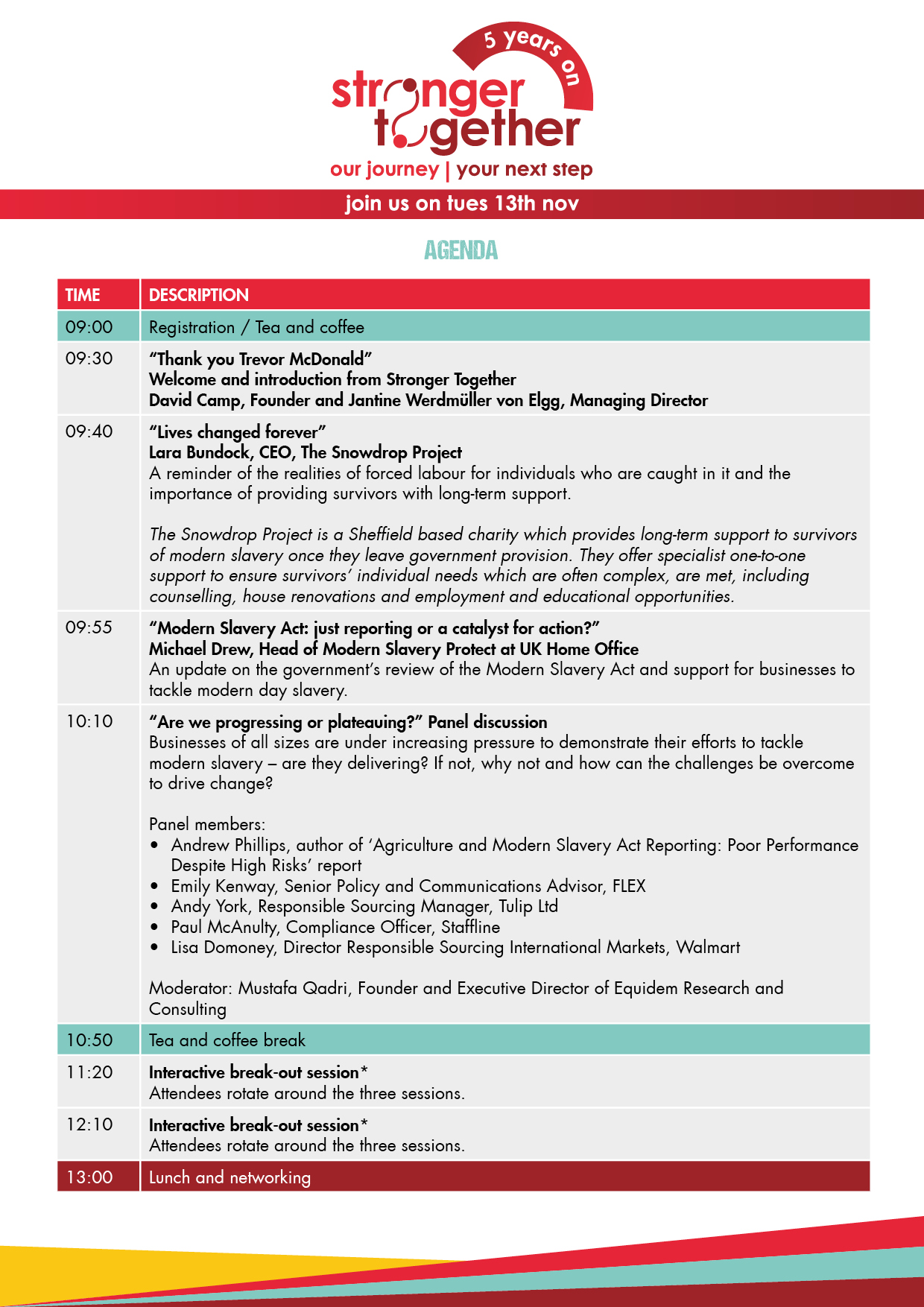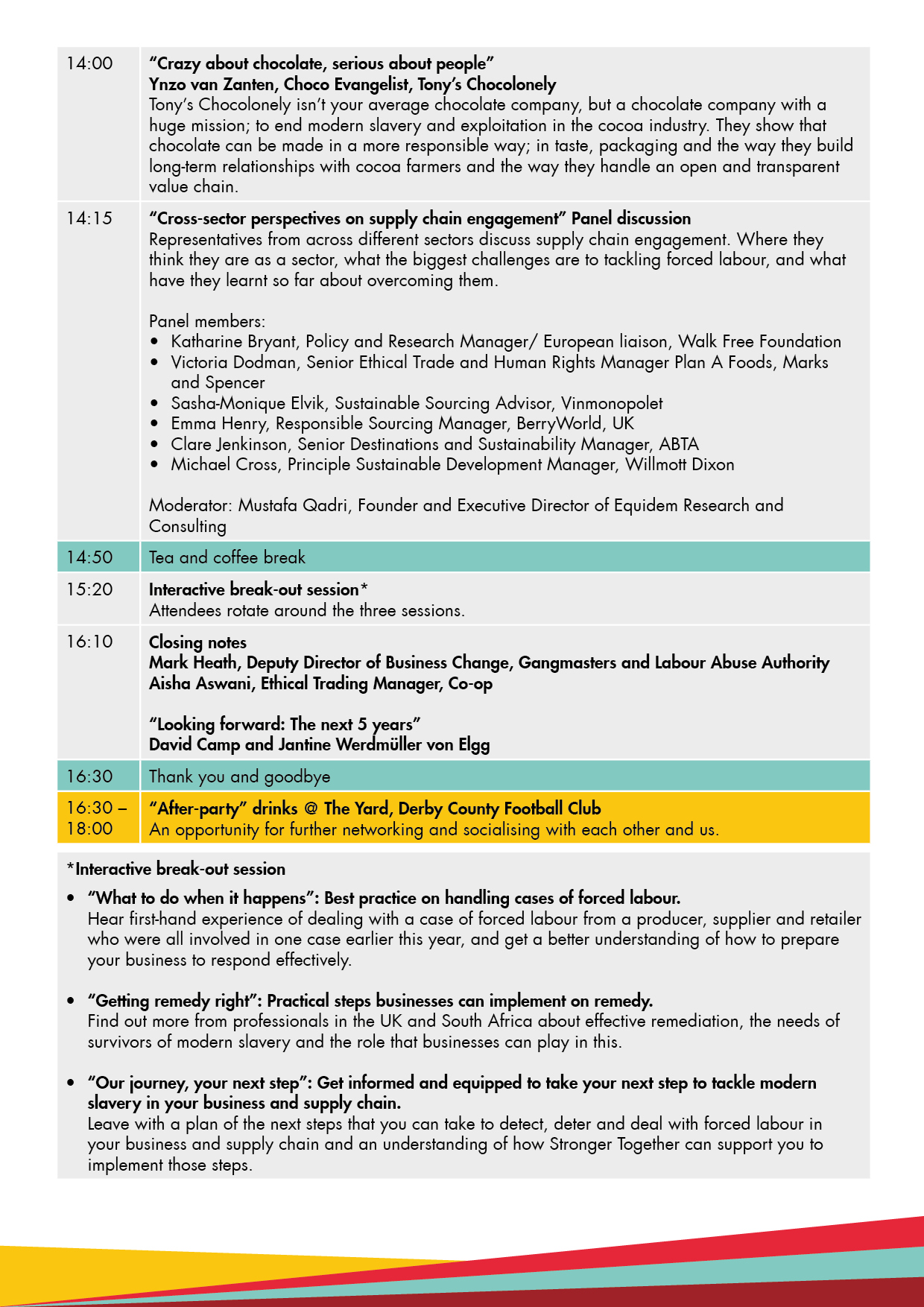 Follow the event: #s2g5YearsOn
Contact: info@stronger2gether.org | +44 (0) 1276 919090