Multiple Dates
Student Bystander Intervention training - November 2018
Description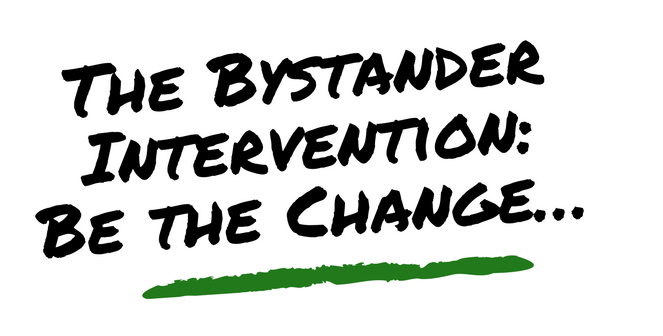 What is the Bystander Intervention Initiative and what is it for?
The extent of sexual harassment, sexual coercion, rape and domestic abuse in student populations across England has been revealed in evidence from crime surveys, student surveys and professionals working with students. The evidence has produced an imperative for universities to act. This resource is a response to that imperative.
Welsh Women's Aid (WWA) have been running a pilot programme in Welsh universities that aims to show students how to intervene to stop violence and abuse. The programme is called "The Bystander Intervention" and it has already been used in campuses across the USA and the UK.
Aberystwyth University ran these three courses in November 2017 and February 2018. They were so successful that we asked WWA if they would come back and run them again for students at Aberystwyth,which they were happy to do.
The training course runs over three consecutive Wednesday afternoons - Nov 14th, 21st & 28th.
Please register for each session as the maximum benefit from the course is only gained by attending all three sessions.
The Bystander Intervention Initiative was created at UWE (University of the West of England) Bristol and funded by Public Health England.
Details on the Bystander Intervention can now be found on the University of Exeter website:
Read more at: http://socialsciences.exeter.ac.uk/research/interventioninitiative/
The Bystander Intervention will help male and female students recognise sexual harassment and abuse, and give them the skills and confidence to respond appropriately. It also looks at changing cultural norms that condone sexism and harassment.
Why do we need it?
One in three female students at UK universities will experience sexual assault or abuse while studying.

One in eight men experience unwanted sexual advances at university (The Telegraph, 2015).


What will students gain from completing the three-week course
Free approved training from specialists that will help you and your friends and peers respond in the right way in a crisis

On completion of the whole course, a certificate of training to help increase your employability

New skills for your CV: assertiveness, the ability to remain calm in challenging situations, interpersonal skills, leadership skills, problem solving and empathy skills


The Dewis Choice project and Aberystwyth University are proud to be working with Welsh Women's Aid on this important initiative.