Strategies that parents, students & community organisations can use to mitigate the potential long-term impact of covid-19 on students.
About this event
The Student Success Formula Summit 2021 is a non-profit online conference that aims to help parents and students from disadvantaged backgrounds to achieve success in their education.
Our last conference was a huge success! We discussed how we can break the barriers of inequality within the UK education system, which affect students from disadvantaged backgrounds. You can watch the recording below.
This year we will be discussing the long-term impact of covid-19 on students, especially students from disadvantaged backgrounds and those from Black, Asian and Minority Ethnic backgrounds. We will explore strategies for parents, students and communities to regain ownership for the future success of our young people.
We will:
discuss the concept of a new "covid" generation of students and what this means - could they potentially become a "lost" generation due to the failings and disruptions to their education? And how can we (as a community) save them?
explore the potential long-term impact of the covid-19 disruption to the lives of students, especially those from disadvantaged backgrounds. For example, the further widening of attainment gaps, implications on higher education and future job prospects, and the impact on socio-economic mobilisation over the next 10 -15 years.
highlight the strategies, mindsets and tools that parents and students should employ now to achieve the student's potential and course-correct, despite the disruptions.
discuss the expectations we should have in the various bodies and organisations that are involved in the UK Education system, and explore how parents and the BAME community might choose to take matters into their hands to enforce the future success of their young people.
discuss the role of parents, community groups, community initiatives, educational entrepreneurship and social-entrepreneurship in strategically mitigating against the potential long-term impact of the current disruptions; and how we can ensure students develop the skills needed in Mathematics, English and Science.
explore how the covid-19 pandemic has highlighted the need for more students from BAME backgrounds to strongly consider pursuing and to be intentionally developed for success in careers including science, medicine, mathematics, epidemiology, and engineering; especially in light of BAME people being disproportionately affected by covid-19.
This event is aimed at:
Parents of students aged 4-19;
Students aged 11-19;
Stakeholders in education such as teachers, headteachers and assistant headteachers, community groups, faith groups, and community leaders working with young people.
Educational entrepreneurs, social-entrepreneurs and charitable organisations.
Panelists include:
Alton McDonald - Headteacher of an Independent school for excluded & SEN children.
Dr Bernadine Onibokun - An award-winning scientist, Senior Lecturer in Biomedical Science and Founder of Youth Against Crime not Crime Against You (YACnCAY).
Elaine Cunningham-Walker - A Forbes & Tatler featured Educational Strategist & Parent Coach. Also the mother of two award-winning children who were endorsed by MENSA when they appeared on the Channel 4 series 'Child Genius'.
Obehi Orukpe - A Maths teacher who is Head of Year at a London Grammar school, as well as being an award-winning educational entrepreneur who runs a maths & science tuition company.
Nancy Asare - A secondary school Science teacher with 13 years experience, who is the KS5 Science Coordinator at a large secondary school.
Keiyshia Sullivan - A well established primary school teacher with 9 years experience working in inner-city London schools, Children's Leader at her local church, as well involvement in educational charities.
Sandra Mensah - A parent of two Black teenage boys who attend Independent school.
Josiah and his mother Rhianne - Featured in the Guardian Newspaper on the 18th February 2021, Josiah experienced the A Level grades fiasco of 2020. After a tough battle he is now studying architecture at UCL.
The founders of Black British Parent - with over 25k social media followers, Black British Parent provides a safe space for Black families of African heritage or considered of the African diaspora. They provide home education meets, parent discussion groups and empowered parenting consultations.
This FREE webinar is set to be dynamic! If this event is of interest to you or anyone you know please register and share with others who will benefit from this conference.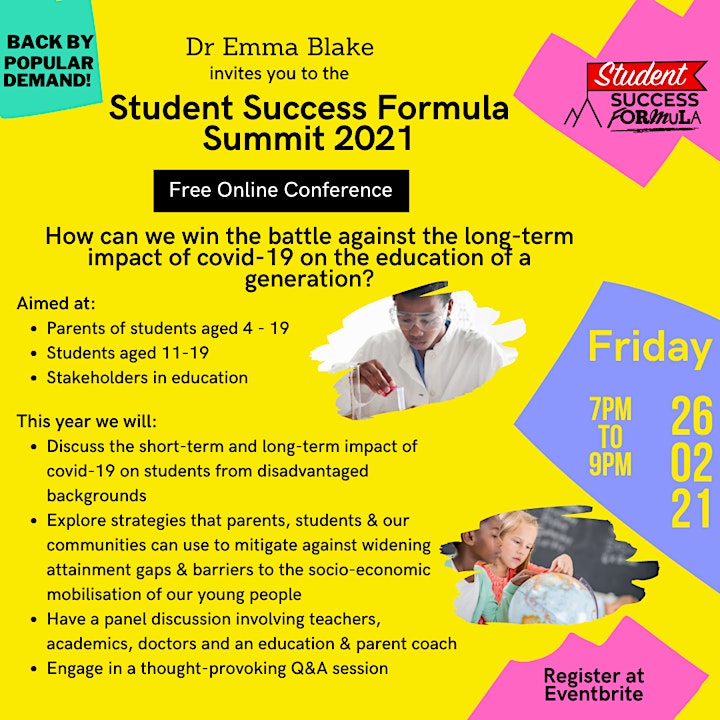 Watch our last conference, the 'Student Success Formula Summer Summit 2020' below.
Topic: Breaking Barriers of Inequality within the UK Education System
Learn more about Dr Emma Blake and her experience with educational inequality:
Organiser of Student Success Formula Summit 2021
Student Success Formula is a UK-based education social enterprise, founded by Dr Emma Blake MBBS BSc. We are working to help level the playing field within the UK education system and encourage more students to consider a future career in science. We are doing our part to help overcome the barriers of educational inequality through a range of science tuition packages for 11-16 year olds; coaching, mentoring; and free events to provide parents and students from disadvantaged backgrounds or BAME backgrounds with the essential tools needed to excel within the UK education system.