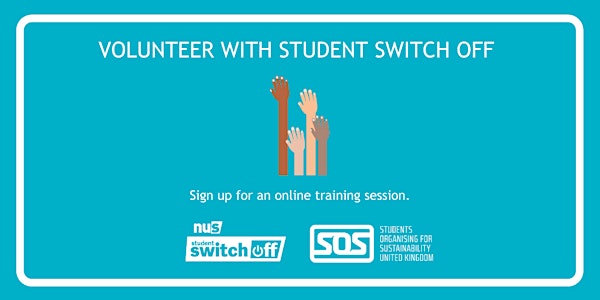 Student Switch Off volunteer training - University of Nottingham
Volunteer with Student Switch Off and represent your hall in the student sustainability campaign
About this event
Volunteer virtually with Student Switch Off: take climate action and represent your hall
*The date of the training has been moved from 15th October to Wednesday 4th November - we hope you can make our new date!*
Student Switch Off is a sustainability campaign and competition running at the University of Nottingham which supports and encourages students to take actions to increase their positive environmental impact, from saving energy and recycling, to reducing plastic-use and lobbying for bigger changes.
We are seeking virtual volunteer champions for the campaign to help raise awareness, drive change across campus and help your hall become the overall Student Switch Off champions in 2020-21!
Our online interactive training will last 1.5 hours (including breaks) and will equip you with the skills and knowledge to volunteer with Student Switch Off over the academic year. We will introduce you to the Student Switch Off campaign and competition, have some discussions about the climate crisis and give you some steps you can take as a volunteer.
You'll get the chance to develop skills, meet new people, and contribute to making a more sustainable campus for all! All volunteering activities will be online or in your social bubble so it is a safe and inclusive activity that everyone can get involved in and make a difference.
Training will take place via Zoom which you can access through your internet browser or through the Zoom app.
If you'd like to get involved in the Student Switch Off in other ways follow the Facebook page or visit the website for more information, or email Rachel.Soper@sos-uk.org with any questions or suggestions.
This training is open to University of Nottingham students only and is recommended for those living in the university halls (catered halls + Melton) as Student Switch Off runs in these halls only. Other Nottingham students from outside the halls are welcome to learn tips for sustainable living, but some of the training will not be relevant to you.
We are committed to making our events as accessible as possible. If you have any questions regarding accessibility, for example you require the training slides in a particular format or in advance please do not hesitate to get in touch with Rachel.Soper@sos-uk.org.