Description
TWO-DAY COURSE PRICE
£250 + Booking Fee
As the world's leading platform for live debate, Intelligence Squared are keen to promote debate and public speaking skills amongst the next generation. For the fifth year running we are joining forces with the social business Debate Mate, an organisation which has had extraordinary results training school students to develop confidence through debating.
The art of debate involves mastering essential skills: the confidence to speak in public and make sense; the construction of a logical argument and the ability to read an audience's reactions. Perhaps most importantly, the willingness to hear others' arguments and to respond to them.
During the school holidays we run two and three day debating workshops for students in Year 5 to Year 11 to learn these skills.
In small groups, students will craft their arguments, practise public speaking and take part in interactive lectures which expand their knowledge of topics such as human rights, criminal law, and the big political issues of the day. Once the training and practice debates are complete, students will receive in-depth feedback from the Debate Mate mentors. On the final day, students can apply what they have learnt when they battle it out in a grand debate finale.
This workshop will help students improve their skills in analysis and critical thinking and give them the ability to communicate effectively and the confidence to speak up. They will make new friends and learn from some of the world's top university debate mentors. Most importantly, they will have fun!
Please note: we can only accept students from years 5 to 11
COURSE DETAILS
Junior Stream: Confidence, expressing yourself, public speaking, current affairs
Debating is a great way to gain confidence, develop key skills and enhance awareness of the world around us. Using energetic and interactive games, our highly-motivated mentors introduce students to debating. We use debating as a vehicle to develop all of these attributes, while engaging with topics ranging from the morality of artificial intelligence to whether politicians are paid too little.
Advanced Stream: Thinking critically, case-building, analysis, help with GCSEs
Irrespective of prior experience, learning to debate is a sure-fire way to enhance key skills, deepen knowledge of current affairs, gain new perspectives and improve academic attainment. It is in this stream where students can really put their competitive debating into practice – a proven and powerful way to stand out in every area of life.
SUPPORTING DEBATE MATE
Profits from the 'Debate Like a World Champion' are reinvested into Debate Mate's charitable endeavours.
For more information about Debate Mate and what they do, visit the Debate Mate website or please watch this video.
Debate Mate Ltd. is a registered UK charity no. 1121222
TESTIMONIALS
The Debate Mate mentors were really fun, they helped me make friends with people from other schools and speak out during the different games. I was really nervous before hand but the mentors made it seem ok to take part. I've made loads of new friends through the workshops- I definitely want to come back again next time!

— Harry, age 10
I had such a great time! It was really great and I know I will be able to use what I learnt when I get back to school. Listening to the mentors and getting constructive feedback means I know exactly what I need to do to get better. I can't wait to do it all again.

— Annabel, age 14
I am the parent of Emily and William and I just wanted to say thank you for running such a fantastic workshop. Both were really hesitant but couldn't wait to go back for the second day. The quality of their arguments has improved which has had a positive impact on academic performance. We're very glad we chose to send them!

— Parent
As a parent, I was really pleased to see my sons' progress. He was more articulate, argumentative and more willing to speak up around adults.

— Parent
Just to let you know Edward and George enjoyed the day enormously. George who I was a bit concerned about said it was the best day of the holidays!! Looking forward to hearing about future courses!

— Parent
Thanks so much for running a fabulous course – Isabella absolutely loved it – it really has given her a burst of confidence – she will definitely be keen to join the next course.

— Parent
I am the parent of Cameron and Alex. They both really enjoyed the debating course and appear to have got a lot out of it judging by the quality of their daily arguments! In fact Cameron is teaching younger children debating skills as part of his community service. I know that what he learnt with you will be invaluable. Thanks again for an inspiring few days.

— Parent
Guest Speaker: Tuesday 22nd October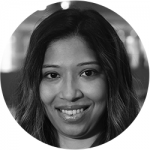 Megha Mohan
The BBC's first Gender and Identity Reporter
As of September 2018, Megha Mohan is the BBC's first Gender and Identity Reporter. Megha strongly feels that her role should explore the beginning of identity conversations that start with digital grassroots communities - looking at subcultures and the organisation/rebellion of underserved audiences.

She has also advised on media guidelines on the reporting of domestic violence for Level Up which has now been by approved by Ipso (the regulator for the UK newspaper and magazine industry).

Megha regularly appears on BBC News TV, the World Service and Radio 4. Prior to joining the BBC in 2011, she spent extensive time working in the Great Lakes in Africa.
On the morning of the 19th, there will be a special address by Megha Mohan, who will relate her inspiring life story.
Date and Time
Location
Refund Policy