GUSH Presents: Study as a Fan Club
About this event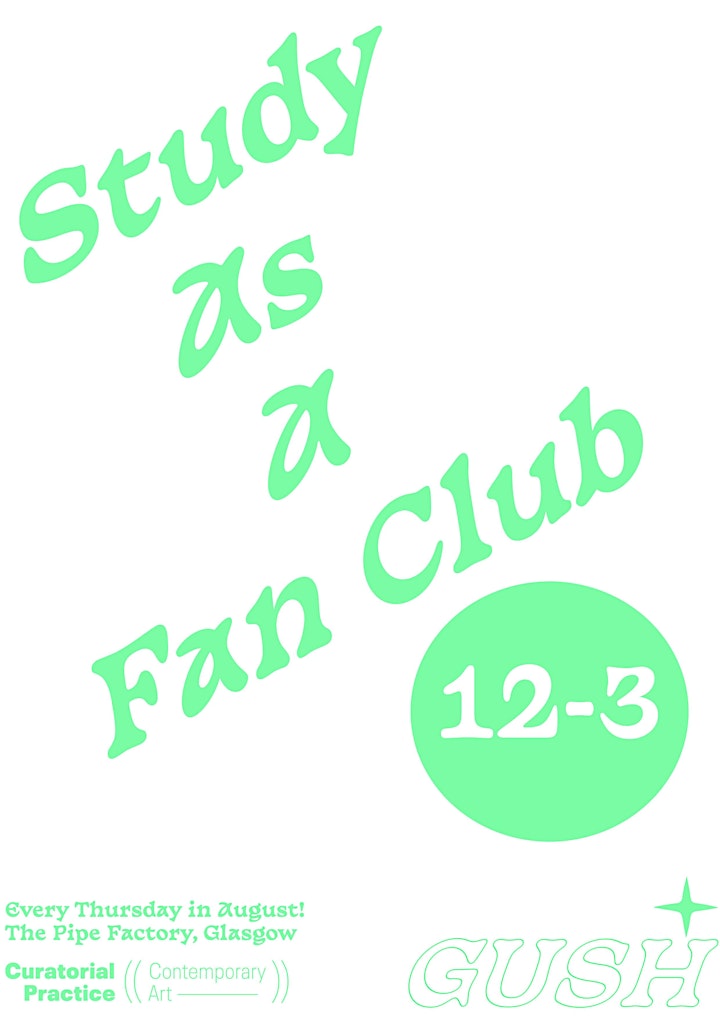 Study as a Fan Club
Join us every Thursday in August for our reading sessions! Bring a book, or browse our artist in residence selected texts to study our favourite thinkers and writers together.
12:00-3:00PM, The Pipe Factory, Glasgow
GUSH
GUSH is a newly developed residency programme located in Glasgow, Scotland. This programme takes fandom, and the figure of the fan, as a starting point for work and research.
Being a fan is often considered obsessive, with too much love, too much longing, hot crushing and passionate attachments. GUSH advocates for these feelings, and seeks to work with creators to develop projects that love loudly and delight in the pink-cheeked embarrassment of desire. GUSH sets out to care, carelessly, and tracks the intimate relationships that artists in residence have to pre-existing materials that they are fans of. Fandom can be a very one-sided affair, in which the desire to get high on a person or on ideas, is the common bottom line. GUSH makes these thoughts and feelings public.
Working closely with artists, writers, curators and makers, this residency encourages participants to examine how fandom influences their practice. Working with GUSH for one-month periods, participants on the programme will create works embracing citations, references, fan love for and obsession with muses in their life.
https://gush.squarespace.com
@gushresidency