The SGRP annual conference in 2022 is being held at College Court Conference Centre, Leicester, 18th June 2022, and broadcast via Zoom.
About this event
The SGRP is delighted to announce that the postponed 2020 conference will be held in a hybrid format on Saturday, 18th June 2022 in person at College Court Conference Centre, Knighton Rd, Leicester LE2 3UF, and live streamed online via Zoom.
Please note: this page is for booking your ONLINE ATTENDANCE ONLY
If you would like to attend the conference in person please use the booking form on our website HERE.
Tickets for the online attendance of the conference can be purchased through a donation of:
The charges are in place to cover the hire of the hybrid equipment for the live streaming. Please use the appropriate ticket types when booking your tickets. If you are not an SGRP member but would like to join us, please get in touch at SGRP50@newcastle.ac.uk
Image: Pottery from the Castle Street 'delicatessen' cesspit (c) Nick Cooper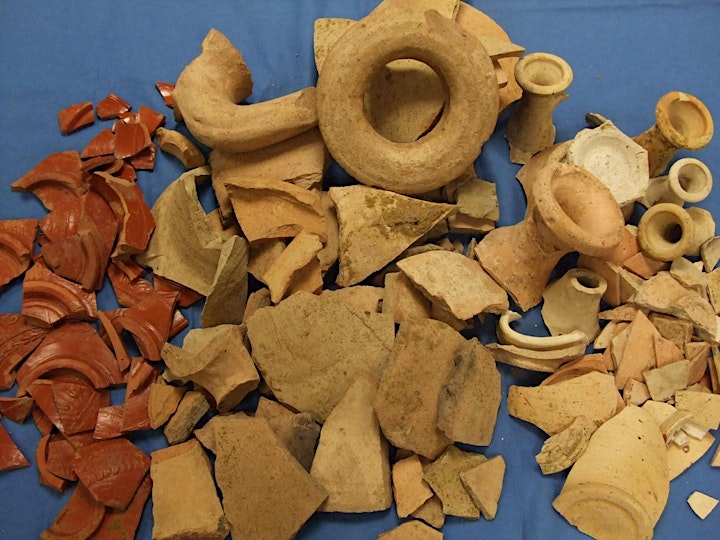 9.00 Registration (tea/coffee)
9.30 Welcome from president Rob Perrin
9.40 Recent excavations and pottery finds in Roman Leicester(shire) Nick Cooper
10.20 How Nene was my Valley? Excavations of a late Roman colour-coated ware kiln site beside the River Witham at Lincoln in 2009 Ian Rowlandson and Hugh Fiske (pre-recorded presentation)
10.45 Tea/Coffee Break
11.05 A Long Wave Goodbye: Pottery big data and economic cycles Jerry Evans and Phil Mills
11.35 Structured deposition in an early Roman well at Ewell, Surrey Eniko Hudak
12.00 AGM (members only)
13.00 Lunch
14.00 Pottery Viewing; Cadeby kiln group etc (Roving reports with phone camera for on-line)
14.30 An update on Romano-British infant feeding cups: the military connection Kayt Hawkins (pre-recorded presentation)
14.40 'Kaleidoscope: getting to grips with the late Iron Age/Roman transition in south-eastern Britain' Isobel Thompson
15.05 Exploring vessel morphologies in Late Iron Age and Early Roman funerary contexts using shape data from digital scans Alasdair Gilmour
15.30 Tea/Coffee
15.50 The Arch-I-Scan Project Pim Alison, University of Leicester (pre-recorded presentation).
16.15 'Wine Coolers and other RB ceramic strainer types: a functional analysis' Scott Martin
16.40 Closing comments and Conference Ends
Zoom details will be emailed to online attendees the day before the conference.