Study In Canada, Program Selection , Career guidance & Visa Information

Tuesday, September 26, 2017 from 11:00 AM to 5:00 PM (Gulf Standard Time United Arab Emirates Time)
Event Details
Glinks International  help you to find right Programe & College /University in Canada  ...
You need to apply at the very latest in March /April for the September intake, but if your  course is super popular, the earlier the better is always advisable. There is a second intake following this, in January or February of each year depends on college & University . 
The UN ranked Canada as one of the best places to live in the world – thanks to its education system, national income and quality of life. Studying courses in Canada could also help you learn a new language – or two – as Canada has two official languages, English and French.
Your choice to study abroad in Canada could be based on many factors, however the main advantages are obvious. Universities in Canada offer a proven top-class education, with no less than 12 Canadian Universities making into the Times Higher Education Supplement Top 200. Think how many universities there are in the world to put that into perspective.
You have plenty to choose from, such as Concordia University, McGill University, McMaster University, Queen's University, Universite de Montreal, University of Alberta, University of British Columbia, University of Calgary, University of Toronto, University of Waterloo, University of Western Ontario and York University. For more 
One of the most important aspects of choosing your study abroad destination is cost. Studying in Canada offers great value for money in terms of tuition fees and living costs.
Estimated living expenses per month are around CAN$400-800, but obviously you can live on less or more than that, depending on the way you choose to spend your time. As far as course fees are concerned, expect to budget around CAN$6000 to CAN$17,500 per year for undergraduate courses, with graduate courses coming in on average from CAN$6500 to CAN$33,000 per year.For more 
Be aware that an application for international study can be a slow process, and can take up to 7 weeks processing time. You need to be making your decision and getting your application off as soon possible.
Study abroad in Canada is of course a big thing, and requires plenty of thought, but it also requires a visa once you've decided for sure that this is the road you want to take. The visa you need to apply for is a student visa, or study permit, and you need your offer of acceptance from your chosen Canadian university to be able to kick start this process. You'll also need your application fee, evidence that you are able to cover yourself financially during your time, such as to pay for tuition fees and day to day living costs, as well as a ticket home. Once this is sent off, you just need to sit and wait. For more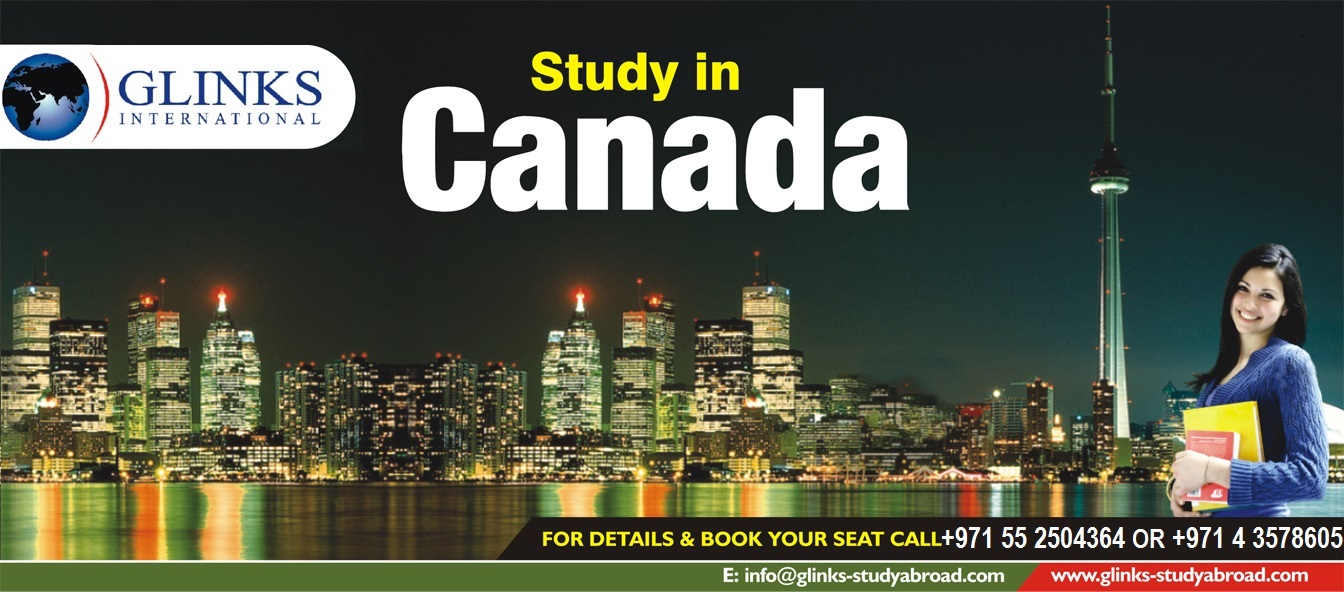 When & Where

Glinks International Consultancy
Near Oud Metha Metro Station
Office court Building , Suite no. 316
Dubai
United Arab Emirates

Tuesday, September 26, 2017 from 11:00 AM to 5:00 PM (Gulf Standard Time United Arab Emirates Time)
Add to my calendar
Organizer
Established in 2010, Glinks International began its journey as a small, lean consulting firm, with the intention to provide world class support to students who wish to study overseas.
Over the past years, we have grown to become a premium service provider of international education services to students in the Middle East. This has been driven by our focused attention to detail and high standards of conduct. Our efforts have built a reputation of credibility and professionalism. We have formed strong relationships with trusted academic institutions around the world, in countries such as Canada, New Zealand, Australia and USA. These schools, colleges and universities are amongst the best in the world.
The straightforward and effective processes we have designed provide our students with the best possible solutions. From initial consultation and career counselling, to admissions, visa documentation assistance and cultural sensitization – we are able to provide support at every step of the way. Our expertise also enables us to create customized services, and offer unique solutions to the complex academic challenges. We pride ourselves in maintaining high standards of conduct, and enabling our students to make well-informed decisions based on our intelligent, unbiased advice.
Our leadership has decades of combined experience, across varied industries and verticals. With the support of the dedicated and hardworking team at Glinks, our students are able to make the right decisions, and set themselves up for success in their academic efforts