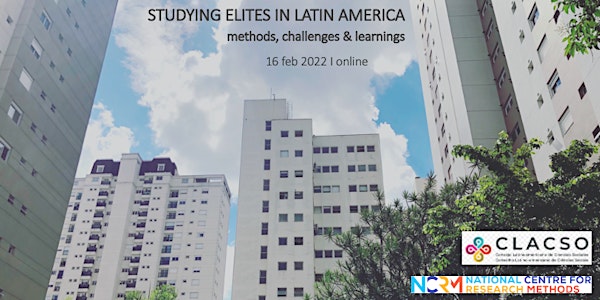 STUDYING ELITES IN LATIN AMERICA: methods, challenges & learnings
Join us for a Roundtable on Elite Studies in Latin America
About this event
STUDYING ELITES IN LATIN AMERICA:
methods, challenges & learnings
Wednesday16 February 2022
11.00 Mexico City - 14.00 Buenos Aires - 17.00 London
The Covid-19 pandemic in Latin America has transferred income and wealth upwards in what was already one of the most unequal regions in the world. Historically, the overaccumulation of wealth among the region's privileged few has been interlinked with the making of political elites. Elite power expresses itself for example in the reproduction of a culture of privilege that seeks to maintain elite control over institutions and in fierce opposition to redistributive policies. At the same time, Latin America has a rich tradition of popular opposition and critical scholarship exposing and challenging elite power and oligarchic reproduction.
Today, critical scholarship on Latin American elites faces old and new challenges and offers insights and learnings that are of vital relevance beyond the region. In this roundtable, Dr Francisco Robles-Rivera speaks to four experts on Latin American elites about their research, the methods they have used to study elites, the challenges they have faced, and key learnings they would like to share. The event will be informal and interactive with ample space for audience questions. The event will be held in English.
The event is chaired by Dr Francisco Robles-Rivera, Associate Professor at the Universidad de Costa Rica. Speakers are:
Alejandra Colom is Professor of Anthropology at at the Universidad del Valle de Guatemala. Alejandra has researched cultural discourse analysis of elites, social inequality and environmental management in a wide range of countries across Latin America and Africa. She has published on conservation, indigenous rights to health care and her book "Disidencia y Disciplina" addresses the forms in which the economic status quo in Guatemala reprimands political dissent. Alejandra is also the Director of Fundación Ixcanul, which collaborates with grassroots groups on improving livelihoods and sustainability and uses cinema and media technologies to support indigenous, environmental and cultural rights.
Alice Krozer is Professor of Sociological Studies at El Colegio de México, where she researches elites, racism/discrimination, elites' self-perception and views on inequality, poverty and social mobility. Her previous research has examined measurements of inequality, social policy including minimum wages, and comparative inequality in emerging countries. She has been visiting researcher at Stanford University, CALAS-Guadalajara, Pontificia Universidad Católica de Chile and the UN Economic Commission for Latin America. She also hosts the 'Inequalities' series in which she speaks to experts to explore the many dimensions of social inequality in a wide range of contexts.
Benedicte Bull is Professor of Political Science at the Centre for Development and the Environment (SUM), University of Oslo and Director of the Board of the Nordic Institute for Latin America Studies (NILAS). Benedicte's research focuses on the relationship between political and economic elites, and she has published widely on the role of business groups in development in Central America, Latin American elites in environmental governance, Nordic and Latin American models of inequality reduction and, more recently, the role of elites during the COVID-19 pandemic. Currently, she focuses on how Latin American elites respond to different global actors, including an increasingly powerful China.
Julián Cárdenas is Professor in the Department of Sociology and Social Anthropology at the University of Valencia, co-editor of the Revista Española de Sociología/ Spanish Journal of Sociology and founder and coordinator of the Network for Latin America Elites Studies (REAL). Julián's research focuses on Latin American business elites and networking and he has published widely, for example on elites' national and transnational networks and on the impact of elite networks on societal issues such as income inequality and redistributive social policies and firm-level issues such as mergers and acquisitions.