We want to see all SMEs within the region thrive, get ahead of the competition and learn the value of sustainability.
About this event
Succeeding with Sustainability
UoB Business Club Breakfast Briefing Webinar
Join UoB Business Club to find out more about how investing in sustainability could be a key to future success. Hear from industry experts about how the use and development of low-carbon products and processes could be of a real benefit to your business.
NetZero and sustainability are only going to get more and more important and vital to the every day running of your company with costs increasing and resources running out. The University of Birmingham has an ERDF funded business support programme designed and created to help SMEs meet that challenge.
Sign up now if...
You are an SME looking for cost-free academic and technical support, you are looking to eliminate waste, you want to develop new products and processes, you are working towards a sustainable future or you just want to learn.
Speakers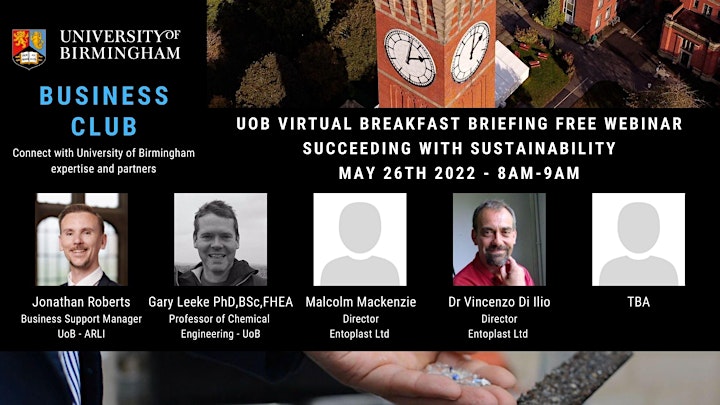 Jonathan Roberts
As Business Engagement Manager in the ARLI project (Civil Engineering), Jon manages the relationship with organisations, supporting their engagement in the exciting Alternative Raw materials with Low Impact (ARLI) project, driving the delivery of innovations and research collaborations in Waste, Materials, Construction & Infrastructure. Jon studied Biology (BSc Hons) and Environmental Sciences (MSc) at the University of Southampton, before working as a Sustainability Consultant on international projects and then nationally within the Construction and Waste Management sectors.
Professor Gary Leeke BSc, PhD, FHEA
Gary has over 20 years expertise in resource efficiency and the development of processes to recover, upgrade and remanufacture materials and chemicals.
Gary works at the interface of chemical engineering/chemistry/materials and has expertise in high pressure engineering and thermo-chemical processing, specifically in reaction engineering, separation technology, polymer/composite processing and remanufacture, waste materials and the circular economy. He led the EPSRC funded EXHUME project (EP/K026348/1), investigating the deconstruction of fibre reinforced composite. He currently leads the chemical engineering activities on the Faraday Institution funded Re-Lib project investigating the recycling of lithium ion batteries and three government funded projects (Innovate UK 74000-496338, BEIS Energy Entrepreneur Fund 5 and British Council Institutional Links, 279359364) dealing with the transformation of plastic waste into chemical products.
He is enthusiastic about communicating resource efficiency and processing and has delivered a number of keynote and plenaries, recent examples are: UnMaking Waste, Adelaide, Composites UK, Manchester Single Use Plastics, Cardiff and the Veolia Institute Strategic Materials, Oxford as well as being featured on TV (Sky News, Bloomberg) and in the press (The Engineer, TCE and EPSRC Pioneer magazine). He has over 140 papers in journals and refereed conferences.
Professor Leeke is also a part of the Birmingham Plastics Network, an interdisciplinary team of more than 40 academics working together to shape the fate and sustainable future of plastics. This unique team brings together chemists, environmental scientists, engineers, philosophers, linguists, economists, artists, writers, lawyers, and experts in many other fields, to holistically address the global plastics problem.
Vincenzo Di Ilio Ph.D.
Insect physiologist, founder and director of Insect Biotech Solutions, co-founder and director of Entoplast Ltd. Vincenzo's main interests are the physiological and behavioural modifications induced in insects by the application of different chemical and ecological agents.
After the PhD, received from the University of Siena (Siena, Italy) in 2001, Vincenzo published several studies on the integrated control of pests of economic and medical importance. In 2015, Vincenzo has been awarded a Marie Sklodowska Curie Fellowship for a highly innovative project on insect behavioural conditioning.
Vincenzo has experience in the breeding, life strategies, behaviour and reproductive physiology of several insect species including the Black Soldier Fly and has ongoing scientific collaborations with Universities and Research Centres in the UK, Italy and U.S.A.
Malcolm MacKenzie
Co-founder and director of Entoplast Ltd. Graduated with a Business Degree from Sheffield 1985. 25 years of working in the food industry predominantly in production, sales & marketing. Worked with global food commodities rice, oil, wheat supplying foodservice and retail. Change of direction in 2013 into plastic packaging as Director of a supplier to the produce and bakery sectors. Started new business in 2017 Hello Flexibles changing the dynamic of supplying standard plastic to a solution of reducing plastic, making more appropriate for the recycling infrastructure and looking for the answer to the plastic debate. Experience of working with plastic manufacturers and converters on several continents, as well as working with UK retail to achieve their environmental policies and goals.
Other speakers TBA
About ARLI

ARLI brings together a team of experienced academics and engineers to support businesses in developing cost-effective products and processes, which provide energy-efficiency gains in the use of raw and waste materials. The project, delivered through the School of Engineering, aims to identify waste streams, or other materials that could be transformed into higher value goods for construction and other manufacturing industry applications.
The ARLI areas of expertise are:
Reducing raw material useA scientist working with equipment in a laboratory.
Material substitution & waste reduction
Reuse of waste streams
Geotechnical engineering including buried infrastructure
Infrastructure monitoring and assessment
Erosion detection and monitoring
Design for disassembly
Sustainability in the supply chain
Resulting in:
Generation of new materials from waste – spurring growth through the commercialisation of novel products
Address acute raw material deficiencies which are crippling industrial supply chains.
Aid efficiency and improve environmental impact, with cost-effective solutions realised through reduced carbon emissions
Better infrastructure asset management
Preventative maintenance
About UoB Business Club
The University of Birmingham Business Club is a network that gives businesses and academics the opportunity to meet and develop mutually beneficial collaborations. The Club's Breakfast Briefings are themed around business-relevant presentations and networking time. The event is free of charge with refreshments provided and the University's business engagement team on hand to answer any questions.
Find out more here.