Successful Cold Calling Masterclass - LEEDS

Thursday, 15 December 2016 from 09:30 to 15:30 (GMT)
Event Details
 

Do you want to generate new leads and sales, but dread making calls?

Do you struggle to get people's attention or actually get through to the right person?

Do you need help with motivation and do you struggle with rejection?
If you can answer Yes to any of these questions then this is the Workshop for you – whatever your current level of confidence or experience.
Hosted by Kevin Ireson, Managing Director of Touchstone Leads, a Telemarketing company that is leading the way when it comes to appointment generation and widely regarded as one of the Region's most successful Telemarketing Practitioners, this Workshop gives you a unique insight into unleashing the power of the telephone whilst always focusing on real results improvement.
Designed to enlighten, inform, inspire and entertain, all attendees will leave the Workshop raring to pick up that telephone and make those new business appointments and sales!
This interactive group Workshop is guaranteed to improve the confidence and performance of any attendee and has received rave reviews across the UK.
 

Areas that will be covered:

 
• Grab Interested with Great Value Propositions 
• Never Become Rejected again 
• Using Social Engineering to Gather Intelligence 
• Managing the Call Journey 
• Questioning Techniques to Open Up Conversations 
• The Confidence of Your Tone & Delivery  
• Maintaining Control of Your Agenda 
• Welcoming & Managing Objections 
• Identifying & Overcoming Barriers (Voicemail, The Gatekeeper) 
• Winning the Business – Today, Tomorrow & Long Term 
• Self MOTIVATION
Make sure you don't miss out on the opportunity to spectacularly improve your results…..
Full money back guarantee - I'm so confident that you will walk away with a whole new attitude towards making new-business calls, that if you don't leave feeling more confident when you pick up the phone you can have your money back, no questions asked

Cost per delegate is only…..   £99.75 (plus VAT)

Price includes refreshment's and buffet lunch
What people are saying about previous events: 
"Kevin is an excel­lent trainer and deliv­ered the course with pro­fes­sion­al­ism yet in a relaxed man­ner that ensured our employ­ees con­nected with the course con­tent. Kevin has a very per­son­able man­ner and I would highly rec­om­mend him and the Touch­stone Leads team to other busi­nesses. We are already in the process of arrang­ing fur­ther train­ing with Kevin!" 
Thea Edgar– Edgar Brothers
"A very infor­ma­tive day, a clear process for any­one to fol­low to ensure a suc­cess­ful out­come. A moti­va­tional course to inspire you to really make a dif­fer­ence back in the workplace.  
Kevin is a bril­liant speaker, knowl­edge and info he deliv­ered was rel­e­vant and interesting."
Fos­ter Denovo
 

"Not at all what I expected. It was moti­vat­ing, infor­ma­tive and it refreshed what I knew. I came out with a more pos­i­tive atti­tude and more cus­tomer aware­ness. A good bal­ance of the­ory with inter­ac­tive par­tic­i­pa­tion, a very good train­ing experience."
 

Thorn Light­ing
"I found your work­shop incred­i­bly infor­ma­tive, inter­est­ing and very worth­while. Your enthu­si­as­tic approach and style of teach­ing made the day whizz by and ensured every­thing you taught us really stuck.
 

The biggest com­pli­ment I can give you is to tell you that fol­low­ing my atten­dance on the course, I have secured meet­ings with five prospec­tive new clients! So thank you very much"
 

Lydia Owen – OSP Heathcare
"Being a trainer and coach myself, I am a bit crit­i­cal of train­ers and I have to say Kevin was excel­lent. Really great, per­son­able style – expe­ri­ence shines through – really moti­vat­ing. I love the con­stant chal­lenges through the work­shop – which means we don't get away with being a 'Coaster'. 
 I really liked the slides. The visual images and short bul­let points kept my atten­tion through­out – which is some­what of a chal­lenge usu­ally. It was made rel­e­vant to each of our roles with the 'action' points through­out – deliv­ered in a pro­fes­sional and friendly way, a good advo­cate for the lead gen­er­a­tion company." 
Joanna Reynolds – New Habits Ltd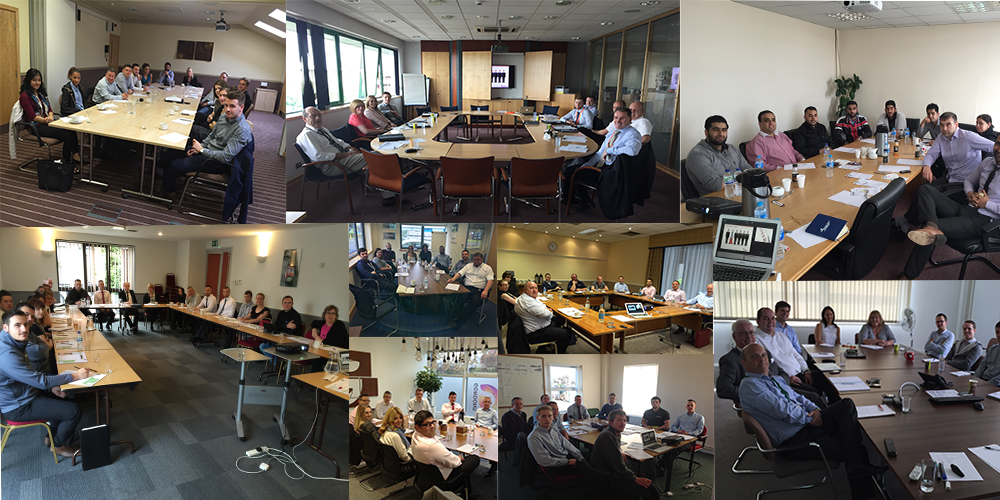 When & Where

Manor House Golf Club

BD11 1AB Drighlington
United Kingdom


Thursday, 15 December 2016 from 09:30 to 15:30 (GMT)
Add to my calendar
Organiser
Helping Sales People Say Exactly The Right Thing By The Phone, For Rejectionless Cold Calling And Selling