Description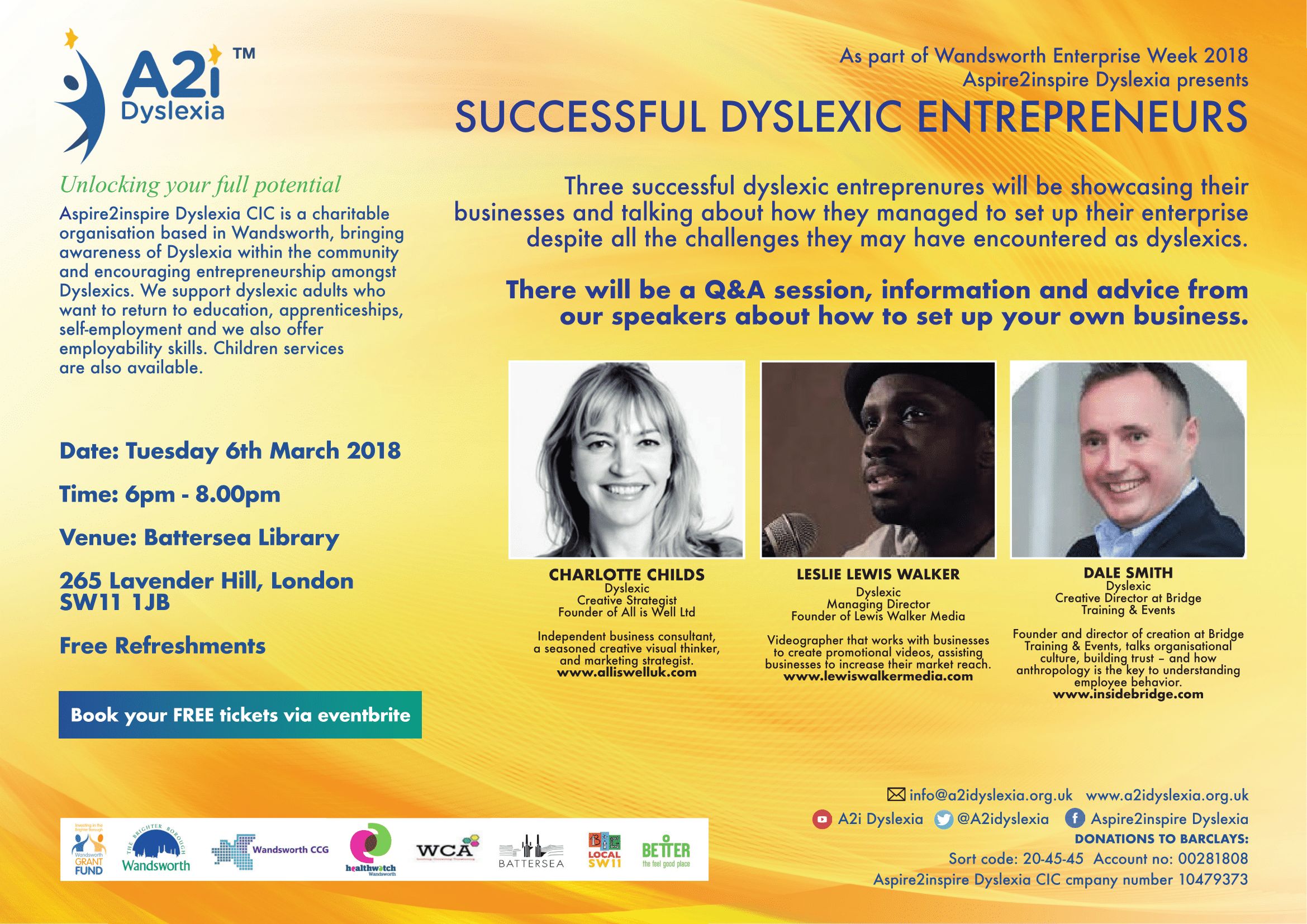 Aspire2inspire Dyslexia CIC is a charitable organisation based in Wandsworth, bringing awareness of Dyslexia within the community and encouraging entrepreneurship amongst Dyslexics. We support dyslexic adults who want to return to education, apprenticeships, self-employment and we also offer employability skills. Children services are also available.
As part of Wandsworth Enterprise Week 2018, Three successful dyslexic entreprenures will be showcasing their businesses and talking about how they managed to set up their enterprise despite all the challenges they may have encountered as dyslexics.
There will be a Q&A session, information and advice from our speakers about how to set up your own business.
The Speakers will be:
CHARLOTTE CHILDS - Dyslexic Creative Strategist Founder of All is Well Ltd Independent business consultant, a seasoned creative visual thinker, and marketing strategist. www.alliswelluk.com
LESLIE LEWIS WALKER - Dyslexic Managing Director Founder of Lewis Walker Media Videographer that works with businesses to create promotional videos, assisting businesses to increase their market reach. www.lewiswalkermedia.com
DALE SMITH - Dyslexic Creative Director at Bridge Training & Events Founder and director of creation at Bridge Training & Events, talks organisational culture, building trust – and how anthropology is the key to understanding employee behavior. www.insidebridge.com
Date: Tuesday 6th March 2018
Time: 6pm - 8.00pm
Venue: Battersea Library 265 Lavender Hill, London SW11 1JB
Free Refreshments