Description
Knowledge Bites Workshops (lunch provided on both days)
What does it take to make it as a freelance hair and make-up artist in film and television? This comprehensive workshop will provide delegates with a deeper understanding of both the craft and practicalities of working as a professional artist.
Day 1: Hair and Make-up for Film & TV (26/10/2017 - 10:00 to 17:00)
Day one will focus on the creative aspects of the job: using a live model, the tutor – a top industry practitioner and trainer at the Iver Academy - will demonstrate the artistic decision-making and techniques involved in transforming an actor into a period character – from hair styles of the time to period make-up considerations - as well as outlining the particular demands of close-up filming, lighting and HD. The session will also demo basic SFX techniques used by make-up artists such as cuts and bruising, and discuss paths into and the realities of working in the industry.
Day 2: Freelancer Toolkit - setting up as a sole trader & getting organised (27/10/2017 - 10:00 to 17:00)
Day two will look at the challenges of working as a freelance artist, and key practical help on how to not only survive but to thrive. Participants will come away with tools and techniques for organising themselves and managing their time, and money, effectively. They will understand the importance of planning a route within the industry, and get help to do so, and the best freelance options such as working PAYE or as a sole trader. Delegates will also learn about the importance of resilience as a freelancer, and how to develop yours.
The course is taught by experienced film and TV professionals from the Iver Academy and David Thomas Media.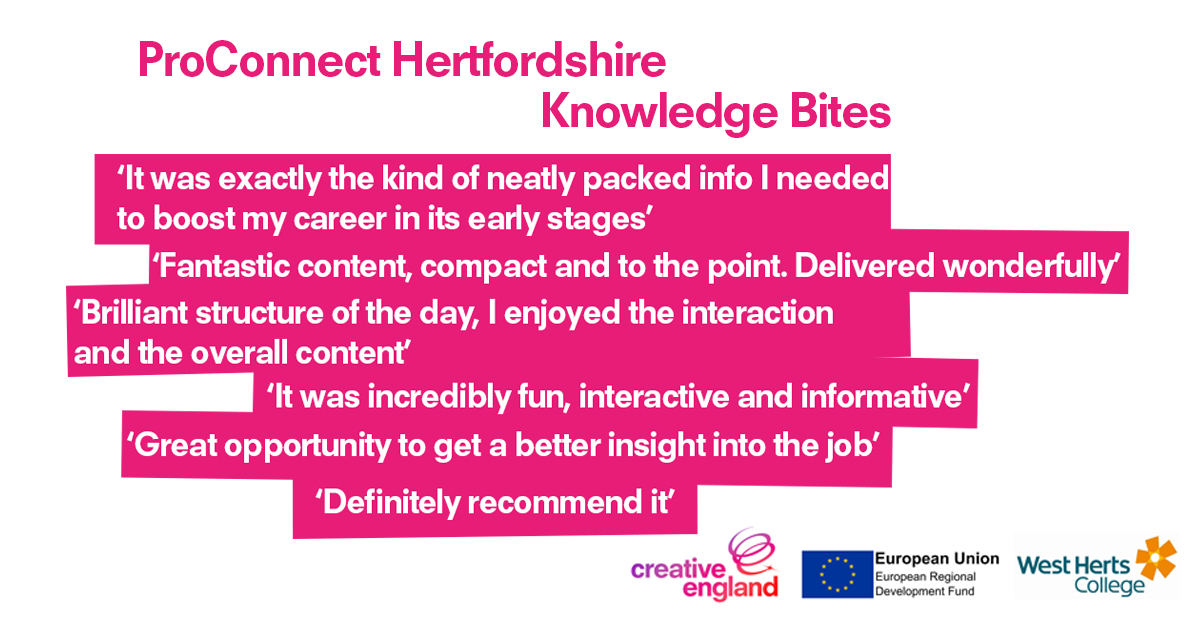 ---
Knowledge Bites is part of the Hertfordshire ProConnect programme which is part-funded by the European Regional Development Fund. Workshops are delivered by Creative England and session facilitators sourced by DV Talent.
For directions to West Herts College please click here: https://www.westherts.ac.uk/student-life/getting-to-college/