Description
Do You Want To Close More Sales?

Well who wouldn't? Even if you are a top sales guy why wouldn't you want to close even more sales. However, like everything else selling is changing and since the start of the new millennium the change is accelerating every year.

The successful Sales People of today and tomorrow must adapt and improve their skills, change the ways that they generate leads and ultimately close the sale. To succeed in this changing world sales people still need to do the things that they have done since 'selling' became a profession, such as standing out against their competition, understanding their customers needs and building rapport & trust. But how do you do that with the mass of information out there on the internet and buyers being inundated with messages coming in to them by email, digital marketing and social media etc? How do you postion yourself alongside your customers and prospects to build that trust, so that they gain the confidence that, with your advice, they are making the right buying decision for the products or services that they are seeking, after all they only have one chance to get it right while you can move onto other pastures.
In this training workshop you will learn the skills and knowledge to make best use of all the communication methodologies available today as well as the interpersonal communication and sales skills which are taught and then practiced and honed with experience. You will understand and learn how to boost your value by closing many more sales to new and existing customers by building trust .
Who Should Attend?
The 1 day Successful Sales course is designed for all those people responsible for Sales, Business Development, Account Management & Sales Management who promote & sell products and services to potential or existing customers face-to-face or by phone.
Maximum Number of Delegates: 12
Refreshments, including lunch are included plus Full notes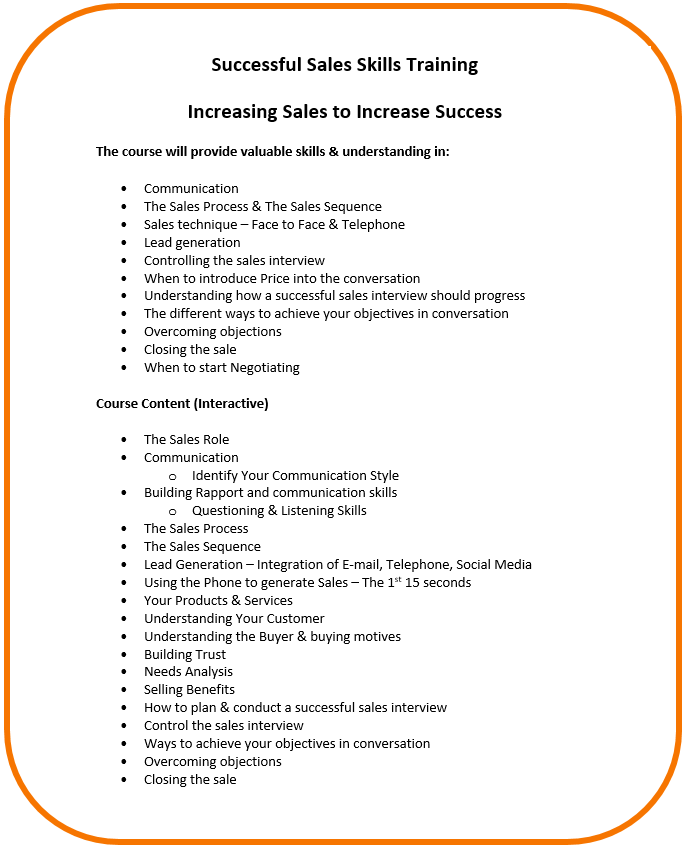 Peterborough Tuesday 5th September 2017 Time: 9.30 am to 4.30 pm: Successful Sales Training

Prices are subject to our terms and conditions and VAT at the prevailing rate.
Each workshop has a maximum of 12 delegates and is priced at only £145 + VAT per delegate with discounts for extra delegates. For more than 3 delegates to attend please contact us Here or call 01529 413476.

Prices include a full set of course notes, refreshments & lunch
Standard Rate: £145 + VAT Maximum 12 Delegates per workshop
Multiple Delegates: Please see individual workshop pricing or call 01529 413476 for details.

We know how frustrating it can be when open training courses are cancelled at the last minute so we guarantee to run any open training workshop once the first booking for that course has been booked and paid for; however we do reserve the right to change the venue within a 10 mile radius of the original venue subject to agreement with the affected companies and subject to our T&C's.

On The Day: Refreshments on arrival – 9 am to 9.30 am
For businesses which would prefer these workshops to be customised and delivered in house or for any other enquiries relating to training or our business development services contact us on +44 (0) 1529 413476 or info@healdi.co.uk