Pre-Recorded Event: Ready to learn supportive ways to finally say hello to a good nights sleep, whilst keeping medication at bay?
About this event
Despite insomnia being a common sleep problem, its impact can be profound, wouldn't you agree?
Not getting a balanced sleep can affect every area of your life including your mood, thoughts, safety, relationships, enjoyment, your weight, work/business performance, the list goes on!
That doesn't sound like a happy or content life to us, does it to you?
Well if you want to feel more energised and like yourself again, let's help change all that by introducing you to six natural ways to manage insomnia (especially useful if you're a woman!).
Here at Wellbeing Umbrella, we believe everyone is unique and what might suit one person doesn't suit all when it comes to wellbeing solutions or treatments!
That's why we run regular Wellness Events like these to help offer you insight into the variety of treatments, practices, techniques and solutions (both conventional and non-conventional) available, helping you to make positive change in your life where desired.
*** ABOUT THE EVENT ***
Please note: this is a pre-recorded event
This online event is offered ON-DEMAND. As a registrant you get full access to a PRE-RECORDED event video series. Once you have registered for the event, you'll get immediate access to the pre-recorded webinar via Eventbrite's Online Event Page.
Event recording information and the event recording link will also follow from us, Wellbeing Umbrella, within 24-48 hours for you to watch at your leisure.
Let's take you on an online journey, including Holistic Techniques, Energetic Tools, Exercise, and Chinese medicine to help you quickly say good-bye to all of your current nightmarish lack of sleep stories!
If you are looking for effective and natural support around insomnia and ways to help you gain the peaceful hours sleep you long for, our pre-recorded no one-size-fits all wellbeing event features six down to earth, independent wellbeing professionals sharing their expertise and practice on the topic of how to manage and overcome the common sleep problem; insomnia.
The fabulous bonus to the event is that these qualified wellness folk understand where you are at and where you'd like to be, as they were once there too, and now having the skills, expertise and credentials want to help you get there also.
Watch all the event or just the session(s) that pique your interest!
We hope you enjoy!
WELLBEING EVENT LINE UP
The Pre-Recorded event is online and has six thought provoking and sleep habit changing talks/demos, each session is approx. 20-30mins. Feel free to watch every talk or just the one(s) that take your interest.
Here's what you've got to look forward to.
1st - Maureen Joy Wycherley - What Is Keeping You Awake and Is It Even Yours???
This session will probably be quite different from anything you've explored so far. Have you considered that the thoughts, feelings and emotions keeping you awake may not even be yours? What would it be like if you had some crazy energetic tools to DELETE what doesn't belong to you?
Maureen won't give you answers, she'll give you questions and a magic energetic wand to begin to wipe away what isn't yours and discover the true happy being you are. Great sleep will be the by-product of that!!
2nd - Diana Tyson - How To Declutter the Mind to Increase Sleep, Using Holistic Techniques
Did you know that 70% of insomniacs are women?
Yes, we agree that is a very high number, Diana having experienced this herself through grief and menopause is now a Holistic therapist/teacher, Reiki Master and intuitive; who has created a vast toolkit of techniques to help naturally restore balanced sleep.
Diana looks forward to sharing her holistic toolkit with you in her session.
3rd - Michelle Walsh - Exercise To Help Achieve a Better Sleep Routine
Exercise is a great benefit to people who are struggling with sleep. That could be not falling asleep, lying awake for hours or waking up at all hours of the night. Whatever the reason sleep plays a crucial role in our heal & repair system. It allows us to perform at our peak both physically & mentally. It is essential to a thriving immune system and directly impacts our mood, our weight, our hormones.
I think we can agree that sleep should be at the top of our priority list when it comes to thriving not surviving. Michelle will be sharing the types of exercise we can introduce to improve our sleep.
4th - Andrea Marsh - How To Get Your Sleep Back - Understanding Insomnia and Stress with Chinese Medicine
To resolve insomnia Andrea breaks your nightly pattern down into time slots of when you're awake and what your symptoms are at that time. Using the powerful insight of Chinese medicine into how your body works and your energy patterns this equates to what your health imbalances are. Then you can understand how to tackle the individual issues to rebuild your sleep.
Find out how to rebuild your sleep using the wisdom of Chinese medicine and completely natural solutions. Understand how stress and your liver play a huge role in your sleep health and what sleep nutrition is!
5th - Michelle Paterson - How To Sleep Better (And Why It's The Most Crucial Thing You Can Do for Your Health)
We take it for granted when we can. We think about nothing else when we can't. Whether we like it or not, sleep affects EVERYTHING! Sleeping well is probably THE MOST important thing that you can do for your health.
Come along to this online talk to understand more about how nutrition and lifestyle can help and hinder the process of sleep.
You will learn some important things that you can start doing NOW to help you improve the quality and quantity of your sleep.
6th - Gill Davidson - How To Overcome Burnout So Your Sleep Pattern Returns to Normal
Overcoming and preventing burnout is a must in today's fast paced society. When we experience burnout, a side effect can be a poor sleep pattern. We might have interrupted sleep and problems falling asleep. Poor sleep patterns result in almost if not every area of our life being affected in a negative way. We are not our best at work, at home, in our professional and personal relationships, our physical, emotional and mental health suffers.
This short workshop will provide you with tips and techniques to help you overcome burnout and have a better quality sleep.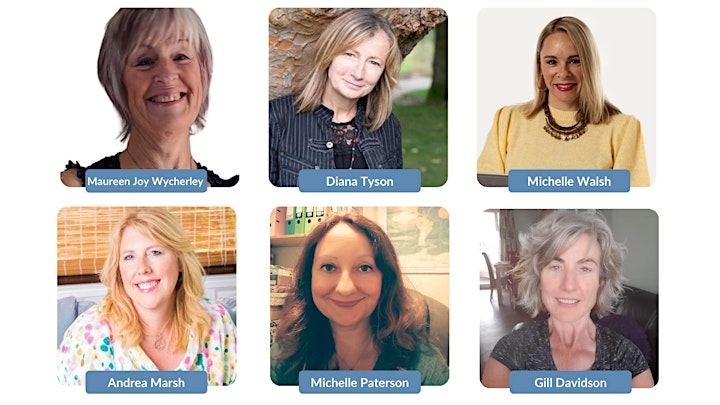 Maureen Joy Wycherley - Joyous Living
Maureen Wycherley, Access Therapist, Access Facilitator and Reiki Master. Working with energetic treatments and tools to unlock your true being, your natural capacity to heal mind and body and teach you to trust your own knowing, have your own back and be happy.
Learn more or book an Access Bars Treatment with Maureen HERE
Learn more or book an Access Energetic Body Therapies session with Maureen HERE
Diana Tyson - Natural Transformation with Diana Tyson
Diana at Natural Transformation will provide easy to use techniques to help declutter the mind to increase sleep. Intuitively I support individuals overwhelmed by stress, worry, anxiety, negative emotions, struggling with the juggling of work life balance to become unstuck, overcome obstacles improve their mindset and gain positive solutions and choices and increase vitality, energy and balance within their lives.
Michelle Walsh - New Body and Soul
Meet Michelle, a mum of 2 little humans, a Women's Nutritionist & Personal trainer. Her passion is empowering women through the noisy space of Nutrition, Fitness, and Hormones so you can live a confident life by working smarter NOT harder. Join her over in her FREE The Happy hormones & confidence club.
Andrea Marsh - Cotswold Menopause
Andrea is a Shiatsu and Chinese medicine practitioner who is specialised in helping women alleviate their symptoms of peri/menopause naturally. Since finding out and being very confused about her own symptoms 6 years ago she set out to become symptom free and helps women like you do the same.
Michelle Paterson - Transition Nutrition
Meet Michelle, a Registered Nutritional Therapist and Health Coach. Michelle specialises in supporting people who are feeling stressed, sleep-deprived and out of balance. She helps people to understand and heal the root causes so that they can get on with living the life they desire. Check out her free guide!
Gill Davidson - Gill Davidson Coaching
Meet Gill Davidson, NLP Coach, Timeline Therapist and Hypnotherapist. Gill specialises in supporting men and women to overcome anxiety and low self esteem where conventional methods have been unsuccessful.
ABOUT US
Meet Alexis & Ursula . . .
Together, they make up the wellness motivated force behind Wellbeing Umbrella and the no one-size-fits-all wellbeing movement. Learn more about why connecting people to a world-full of choice and variety is so important to them .
OUR PAY IT FORWARD WELLBEING MISSION
We not only connect health and wellness seekers to a world-full of choice and variety, but through our Wellness Events and collaboration, we support people-centred folk to work together to increase the awareness of the varied wellbeing treatments and solutions on offer, whilst raising funds to help women and children trying to rise positively from domestic abuse to receive the wellness support they desire.
FIND WELLBEING SOLUTIONS WITH EASE
Creating a super-smart-searching platform that makes it easier for you to quickly find health and wellbeing treatments and solutions from people who truly care, wasn't an easy quest. But it's here, taking away the frustration we once experienced some few years ago, when in need of wellbeing options to help us but unable to find them.
WELLBEING BUSINESSES
If you're a wellbeing business interested in supporting others for the betterment of not just yourself, but others too, and would like to learn more or register your interest to share your wisdom and speak at one of our Wellbeing Events, here is where best to start:
IMPORTANT NOTE
18's and over
Disclaimer: The information shared during the event will be provided for general educational purposes only and is not intended to diagnose, treat, cure, or prevent any disease or health condition. Please consult a qualified health care professional to diagnose your health condition and prevent self-diagnosis. We do not dispense medical advice or prescribe or diagnose illness.