Description
Join Hi Cacti, Brighton-based botanical creative business, for her 3rd year of teaching this exciting & alternative wreath making workshop where you'll learn to create your own live succulent wreath for the holidays.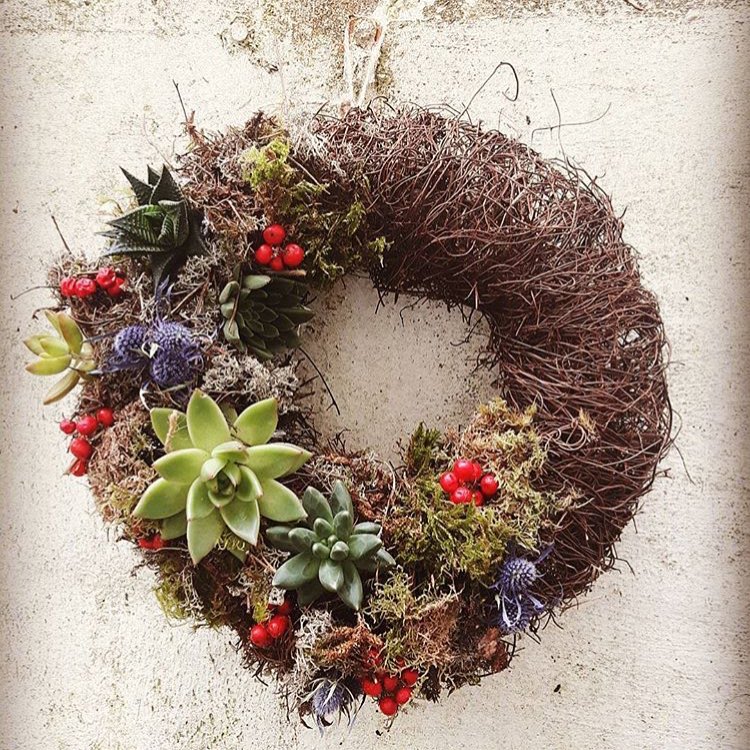 Sabina of Hi Cacti will be teaching you how to plant 5 live succulents into your wreath so that you can not only enjoy the wreath this year but re-pot your succulents and enjoy them post-holiday-season too, making for a relaxing, festive & crafty evening that is eco-friendly!
Our non-perishable wreaths make for a perfect Christmas decoration or as a lovely, handmade gift for a loved one, and the workshop itself is an excuse for a relaxed, social evening where you can learn a new skill and enjoy a complimentary glass of Mulled Wine & a Minced Pie!
Workshops include all the materials you will need to create a beautiful wreath along with all tools and a free & festive mulled wine & minced pie and materials such as: succulents, holly, berries, dried flowers, soil, moss, ribbon, twine, pinecones, paint, glitter, wreath & more. If you have any extra decorations you'd like to use, them bring them along & we'll see what we can do!
The workshop is held at The Plant Room in Brighton Square, a spacious vegetarian café filled with a selection of Hi-Cacti's beautiful plants & pots, which will also be available to buy should anyone want some additional add-ons! Extra succulents are typically £3, but will be on sale for £2.50 each so make sure to bring cash.
Spaces are limited to 12 a session, so book soon to avoid dissapointment. Know someone who would love this? You can always get a few tickets as a group & make a proper evening out of it! If you have a group of 10+ please contact Sabina to find out more about hosting your own private wreath workshop event & then you get YOUR workshop ticket free!
**Note as all supplies have to be purchased in advance tickets are non-refundable.
Class is 18+.
See all you plant-y people there for some festive holiday cheer!
Contact: hi@hicacti.com