Sales Have Ended
Ticket sales have ended
Sue Ryder St John's Hospice PaintRush has now been postponed until 26 June 2022.
Sales Have Ended
Ticket sales have ended
Sue Ryder St John's Hospice PaintRush has now been postponed until 26 June 2022.
Get colourful at Sue Ryder St John's Hospice PaintRush. A 5K run, jog or walk with obstacles to help raise funds for our expert care.
About this event
Sue Ryder St John's Hospice PaintRush has now been postponed until 26 June 2022.
Any current participants will have their entries deferred to the new date, but will also receive an email explaining the postponement of the event. Thank you for your support.
----
A run, jog or walk
The Sue Ryder St John's Hospice PaintRush is a 5K run, jog or walk supported by the Paint Rush event volunteer group.
With fun for all the family, this colour run makes for a great day out while raising money for Sue Ryder St John's Hospice and the expert care we provide for people living with life-limiting conditions, as well as supporting their families.
You can enter as an individual or as a team with friends and family. The entry fee includes a PaintRush t-shirt and a bag of paint powder to start the fun before the race.
Along the route there will be eight paint stations which will coat you in a different bright-coloured paint to turn you multi-coloured. There will also be obstacles on the route and a merchandise store to make the day even more exciting.
On admission we will give you your discount voucher for the Ambience Café Restaurant.
Fundraise through JustGiving
To help us raise vital funds for our expert palliative care at Sue Ryder St John's Hospice, you can set up your own JustGiving page and collect all of your donations in one easy to reach place, keeping track of the funds raised by your supporters.
£63 could pay for 3 hours of expert compassionate care.
£145 could fund a hospice nurse for a day.
£500 could give 24 hours of care and support, allowing a family to share love in those precious final days.
There is no minimum fundraising target for this event. However, we ask participants to raise as much as they can in support of Sue Ryder St John's Hospice.
Every donation counts and will help us continue to be there when it matters most, filling someone's last days full of love.
Supported by Cedabond

Contact
Joanne Landucci
01767 642412 | stjohnsfundraising@suerydercare.org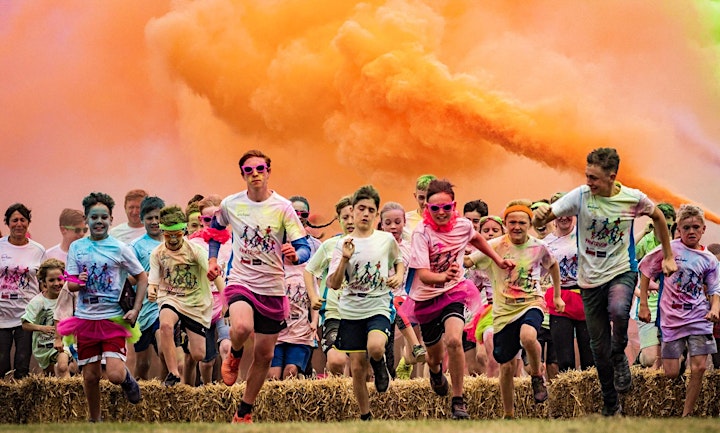 Frequently asked questions
What do I need to take with me?
You'll need comfortable clothes (you'll receive your white t-shirt on the day to put over the top!), and a sense of adventure! You're welcome to bring your phone for photos, but please remember it may get covered in paint, and PaintRush will not be liable for any damage. You may also need cash for parking if you are using the town car parks, but they are also payable via the MiPermit app (details on signs at the carparks).
It is advisable to wear sunglasses or goggles.
How long is the route?
The course is approximately 5k (3.1 miles) and consists of two laps of Regatta Meadows/Riverside Park
What kind of obstacles will there be?
Whilst we don't want to ruin all the surprises... you can expect a mixture of obstacles, suitable for a mix of abilities (think cargo nets and hay bales!) You do have the option to skip an obstacle if you don't fancy it though
Can I bring my dog to run with me?
Unfortunately the race is not suitable for our 4 legged friends!
Will I be able to drop my bag off at the start?
We are aiming to run a Bag Drop stand, but all items are left at the owner's risk and PaintRush will not be liable for any loss/damage of possessions. Please allow extra time prior to the start of the event to do this.
Can I participate if I am pregnant or I have some health issues?
If you are pregnant or have any issues with your health we recommend you to consult your doctor before purchasing your ticket. Although our mission is to make the race as safe as possible to every participant, there is always the possibility of unforeseeable incidents (such as falling or bumping into another person).
How do I clean up after the race?
Unfortunately, we are not able to get changing stations at the event venues. We recommend you to bring a change of clothes or some towels or a large plastic bags with you to prevent your car/public transport from getting coloured. After your first shower, some of the colour still might show a little but don't worry: after a couple of washes you should be as clean as brand new! It's best to wash all your clothes first separately in cold water.
Can I volunteer at PaintRush?
Yes please! If you are interested in volunteering for the event, please get in touch with the team via email: stjohnsfundraising@suerydercare.org
What is the paint made from?
The paint is a natural corn starch powder. The paint is a natural corn starch powder. All paint is purchased from Running Imp.
Is the route suitable for pushchairs, wheel chairs and other mobility vehicles?
No. The route is over grass and on uneven terrain which would make it unsuitable.
What is the refund policy?
The entry fee for the St John's PaintRush is non-transferable and non-refundable. Due to unexpected health and safety reasons on the day, the St John's Paint Rush may have to be reduced or altered to accommodate unexpected complications (for example, flooding).
What is the minimum age of entry?
There is no minimum age, but participants aged under 16 must be accompanied by a responsible adult. See terms and conditions for more details.
Are tickets on sale on the day?
Unfortunately tickets are not available to purchase on the day.
Is there parking available?
Parking is available at the Riverside car park, this is pay and display.
There is a free alternative parking at the back of the park at Coneygeare Court, PE19 2UL.
There is also pavement parking running parallel to Regatta Meadows and in town parking.
You can view the full terms and conditions on the Sue Ryder event page.
Organiser of Sue Ryder St John's Hospice PaintRush 2021
Sue Ryder St John's Hospice is in Moggerhanger in Bedfordshire and provides expert palliative care, advice and support for people across Bedfordshire who are living with life-limiting conditions, as well as supporting their families.
Our inpatient hospice provides round-the-clock assessment and specialist care to help manage patients' symptoms. In addition to our inpatient unit, our day service helps people living with long term conditions to avoid unnecessary trips to hospital, as well as offering social opportunities alongside others experiencing similar circumstances. We also offer community services for people who prefer to receive palliative care at home.
Our expert team includes doctors, nurses, care assistants, physiotherapists, occupational and complementary therapists, social workers and bereavement support workers. They all work seamlessly together to support people through the most difficult times of their lives.
Whether somebody is dealing with a terminal illness or the loss of a loved one, we're there when it matters. Sue Ryder staff and volunteers provide people with the compassion and expert care they need, to help them live the best life they can.
We are part of the wider Sue Ryder charity.