Suffering in silence? The politics of everyday life in the Uyghur diaspora.
3 Uyghurs known for their work and fiercely independent thought tell the story of how their life and work has changed since 2017.
About this event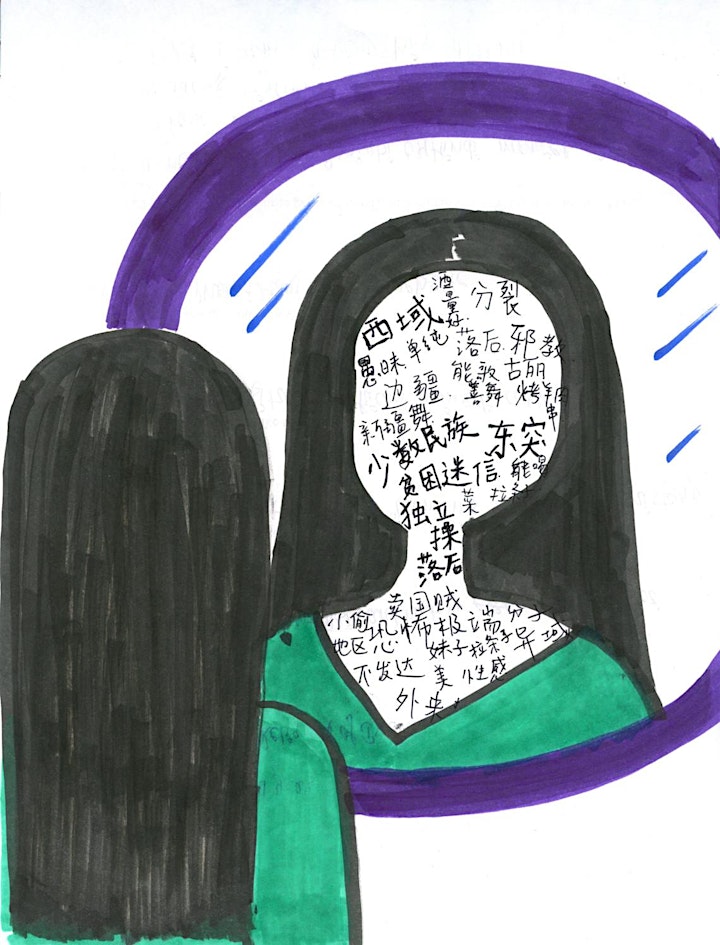 Yi Xiaocuo's artwork, Daily Reflection of a Xinjiang Person, "portrays the daily reflection of a Xinjiang person and the perpetual silence, stigma, and representational violence they always have to face alone". Since 2017, the world's largest mass, extra-legal detention and surveillance of Indigenous peoples has taken place in the Xinjiang Uyghur Autonomous Region (XUAR). Leading researchers estimate that between one and three million people have been detained without trial, subject to invasive surveillance, sexual violence, child-separation, and psychological stress, forcing them to abandon native language, religious beliefs, and cultural practices. Outside the camps, over 10 million Turkic-speaking people are subject to dense networks of forced-labour, hi-tech surveillance systems, and interpersonal monitoring to limit mobility. International media and public debate often frame these processes through geopolitical narratives of East/West and communism/capitalism, which overlook Indigenous perspectives and exacerbate experiences of "perpetual silence". Instead, this event invites 3 Indigenous speakers, known for their work and fiercely independent thought, to tell the story of how their life and work has changed since 2017. How can scholars across the social sciences and humanities engage with Indigenous life stories as their disciplines face calls for decolonisation? Postcolonial engagement enables different ways of seeing the world and can confront the "perpetual silence" by asking Indigenous peoples how global politics shapes their lived experiences.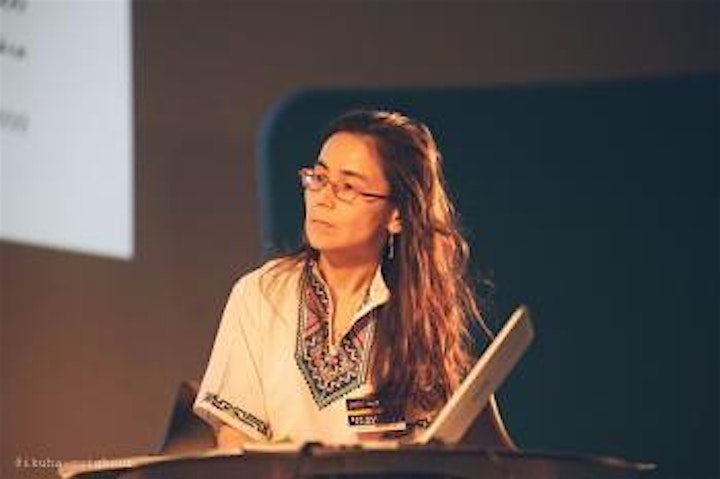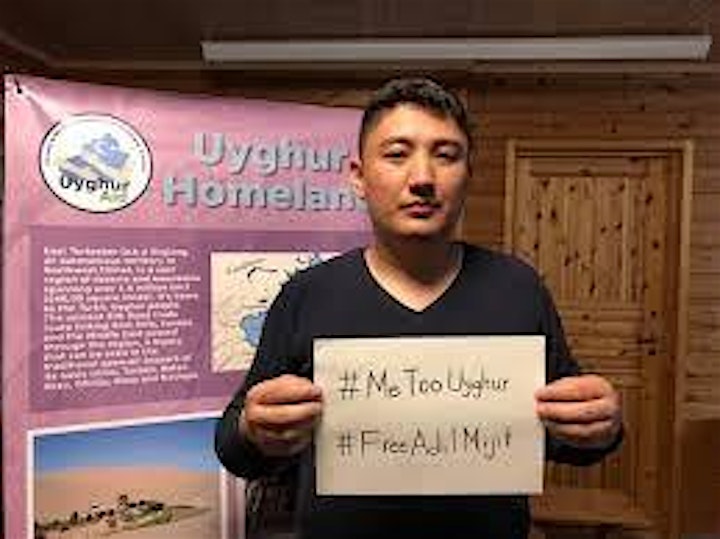 Dr Halmurat Harri Uyghur is a physician, ethnic Uyghur, Finnish national, and Christian, born in Turpan. His parents are both Chinese nationals and after being detained in Turpan's concentration camps, Dr.Halmurat began working on human rights activism. He has led campaigns including collecting testimony videos, the Freedom Tour, and #MeTooUyghur movement, key shifting points in international awareness about Uyghur concentration camps. He is regularly interviewed by international media, including New York Times and CNN, and gives regular talks at University events, including Cambridge University and Copenhagen University. Following his activism, his parents were among the first released from concentration camps. He has continued his activism among the Uyghur diaspora to raise international awareness and advocate against genocide against Uyghurs. He was interviewed in 2018 by EU Reporter on his work.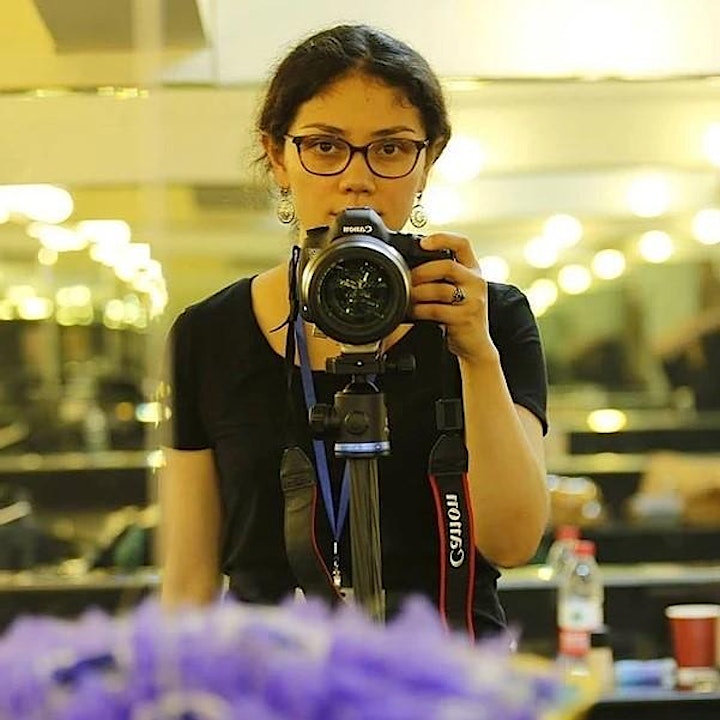 Dr Mukaddas Mijit is an ethnomusicologist, filmmaker and performer born and raised in the Uyghur homeland. After moving to Paris in 2003, she obtained her MA at the University of Sorbonne on Sufi practice and her PhD ("Staging of Uyghur Music and Dance") in ethnomusicology at the University of Paris Nanterre. She has published several articles in journals and edited volumes including Cahier d'Ethnomusicologie, while teaching Visual Anthropology and working on film projects about Uyghur culture and arts. Since 2019, Mukaddas has worked on numerous multidisciplinary research projects, including 'Towards an alternative model of heritage as sustainable development: Meshrep in Kazakhstan (SOAS)' and creative projects from Paris to New York. She has made four documentaries and a short film series and is currently working on her first fiction film. Her 2018 short was made in collaboration with Lisa Ross and tells the story of Ayturghan Hasanova, who after being forced to leave her homeland spends her life longing to return.
David R. Stroup is Lecturer in Chinese Politics at the University of Manchester. His research focuses on the everyday politics of nationalism and ethnicity and authoritarian state-society relations in China. His forthcoming monograph, Pure and True: The everyday politics of ethnicity for China's Hui Muslims (U. Washington Press) draws on field research in China conducted between 2015-2016, and assesses how the Chinese Communist Party employs programs of urbanisation to impact control over everyday practice of identity in Hui Muslim communities.
Dr David Tobin is Hallsworth Research Fellow in Political Economy of China at the University of Manchester. His book with Cambridge University Press, Securing China's Northwest Frontier: Identity and Insecurity in Xinjiang, analyses the relationship between identity and security in Chinese policy-making and ethnic relations in Xinjiang. His recent Guardian article tells the story of how a Uyghur friend's life was transformed by dramatic shifts in ethnic policy.