Description
The Suffolk EdTech Conference
The Suffolk EdTech Conference November 9th, 2019 has 21 educational speakers and workshops from BAFTA, BBC, Microsoft, Digital Schoolhouse, UK Youth, Ubisoft and more for parents, teachers, technology businesses and students.
The Suffolk EdTech Conference is a one-day Educational Technology conference for parents, teachers, businesses, and young people interested in technology. The event is hosted by the Creative Computing Club Team and features internationally renown education and technology speakers and workshops.
The goal is to highlight the possible technology job opportunities for young people in Suffolk.
All of the profits will go to maintaining the work the Creative Computing Club CIC does in Ipswich, Suffolk.

YOU CANNOT BUT TICKETS ON THE DAY OF THE EVENT!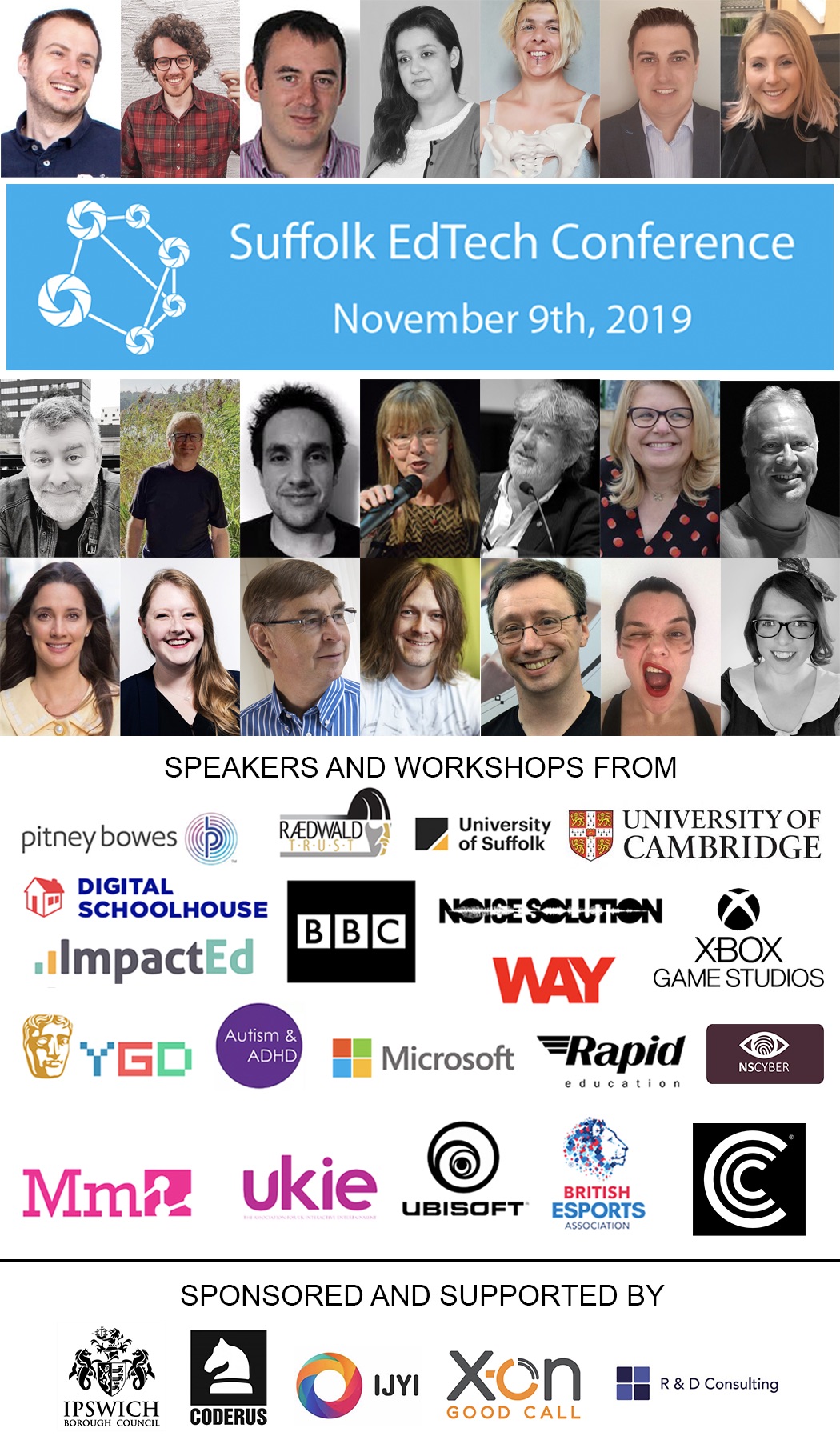 Professor Pam Burnard, Cambridge University (Speaker)
Mark Healey, Media Molecule (Speaker)
Andy Payne, Games Aid, British Esports Association (Speaker)
Rich Levy - XBOX Studios / Microsoft (Speaker)
Peter Cochrane - Cochrane Associates - Former CTO & Head of Research at BT
Shahneila Saeed, Digital Schoolhouse (Speaker)
Hermione Way, WayMedia - Former Head of Communications for Tinder (Speaker)
Bill Thompson, BBC (Speaker)
CJ Stockton - Ubisoft (Speaker)
Simon Glenister, Noise Solution (Speaker)
Mike Challis - Digital Sound (Speaker)
Paul Hutson - Pitney Bowes (Speaker)
Mark Thomas - Coderus (Speaker)
John Greenwood – Cyber, Intelligence & Serious Crime Directorate Protective Services Command (Speaker)
Ella Knight - ImpactED (Speaker)
Annie Clements - Autism & ADHD
Melissa Phillips - BAFTA Young Game Designer (Workshop)
Estelle Ashman, Digital Schoolhouse (Workshop)
Chris Calver - Rapid Education (Workshop)
Rebecca Osbourne - Digital Artist (Workshop)
Frazer Merrick - Digital Sound (Speaker)
Rosie Dhoopun - Labrinth of Nature (Workshop)
more TBC
Schedule
9:30 am Doors Open
10:00 am Opening Keynote: Speaker TBC
The day will also include a series of hands-on workshops and masterclasses for parents and teachers to gain insight into how technology is used within education following three different streams 10:30 am to 18:00 pm.
Coder: The coder stream focuses on different ways of using code and logical thinking to solve real-world problems and how this can be utilised.
Arts: The arts stream illustrates how image, sound and interactive technology such as gaming can benefit and enrich education.
Futures: What are the benefits and detriments of using technology in education, what are the things to look out for and potential pitfalls in using technology.
Wellbeing and Digital Safety: Explore ways to protect yourself from digital fatigue, learn to be safe online as well as in the real world, in our Wellbeing and Digital Safety stream.
17:30 pm - 19:00 pm
Tech Expert Panel: In the evening, the event will feature a panel of technology experts ready to answer and discuss questions from the audience with regards to the use of technology.
20:00 pm Closing
Ticket Types Available
Standard Adult £25.00, Standard (Under 16) £15.00 and Non-Attendee Donation Ticket £25.00 for those who can't attend the event but love what the Creative Computing Club does.
Event Sponsors
Ipswich Borough Council, Creative Computing Club, X-On, IJYI, Coderus, R&D Consulting