Joined Up Care Derbyshire have commissioned Harmless to deliver Suicide Bereavement online training for staff and volunteers
About this event
LIVE ONLINE via ZOOM
Joined Up Care Derbyshire have commissioned Harmless to deliver half day Suicide Bereavement training sessions online for staff and volunteers from a broad range of statutory, community and voluntary sector organisations, working within Derbyshire county and City.
Please note that you must work with people in Derby/shire in order to meet eligibility criteria for this free training session
This course is designed to enable participants to effectively explore and understand the following:
- The magnitude of suicide bereavement
- Suicide loss as a unique form of complex bereavement
- 'Complicated grief', trauma, and other individual responses to suicide
- The wider impact of bereavement on those exposed to or affected by suicide
- The stigma and shame associated with suicide and bereavement
- Bereavement by suicide as a unique risk factor for suicide
Our training Testimonies:
"The trainer was excellent. Very interactive session and definitely would recommend. I have learned so much today - thank you."
"Well presented, relevant and very good material. Every single part was so informative and delivered brilliantly!"
Data Protection
At Harmless CIC, we're committed to protecting and respecting your privacy. Our privacy policy sets out the basis on which any personal information we collect from you, or that you provide to us, will be processed by Harmless CIC or its associated projects (The Tomorrow Project, The Hope Project & Let's Talk Training). It covers how we use this information, the conditions under which we may disclose it to others and how we keep it secure.
You can read the privacy policy by clicking here: Privacy Policy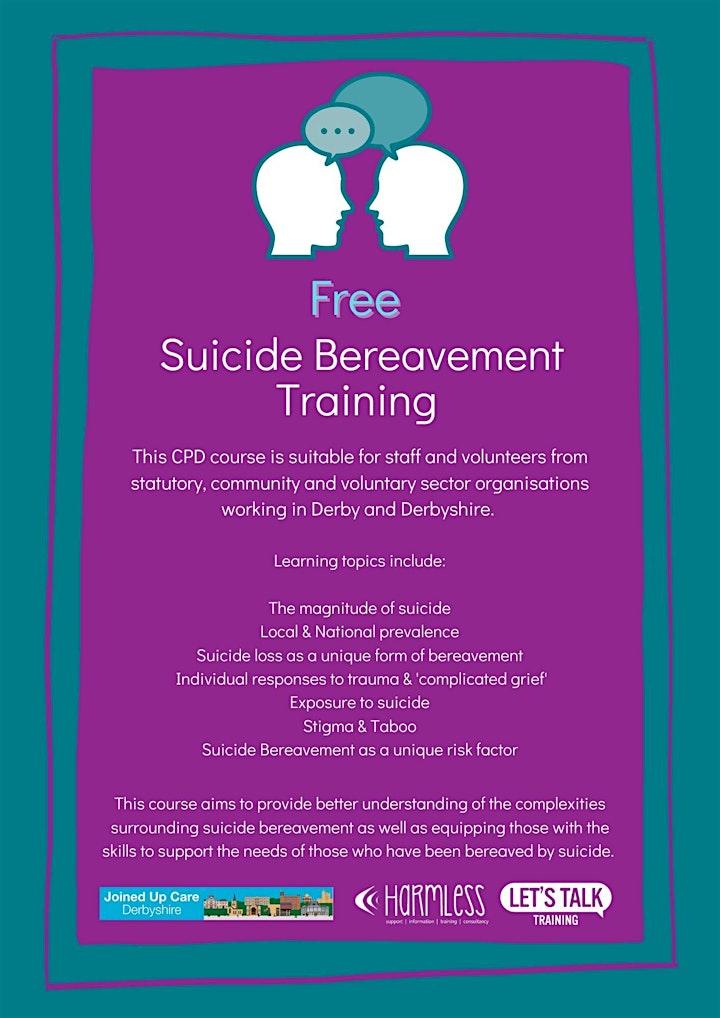 Organiser of Suicide Bereavement Training for Derby & Derbyshire - FREE ONLINE
Harmless is a user led service which launched in 2007. We specialise in self harm & suicide prevention, providing a range of services including support, training, consultancy and information. Harmless was established by people who understand and have experienced distress or mental health problems. At the heart of our service is a real sense of hope and we know that with right support, life can get better. 
In 2012 our sister service The Tomorrow Project was born in response to a number of suicides that occurred in a local community. The Tomorrow Project was created by the community for the community as a way to support those bereaved by suicide and to help prevent future loss. From this it has grown to a county wide service with a primary care crisis pathway and bereavement pathway funded by the East Midlands Academic Health Science Network. In addition to this we will support and signpost to anyone who may require help. 
Let's Talk Training is Harmless' specialist training department. The team delivers a range of CPD-accredited and bespoke training services UK-wide, including externally accredited Mental Health First Aid (MHFA) and Applied Suicide Intervention Skills Training (ASIST).