Event Information
Refund Policy
Contact the organiser to request a refund.
Eventbrite's fee is nonrefundable.
About this Event
Welcome to CBW Study Stars
Have you been looking for a tutor for a while but cannot afford the massive weekly expense? Struggling to cope with Home-Schooling since the announcement of Lockdown? CBW Study Stars offers numerous affordable options for either yourself or your child, all to be accessed from the comfort of your own home. We are here to nurture, encourage and help you on the road to success, not only during COVID-19 but beyond these testing times.
As fully qualified and experienced teachers, our tutors have worked at home and abroad, teaching and running busy departments, and as such can inspire you and your child to reach their full potential in Mathematics. We offer group sessions to promote mathematical discussion and deeper understanding, 1:1 sessions if preferred, adult classes and intensive courses over school holidays to prepare for forthcoming years or exams.
For all group sessions and intensive courses, we will endeavor to group your child based on exam board and target grade. We offer GCSE/IGCSE routes for both Foundation and Higher for all exam boards as well as focusing on the fundamental building blocks for KS2/KS3. We firmly believe that encouragement, support and a firm handling of problem solving allows all students to overcome the barriers they present themselves with.
What will be covered?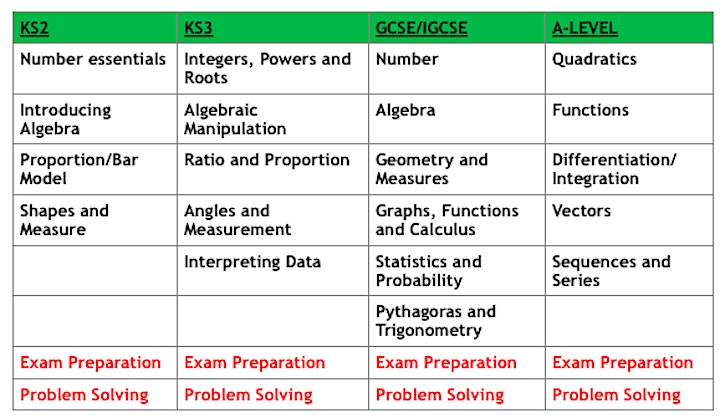 This is NOT an exhaustive list. As a small and personable business we will plan and deliver our lessons based on the needs of all of the attendees. Above we have endeavored to provide key topics that we feel form the basis of all exam boards and level of qualification.
How will the Classes/Intensive Courses be structured?
Group sessions - We are pleased to offer group sessions to a maximum of six students per session.  This is an interactive and financially appealing option to achieve academic excellence.  The sessions shall consist of a 15 minute group waiting room where students collaborate on a pre-session task to promote discussion and applying prior knowledge.  Following this, the hour session shall follow the below format:
​15 minutes on the pre-session task;
30 minutes of delivering new content in line with the Scheme of Work;
15 minutes on an interactive problem solving task for pupils to apply their understanding to exam style questions.
 We aim for these sessions to cover a wide variety of topics whilst at the same time developing confidence and exam technique.  The students will also be provided with optional additional material that they can complete and submit at any time.
Intensive Courses – we offer 2 options here:
Weekday 10 hours - Classes run during the school holidays and take place online for two hours each weekday. The session focus is on exam questions and techniques.  Classes are small, with a maximum of six students. There are two levels of class and students are grouped on their ability and aspirational grade.  
Weekend 12 hours - A similar focus to the week intensive courses but held online over two days. There are two sessions of six hours, which a broken down in to manageable chunks of time for each individual. Each session focuses on exam questions and techniques.  Classes are small, with a maximum of eight students. There are two levels of class, students are grouped on their ability and their aspirational grade.  
What else do you need to know?
At CBW Study Stars we are here to meet all of your needs. Our classes remain small to allow us to focus on the individuality of all of our students, whilst promoting discussion at the same time.
Our prices can be found on our website (we charge on a termly basis), and you can easily BOOK ONLINE from the website too.
We ensure your child is supported not just during the class but through assessment and personalized feedback and communication. You can rely on the experience and expertise we have to offer!
How can I contact you?
Date and Time
Location
Refund Policy
Contact the organiser to request a refund.
Eventbrite's fee is nonrefundable.