We are really excited to announce #POPUPSWITCH will be delivering FREE activities from WV1 Studio in the City centre this summer.
About this event
The activities are being delivered on behalf of Wolverhampton Safer Partnerships and West Midlands Police and Crime Commissioner to provide targeted activities over the holidays for those transitioning between primary and secondary school.
Each week sessions will use the creative arts, such as music and video production, to help participants in both their educational and personal lives, giving them the ability to recognise and respond to their own emotions, form effective peer and adult relationships and to build confidence and self-esteem.
Sessions will run 10am – 2pm from WV1 Studio (22 Cleveland Street, WV1 3HR). Places are limited due to social distancing restrictions, for more information, please contact Tim Wakefield on tim@theswitchproject.com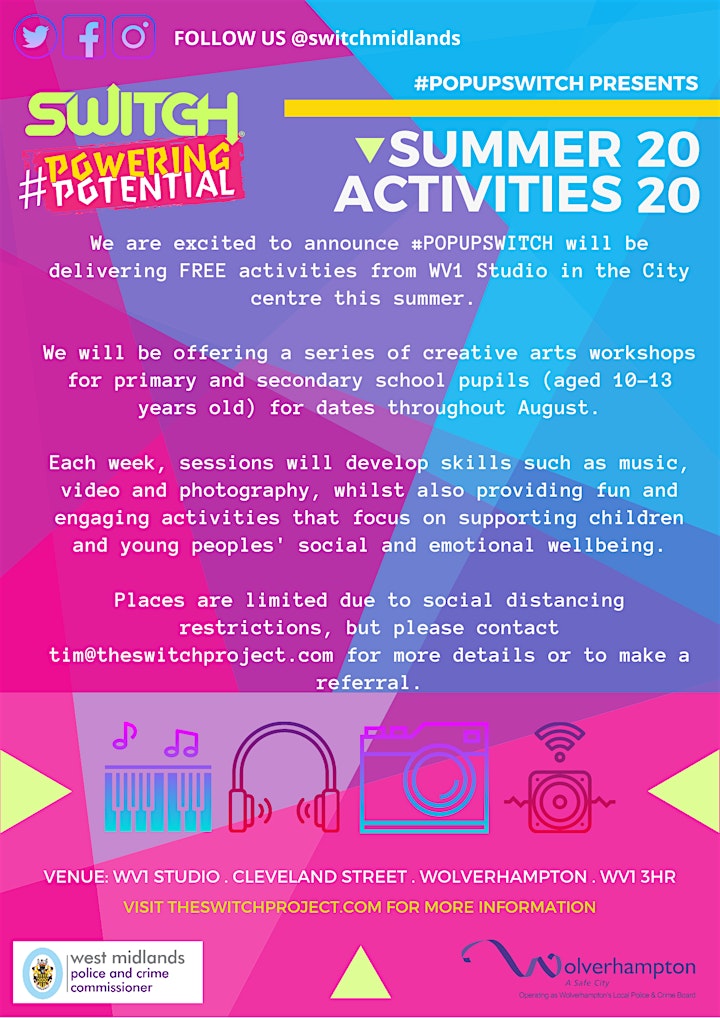 Organiser of Summer Activities 2020
Switch is a service in Wolverhampton that supports children and young people's skills for coping and managing in the educational environment. We focus on areas such as stress, anxiety, attachment, developing confidence, managing emotions, making friends, healthy relationships and solving problems.
Our programmes help young people understand how situations and issues arise and then develop the skills to approach concerns in a more reflective way, allowing them to be more effective in solving their own problems and feel more in control.