Exclusive private use for you and your family to enjoy our Picturesque Barn & Animal Farm, a hidden gem in the heart of the countryside
About this Event
Please refer to and abide to Covid-19 rule of 6 people regulations at the bottom of this page before booking
🎇 Bonfire Night - Fun On the Farm 🐷
1 hour Private exclusive use :
£40 Ticket For 6 people includes:
#Summer Barn Venue & Animal Farm#Private Hire# FamilyFun #Fairylight Themed Indoor Barn #Fairylight#Outside fire pit gallery lot by Love island Lights#Cosy Log Burner #Lanterns#Toast marshmallows#sparklers# Farm Animals#Petting Farm #Pigs#Goats#Alpacas #Miniature Shetland Ponies# Ducks #Chickens # Peacocks#Owl #Macaw Taking Parrots #1 x Kids Bonfire Night Treat Box (you need to add extra for each child)#sparklers#marshmallows #cupcake#sweets#notepad pencils#colour your own treat box#bubbles#stickers#
#🐴Main Highlight- Meet Feed Groom & Walk with our very friendly Donkeys (Neddy & Bertie) on the farm & Toast your marshmallows on the fire pit and light your sparklers on the magically lit gallery
Please note:
🐓 🦚 🦆- food is provided in disposable cups for the birds
🐐 🦙 🐴- If you wish to feed Summer Barn Animals please bring your own carrots or apples 🍏 🥕
🔥 1 x Bonfire Night Treat Box is included in the ticket for 1 child, you would need to book additional treat boxes for extra children during the booking process (this will be offered to you)
Treat Box supplied by Catering Company - Catering by Natalie
Summer Barn will be Themed Bonfire Night Style 🔥 & will be lit by fairylight and a cosy log fire- (child safe)
There will be a main themed Table for Dining by the cosy log burner (bring your own picnics or food - or order a hamper of food at check out from our amazing caterer) you can connect Bluetooth to our speaker to play your own music 🎶 and our outdoor viewing gallery will be lit by fairylight & Fairylit Lanterns on the tables and a fire pit will be provided to lit your sparklers and to toast your marshmellows (parents must strictly supervise their children at all times)
You can book Summer Barn for any length of time just book back to back slots. Please note if you book more than one hour you gain an additional 15 minutes on every hour (as we normally clean every hour for 15 mins) and would not be cleaning if you have it for more than 1 hour.
All you need to do is book here online, press the intercom at the big set of gates sign posted Summer Cottage, the gates will open automatically and you just drive down to Sunmer Barn, close the barn gate and it's all yours!
Please familiarise yourself with the picture is the entrance below, address is Summer Cottage RG4 9HG (not Summer Barn)
Parents are responsible for the care of their children at all times, you can decorate Summer Barn as you wish for birthdays etc but must left as found and rubbish taken, no climbing on gates or fencing.
Owners are always on site if you need to call them.
Private Parking, Toilet with hand washing facility & sanatiser dispensers are located all around Summer Barn.
We hope you enjoy Summer Barn, please post your pics, vids, comments and reviews on our Summer Barn Facebook page.
All Summer Barn events are non refundable and non transferable (in extreme circumstances we consider offering gesture of goodwill)
Covid 19 Regulations: from 14/09/20
6 people Maximum (only exceptions: if your individual Family household consists of more than 6)
If in line with Covid-19 rules and you do have more than 6 people in your family, please make your booking online for the 6 people and then email to inform how many people you have over people as an additional £5 per person Per hour would need to be paid in advance if your arrival date.
Non compliance to the Government Regulations of 6 people will not be granted access to Summer Barn
Tables, chairs, door handles and toilet will be sanitised between every booking. You need to bring your own food, drink, cutlery and crockery. Enjoy the peace of mind knowing you can enjoy the farm, picnic and countryside knowing you will not meet anyone as this is for your exclusive use.

Address:
Summer Cottage, Cane End, Rg4 9hg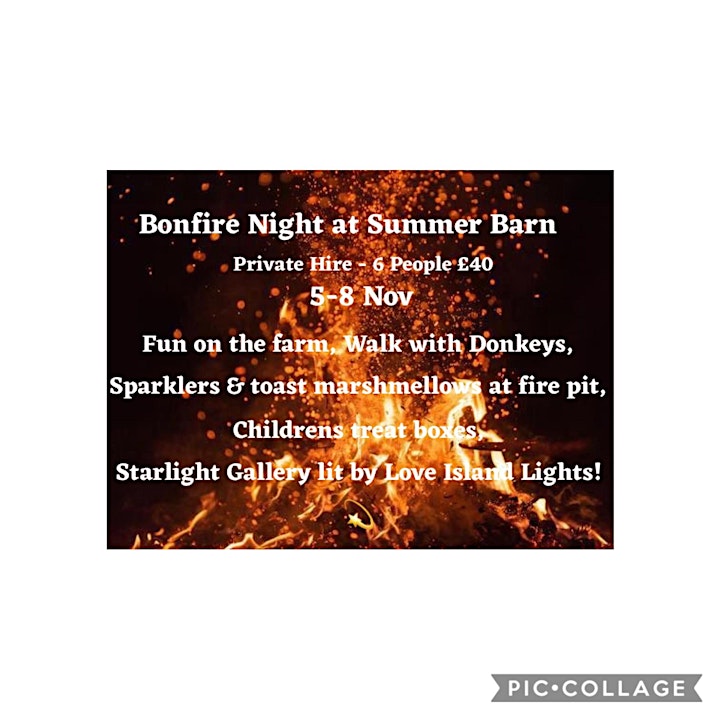 Children's Bonfire Fun Treat Box
Supplied by Catering Company - Catering by Natalie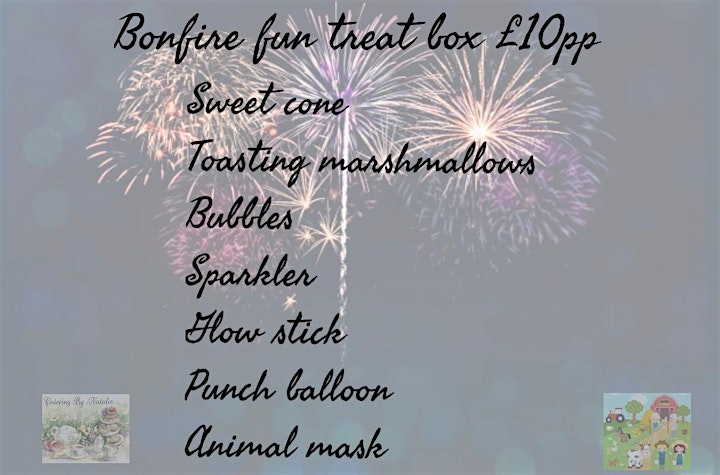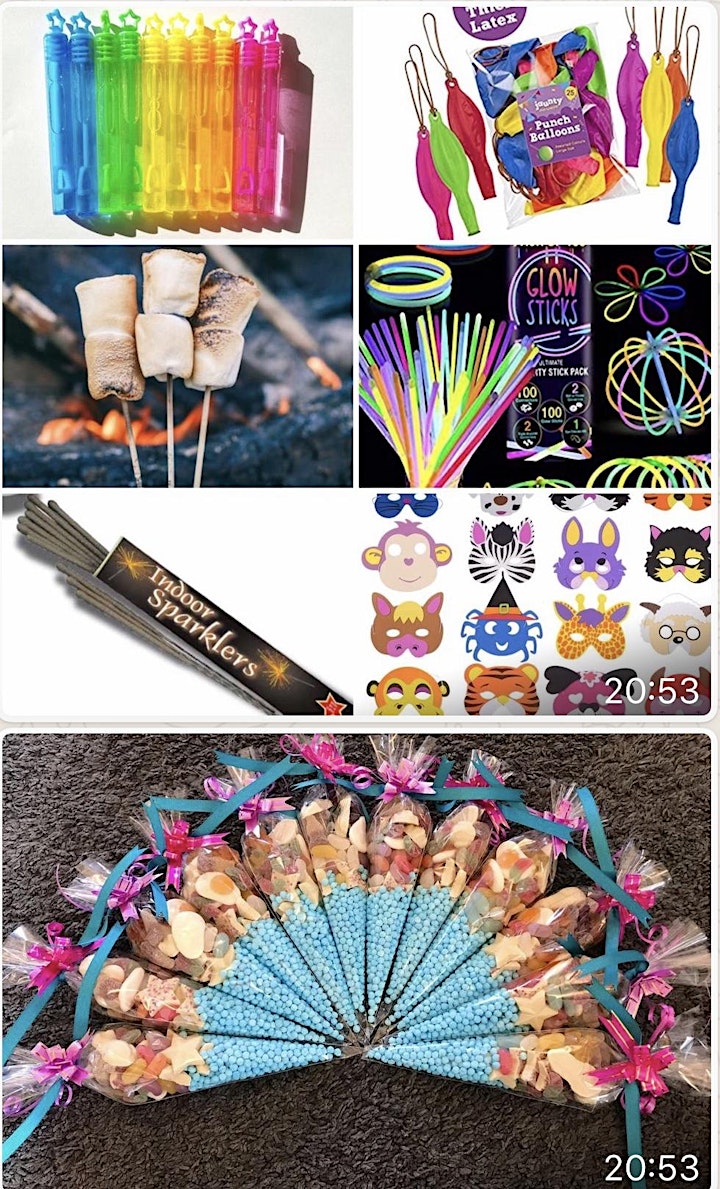 Pictures of the actual evening are left out to surprise you on there night -we promise you it will be magical! 💫