Description
Summer camp adventures that inspire and empower young folk to go on a journey of rewilding
Give your child the gift of nature reconnection at this unique, off-grid children's camp where your child will leave feeling inspired, empowered and ready to be a positive force for change in the world.
Children harvest and prepare their own meals from the surrounding organic farm guided by our talented and passionate natural chefs.

Inspired by their daily outdoor adventures in the meadow, fields, hedgerows and woodland, children learn how to craft and build in our studio using natural materials.

Musical and spoken word workshops inspired by their adventures that tell the story of their re-wilding journey.

Our 6 night stay culminates in the group's original performance and a picnic created by the children and shared with parents and friends.
"With First Hand Experiences its so much more than childcare, the positive effect that spending time at Gather Green each summer has had on my daughter's mental health and well-being is simply amazing! There is something about the atmosphere that Justin, Lou and the rest of the First Hand Experiences team create within the camp that seems to make everyone feel included and valued, whilst giving them all a real sense of freedom and fun."
Kirsty V, Canterbury, Kent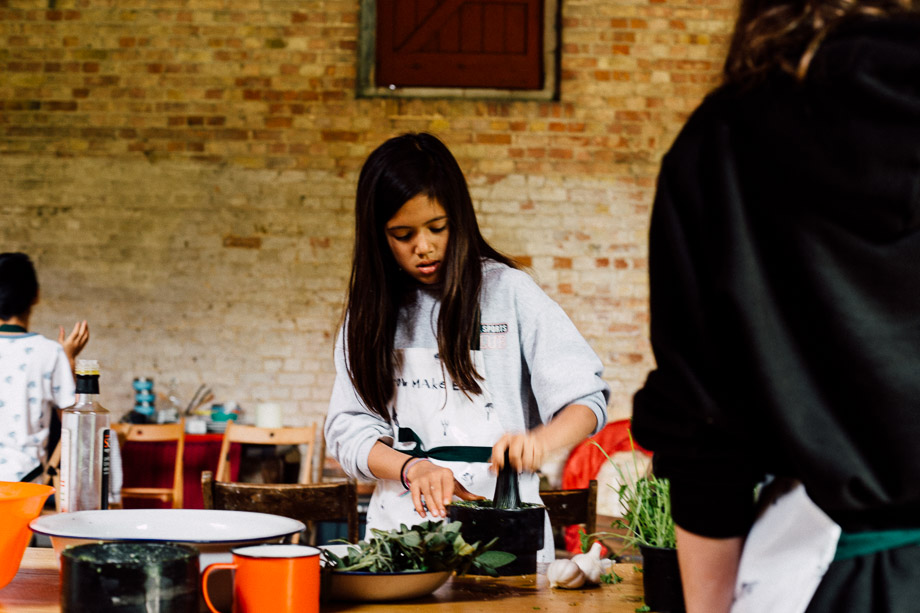 The Essentials
Children sleep in bell tents with 3 other children of their age bracket and have a camp mentor closeby on duty through the night

Children split into activity groups or 'Clans' of no more than 15 (ages 8-10 and 11-14)

Children have use of our new improved solar thermal shower block to wash after a long day out and about

Meals are mostly organic from the farm, plant based and prepared by natural chefs. All allergies and dietary requirements are catered for. They are shared in our canvas marquee or at times around the campfire

We have a converted lorry kitchen for our farm to fork cooking sessions

Free time can be spent continuing art and craft projects in our studio, reading or playing games in one of our geodesic domes or swinging between the trees in one of our hammocks.
First Hand Experiences CIC is a not for profit organisation and is dedicated to making our camps as accessible as possible. With every 8 places paid by our paying customers 2 children from disadvantaged backgrounds come for free on our bursary place scheme.
Full sleep away camp brochure here