Description
The Medical Research Council (MRC) works to improve the health of people in the UK and around the world by supporting excellent science and training the very best scientists, through investment on behalf of the UK tax payer. As part of the annual MRC Festival of Medical Research, meet MRC scientists and discuss our research at the Summer Science Fete. This will be a fun day for all ages and will include hands-on activities, interactive demonstrations and games.
Participating units are:
MRC Clinical Trials Unit at UCL
MRC Laboratory for Molecular Cell Biology at UCL
MRC Unit for Lifelong Health and Ageing at UCL
MRC Prion Unit at UCL
UK Dementia Research Institute
For more information click here or contact mrcfestival@ucl.ac.uk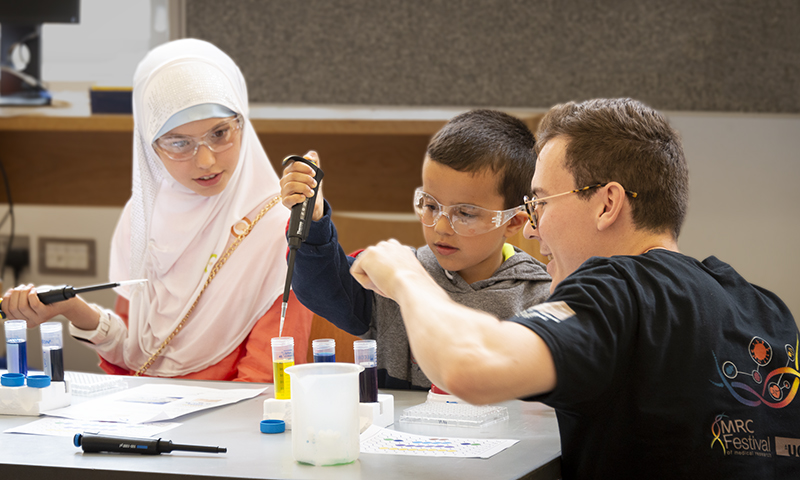 MRC Clinical Trials Unit at UCL | We are working hard to get results from our clinical trials more quickly, and then to ensure that these results influence policy and practice. Join us to learn how we run trials and why we are developing new, faster ways of carrying out research. Twitter @MRCCTU
MRC Laboratory for Molecular Cell Biology at UCL | We study cells to understand how they work and their connection to disease. Join in our interactive activities to learn about the scale of cell biology research and find out what it's like to be a scientist by testing your scientist skills. Twitter @MRC_LMCB
MRC Unit for Lifelong Health and Ageing at UCL | Everything that goes into your life is important: where you grew up, what you eat, your education, who your friends are. All these things intertwine and lead to different outcomes for health and ageing. The MRC National Survey of Health and Development has been studying a group of people for the past 73 years and has collected data on all these different factors and much more. Join us for a "Game of Life", where you will have the chance to engage in a series of challenges and choices that influence the course you take. No two paths are the same! Twitter @MRCLHA
MRC Prion Unit at UCL | Join in our interactive workshop to experience what it's like living with a neurodegenerative (brain) condition. We want to raise awareness of these diseases, and help the public understand that sometimes "strange behaviour" is caused by an illness, encouraging patience and understanding with loved ones suffering with neurodegenerative conditions. We have designed a selection of games/activities aimed at giving children, young people and adults a small insight into the world of someone experiencing neurodegeneration.
UK Dementia Research Institute | Our mission is to find new ways to diagnose, treat and prevent dementia, whilst finding better ways to provide care for people living with dementia. Our researchers are excited to meet you at our stand to show you how they're working out the nuts and bolts of dementia, so we can conquer it. You'll get to experience what it's like to live with dementia and also discover how we're helping to build a future where we'll be able to detect changes long before symptoms, helping to delay the onset of dementia and maintain a good quality of life. Twitter @UKDRI