Description
For STANDARD tickets click the select a date button top left.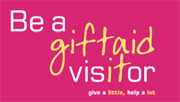 For GIFT AID TICKETS click box above. These include a voluntary donation that lets us claim from the government 25p for every £1 you donate, which makes a HUGE diffrence to the upkeep of this site!
__________________________________________________________________________________________
With a special theme each week – Come and enjoy a Sunday at the Royal Gunpowder Mills at a great value price! Special Event Season Tickets can be used. What's the theme? Head for our website to find out!
Set in 170 acres of extraordinary landscape, this fascinating place chronicles the history of gunpowder and later explosives and propellants as well as Cold War secret research and rocketry.
For families we have the fantastic Mad Lab show delighting children of all ages, where Professor Nitrate creates chaos with bangs, crashes and fizzes! Join the Professor's assistant each Sunday and get hands-on with the activity of the day.
For all visitors The Royal Gunpowder Mills has over 300 years of history to explore, in our Museum and other exhibitions. Tour our acclaimed Armoury with volunteers who can tell all about this comprehensive collection of firearms from the Civil War onwards. Learn in the Rocket Vault about the rocketry development that went on here, often from scientists who used to work here on top secret research.
For a nominal fee take the Land Train tour with experienced guides taking you to hidden parts of the site, which is a Scheduled Monument and an Site of Special Scientific Interest, rich in history and wildlife habitats. Watch out for deer and other wildlife! And throughout the day, the Gunpowder Café serves great food.
Tickets can be purchase on the day for through our Eventbrite page. Or use your 12-month Season Ticket! If you decide on the day you'd like one, go back to the ticket pod to be issued your Season Ticket and your admission for that day is free! And don't forget to consider Gift Aiding any ticket.
Please note that due to wildlife protection, no animals are allowed onsite, with the exception of certified Assistance Dogs.
Sunday Themes
Sunday 9th June - Photography At The Mills
Sunday 16th June - Nature At The Mills
Sunday 23rd June - Treasure Hunt!
Sunday 30th June - Mercedes Benz Car Show - Make Rocket Cars & Fire Rail Rockets!
Sunday 7th July- Sensory Sunday
Sunday 14th July - Pandemonium Sunday!
Sunday 21st July - Teddy Bears Picnic